Not fair? Man slapped with $7,300 accident claim after issued allegedly faulty rental car
PHOTO: Facebook/Complaint Singapore
PUBLISHED ON
March 09, 2023 10:00 PM
By
Ching Shi Jie
Upon picking up a rental vehicle at the car park, this GetGo user already noticed that it was undriveable.
After alerting the car-sharing company which supposedly "rebooted" the five-seater Ssangyong, the man thought that all was well, and that it was safe to drive.
However, this driver was involved in an accident shortly, and ended up with a $7,320 bill by GetGo.
Speaking to AsiaOne on Friday (March 10), Hwee Ming said that the incident happened on Jan 25.
Upon collecting the car at around 2pm, he said he noticed multiple scratches on its front and rear end.
"The vehicle dashboard [also] lit up with multiple warnings of malfunction and it couldn't be started," the driver said said.
After reporting the faults through the GetGo mobile app, Hwee shared that a live agent "rebooted the vehicle remotely" and he was able to ignite the car engine.
But even getting the car out of its parking lot was problematic, according to its user.
"When I was driving the vehicle out of the car park, it skidded slightly during one of the turns even at low speed. I thought it could be due to the oily surface [of the road]," he said.
Hwee said he thought that the car "only had a software issue", adding that he considered reporting its faulty condition. 
But it was too late by then. 
$3,000 for 'third party damage'
In the Facebook post, Hwee shared that the car began swerving while he was on the Central Expressway three hours later.
"It drifted to the next lane and I realised the brake was not working too," the man recalled his nightmare experience.
"I tried to avoid hitting the car in front and the car started to spin. It then hit the centre guard railing twice before coming to a stop."
After reporting the accident to GetGo, Hwee said that the company slapped him with a $7,320 claim.
According to a screenshot of the bill, it showed that the penalty included $3,000 for "third party damage", $3,000 for "own damage", and nearly $780 for "loss of use".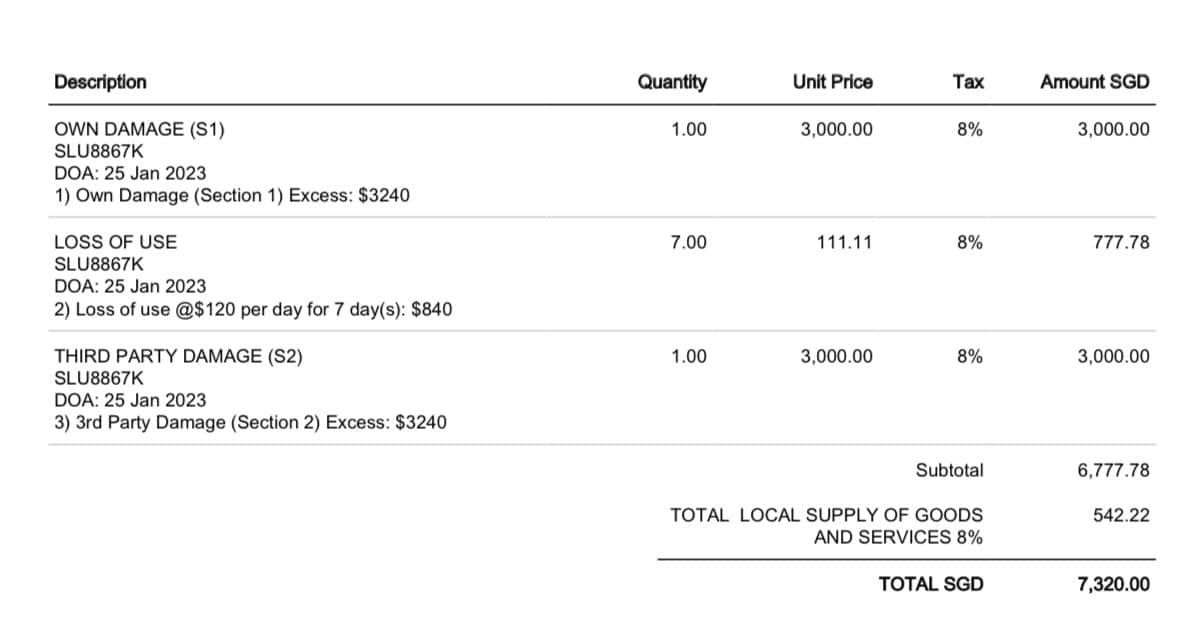 The experience renting a vehicle with GetGo has since left him with more questions than answers, the user said.
"When is the last maintenance and servicing report? Why didn't they mention the car's condition [when I reported the car's condition during pick-up?]," Hwee said.
While he posed these questions to GetGo, the man claimed that the car-sharing company threatened to hire legal debt collectors if he did not pay the accident claim.
"The government should really regulate car-sharing and make sure it is fair to the consumers," Hwee said.
AsiaOne has contacted the GetGo for comment.
Should not have driven alleged faulty car? 
In the comments section, many warned that getting into accidents and incurring a sky-high cost for damages is a risk that drivers have to take when they rent from car-rental companies.
But there were others who pointed out that Hwee should not have driven the vehicle after spotting its issues during pick-up.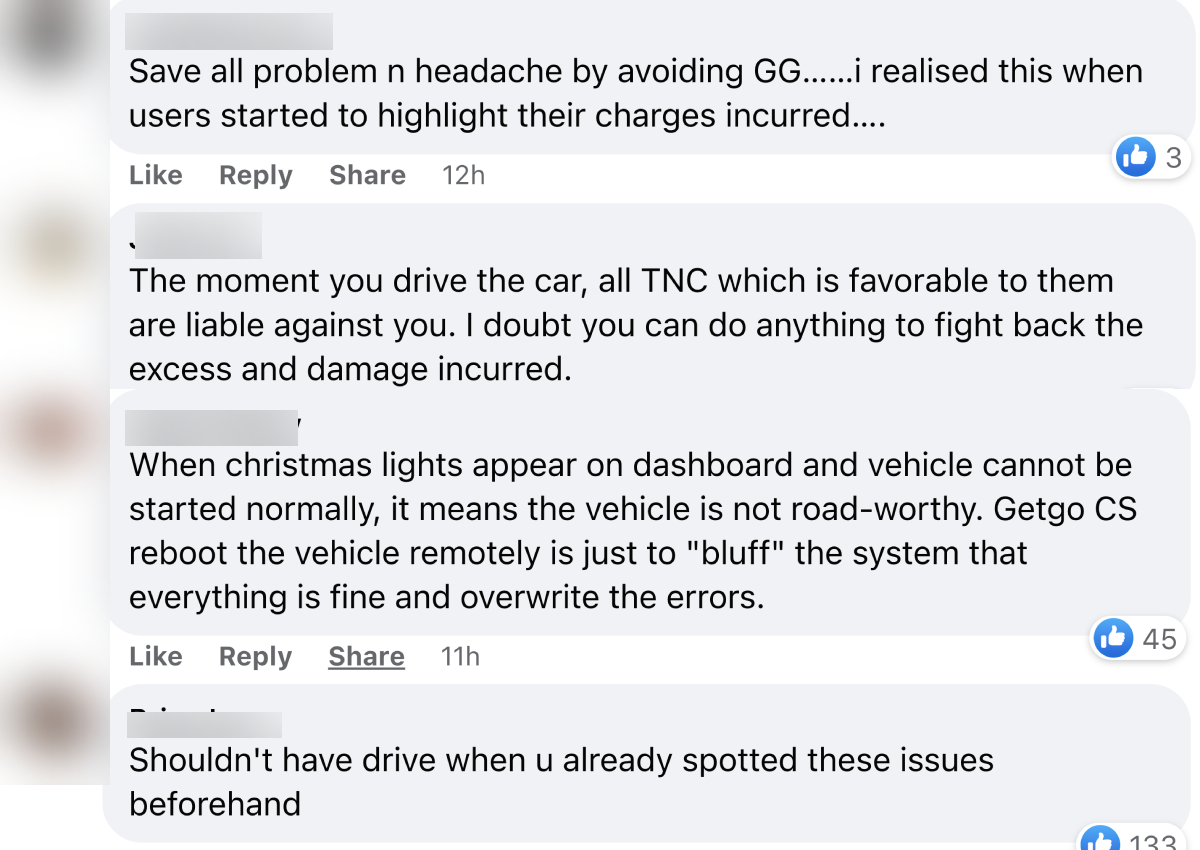 Speaking to AsiaOne, Hwee said that he has not foot the bill, while adding that GetGo told him to "wait for their email". 
"I regretted driving it. I could have injured other road users or myself," the man said. 
Last month, another GetGo user shared how he was "shocked till his jaw dropped" after being slapped with a $4,600 bill.
In a post shared to the SG Road Vigilante Facebook page on Feb 25, the user reported being involved in a "small accident" at the carpark of Novena Square 2.
Wrote the car-renter: "Be warned if you are renting a GetGo car, or plan to do so! I have heard many horror stories about accident claims from GetGo when involved in a car accident (sic). Until it happens to me, I know it is all real!"
ALSO READ: GetGo car or GetGo plane? Man racks up $4,000 bill for 2-hour rental
No part of this story or photos can be reproduced without permission from AsiaOne.