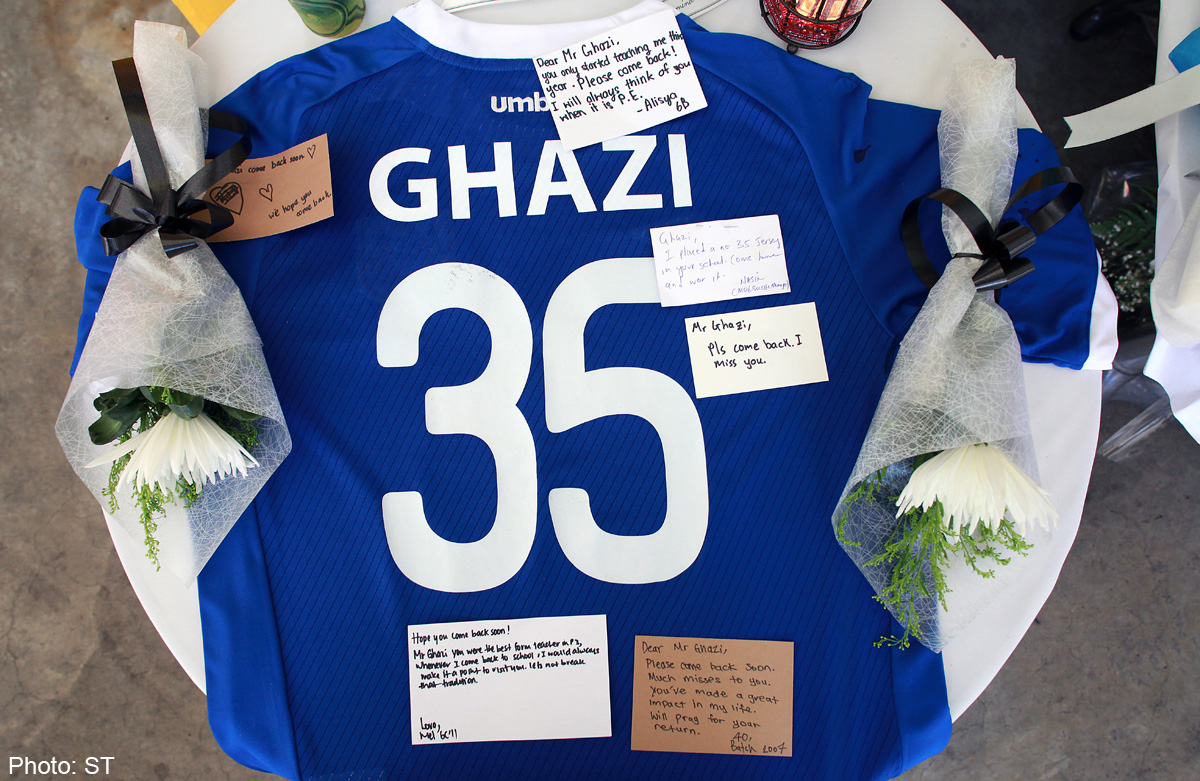 It was through fingerprints and personal belongings that the Malaysian authorities were able to confirm that the body parts they had found belonged to the two Singaporeans who were missing after Friday's earthquake in Sabah.
The Ministry of Education (MOE) confirmed the deaths of pupil Navdeep Singh Jaryal Raj Kumar and teacher Mohammad Ghazi Mohamed yesterday, adding that their remains will be brought back to Singapore once forensic tests are completed.
The duo, both from Tanjong Katong Primary School (TKPS), are the last two victims of the Sabah quake to be accounted for.
This raises the death toll of the 6.0-magnitude earthquake to 18, of which 10 had gone on a Mount Kinabalu expedition with TKPS.
They are two teachers: Terrence Loo, 29, and Mr Ghazi, 35; seven Primary 6 pupils: Rachel Ho, Peony Wee, Ameer Ryyan Mohd Adeed Sanjay, Emilie Giovanna Ramu, Matahom Karyl Mitzi Higuit and Sonia Jhala, all 12, and Navdeep, 13; and adventure guide Muhammad Daanish Amran, 22.
The Malaysian authorities said yesterday that they would end their search and rescue operations.
But families and friends of the victims, the school and Singapore still struggle to come to terms with the tragedy that has cut short the lives of too many.
Up until yesterday morning, many hoped that Navdeep and Mr Ghazi would come home safe.
Abdul Nasir, 49, team manager of MOE's football team which Mr Ghazi was part of, said he was at TKPS on Tuesday but did not leave any tributes. "We were still hoping for good news."
That day, he left a No. 35 football jersey with Mr Ghazi's name on the back at the school, along with a note that read "Come home and wear it".
Mr Nasir was at the school again yesterday with about 30 other teammates, all clad in their team jerseys. "When we heard the news this morning, we decided to come again."
TKPS, which had set up a tribute site for the public to offer condolences to the victims, extended the opening hours of its tribute site to 9pm yesterday and today.
TKPS pupil Ammar Muhammad Ahmad Faisal, 12, who was at the school yesterday, said he got to know Navdeep at the start of the year.
"We were in different classes but we played floorball and football together during recess time," said the Primary 6 pupil. "Navdeep was competitive, but in a good way."
Another note at the tribute site, signed off by Nik, read: "This one goes to Navdeep. Dear Navdeep, whatever your fate was, I hope you are in a better place. I remember you, and I wish I could have been a better friend."
Navdeep's family declined to speak to the media yesterday, asking for time and space to grieve.
But The Straits Times understands that his aunt and uncle, who run a food business, closed shop yesterday as they were too distraught. Prayers will be held for him tomorrow.
Mr Ghazi - who was the subject head for co-curricular activities and physical education at TKPS, and was an avid sportsman - was loved by many.
A fellow teacher and friend of Mr Ghazi, Eugene Ng, wrote on Facebook: "I remember your smile and your graciousness. I never could match your stamina and skill on the field, but we played as equals because you treated me as one.
"Fare thee well brother. Nil Sine Labore," added Mr Ng, referencing a Latin phrase which means "nothing without labour". The phrase is the motto of Victoria School, which they went to as teenagers.
Mr Ghazi leaves his wife, a teacher at East View Secondary School, and three young children.

Get MyPaper for more stories.