She discovers the hidden talents of youths, one stitch at a time
Getting a job can be difficult these days, even more so for those with special needs.
For Faris Wong, who has autism spectrum disorder, finding employment in Singapore is a challenge as opportunities are scarce.
The 32-year-old had to stay home for quite some time before he joined Personalised Love (PLove), a studio in Jurong East staffed by youths with a range of conditions such as mild intellectual disability, cerebral palsy and autism spectrum disorder.
At PLove, they handcraft beautiful leather goods such as keychains, cardholders and purses.
Since starting work at the studio in February 2019, Faris has grown by leaps and bounds, his mum Hayati Buang told AsiaOne.
But working with people with special needs presents its own set of challenges.
The very first time she encountered a meltdown in her studio, PLove founder Yeo Hwee Khim was at a loss what to do. Fortunately, the youth's caregiver was there to help calm him down.
"We're not special needs-trained," Hwee Khim said. "But along the way, we learn how we can avoid their triggers."
When the artisans pick up leather crafting, however, challenges like these start to disappear as they get engaged in the activity, she observed.
How PLove began
PLove, which trains and employs about 10 youths with special needs, was founded by Hwee Khim and her husband Tong Cherng Yaw in October 2014.
"I was an architect and urban planner for over 17 years before I decided to take a break in my career to focus on my family," she shared.
The mum-of-three found time to volunteer at a special education school where she met a group of students and learnt that they had limited opportunities for work and training after graduation.
"So, I thought of how I could make use of my design skills to help them."
While providing jobs for youths with special needs, the studio has received a helping hand from Singapore Pools, which has housed PLove rent-free in its premises for the past three years.
This has helped to reduce the overheads of running it and allows her team to focus on training and producing the gifts, she said.
Hwee Khim, whose mother was a seamstress, was able to stitch her passion for sewing with starting a social enterprise by setting up PLove, which produces leather goods for retail and corporate gifting.
The studio, however, had to go through some trial and error in its early days.
The 48-year-old said she tried various types of crafts to see if she could come up with a satisfactory product, but there wasn't something of good enough quality.
It was by chance that a fashion retailer donated leather to PLove and that led the studio to start on leather crafting.
One problem: Hwee Khim did not know leather crafting.
Her quest to pick it up took her on training courses in Singapore, Hong Kong and South Korea. In 2017, she travelled to Italy to learn from master craftsmen for three months.
At that time, Hwee Khim realised that the process involves sharp tools and machinery, and also requires good motor skills and hand-eye coordination, which posed a challenge to some of the youths at PLove.
"So, I adapted the crafting process using my design skills. We incorporated a lot of templates and broke down the process into smaller steps that our artisans can confidently complete."
Learning the ropes
Gabriel Tan, 19, is an apprentice who has autism spectrum disorder and sensory challenges.
After graduating from Rainbow Centre, his mum Irene Ho got to know Hwee Khim, who suggested that he go for a try-out at PLove.
When he first visited the studio last June, Gabriel was overwhelmed by his new surroundings and couldn't sit still when he was trying out leather crafting, Hwee Khim recalled.
This went on for about two months before things suddenly 'clicked' one day and Gabriel completed his first piece of work.
"I was overjoyed when he completed the leather keychain," Irene told us.
Months after Gabriel joined PLove, the 52-year-old homemaker noticed a change in her son — he was no longer anxious and uneasy. His favourite task at work, she shared, is sewing.
He has since settled in at the studio and is quick to pick up new skills after watching a demonstration, noted trainer Hedilyn Suresh. And when he gets going, Gabriel can focus on his task for 30 minutes at least.
"Now, he enjoys what he's doing. He doesn't want to stop when we ask him to," Hwee Khim chuckled.
Leather crafting is not just work, she added, "it gives Gabriel satisfaction and fully engages him."
Overcoming challenges
Working with youths with cerebral palsy - a group of disorders which affect movement and coordination — can be daunting, Hwee Khim admitted.
"I was thinking, how do you teach someone with physical disabilities to do leather crafting?" she recounted a young woman whose condition affects the right side of her body.
But 21-year-old Siti Raudhah wasn't going to let it stop her from taking on tasks that would normally require two hands to complete at the studio.
"When we gave her the first piece of leather, she kept trying and trying," Hwee Khim said.
Raudhah eventually found a solution — she held the leather against the table and used her other hand to do the stitching.
Her determination to make things work amazed Hwee Khim, who then decided to continue training people with cerebral palsy.
"They really want to seize the opportunities that are given to them."
After three years at PLove, Raudhah has honed her leather crafting skills and has taken on the role of a facilitator when the artisans are out for public events.
Integrating with society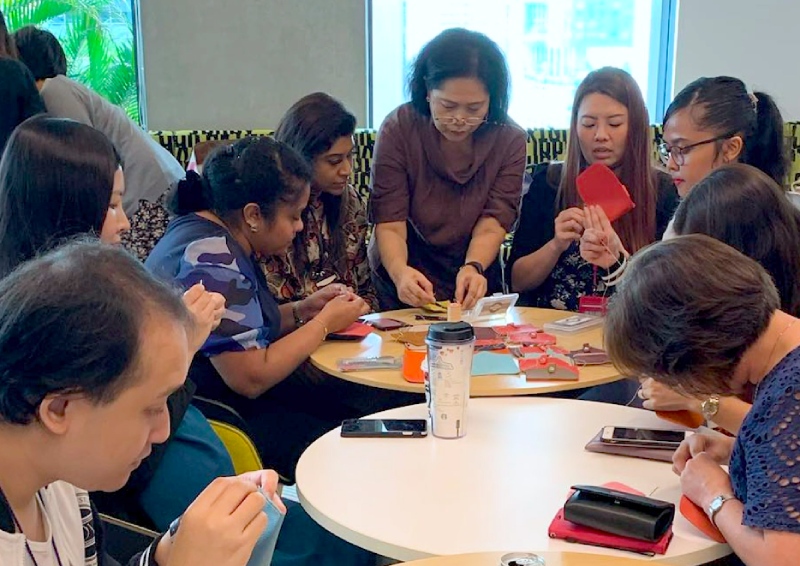 Besides providing work opportunities for youths with special needs, Hwee Khim and her team are also spreading the message of social inclusion.
At corporate team-bonding events, the artisans become facilitators of workshops where they impart their leather crafting skills to the participants.
When they first sit with the artisans, many members of the public are a bit reserved or unsure of how to interact with people with special needs, Hwee Khim told us.
"But as the workshops progressed, we can see their hesitation melt away as they become more comfortable."
These events also help the youths, who face challenges communicating with others, gain confidence as they interact with the public.
One such example is Siti Halizah, a 23-year-old artisan with mild intellectual disability who didn't talk much in the past.
"Now, she's opening up and learning to give instructions to the participants. It's very satisfying to see her progress," Hwee Khim said.
When asked what she loves most about working at PLove, Hwee Khim replied: "I enjoy spending time with these youths. They are simple people and a happy bunch.
"This community that we have, we're all friends. When I'm on leave or on MC (sick), Ethan will say that he misses me and it really warms my heart."
Singapore Pools has worked with the studio on several occasions, such as producing corporate gifts for its 50th anniversary in 2018.
One of Hwee Khim's most memorable moments at PLove is also the time the team created a special gift — for President Halimah Yacob.
While crafting the gift, she shared: "We discovered the hidden talent of one of our artisans, Ryan — he did a sketch of the president. Another artisan, Hanifah, worked on the leather marbling. It was a collaborative effort which we found very meaningful."
Nowadays, the artisans are producing leather crafts of such high quality that some people have asked if the stitches were completed by machines, Hwee Khim said with pride.
She noted that the studio has focused on establishing processes and training the artisans the past few years. For the next lap, though, she hopes to shift the focus to design by harnessing the talents of the youths and incorporating their creativity into the leather gifts.
"We hope to develop PLove into a Singapore brand that we can be proud of."
lamminlee@asiaone.com