Singaporean students perform Maori song on final SIA flight out of New Zealand
March 27, 2020
By
Kimberly Anne Lim
AsiaOne
With the pandemic panic, closed borders and cancelled flights, it's been a tough time for airlines around the world.
But one group of Singaporean students on the last flight out from New Zealand came up with a way to thank the crew that was just plane awesome.
The students from New Zealand School of Dance in Wellington won the hearts of both Kiwis and Singaporeans when they performed a Maori song dedicated to the crew on their Singapore Airlines (SIA) flight, reported Stuff.
A heartwarming video shared by the school yesterday (March 26) showed the six students standing at the front of the cabin and giving a spirited rendition of their school's waiata, a Maori song complete with a symbolic dance.
[embed]https://www.facebook.com/nzschoolofdance/videos/827340284414347/?__xts__[0]=68.ARDgZ1HENLo2JwST3v4pKUCJzjiFd_XZ2ka4R3hIbd1cmGk08[/embed]
Haruka Chan, Zi Yue Woo, Romaine Lee, Timothy Ching, Cherie Wong and Courtney Lim were flying back to Singapore on the final SIA flight out of New Zealand, the news website said.
The New Zealand government had recently announced that the country would enter a one-month lockdown on March 26 and close all schools on March 24 in order to curb the spread of Covid-19. 
"We shared our school's waiata to thank the amazing cabin crew that took such a small group of us home over 10 hours, in what they said was a rescue flight," the students explained.
As the video circulated on social media, the students received a bevy of positive comments and well-wishes.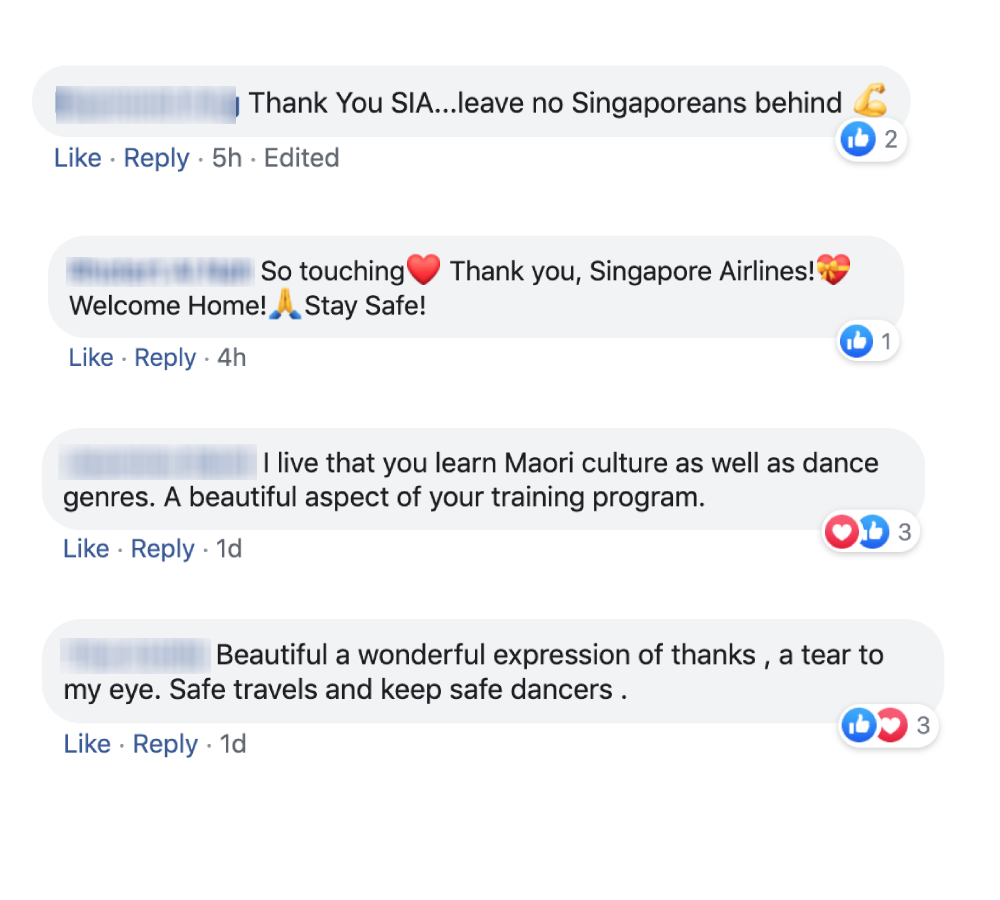 Their performance even caught the attention of Speaker of Parliament Tan Chuan-Jin, who lauded them in a Facebook post, writing: "What a lovely post to wake up to! These youths rock. Not just because of their performance. But their sense of gratitude. Welcome home!"
Tan also expressed his appreciation for SIA for "doing what it can to help bring students home" despite "bleeding very very badly".
The airline announced on March 24 that it would implement cost-cutting measures and cut its capacity by 96 per cent following a massive drop in air travel due to the Covid-19 pandemic.
However, with recent reports that SIA has secured $19 billion in funding, it seems that things may be looking up for the airline.
For the latest updates on the coronavirus, visit here.
kimberlylim@asiaone.com