'Stop yelping like a spoilt kid,' Ho Ching tells Singaporeans upset over new FairPrice service fee
PUBLISHED ON
April 17, 2020 6:15 AM
By
Kimberly Anne Lim
People have been roasting NTUC FairPrice for its new $3.99 service fee — and Ho Ching is not here for it.
The chief executive officer of Temasek Holdings chided Singaporeans who were complaining about the supermarket chain's fees in a candid Facebook post today (April 17), telling them to "stop yelping like a spoilt kid".
Ho, who is married to Prime Minister Lee Hsien Loong, also suggested that those who wanted their groceries delivered for free should "step up and volunteer to do delivery for the rest of us".
It came after NTUC FairPrice announced that it would impose a $3.99 service fee on all online orders from 8pm on Thursday (April 16).
This is on top of its new tiered delivery charges: $5 for orders below $59, $3 for orders between $59 and $79, and free for all orders $79 and above.
The delivery charge was previously $7 for orders under $59 and free for all orders $59 and above.
Many took to social media to express their objections, some even saying that they would rather leave the house to buy their groceries than pay the additional service fee.
On the other hand, a number of people said they understood NTUC FairPrice's decision.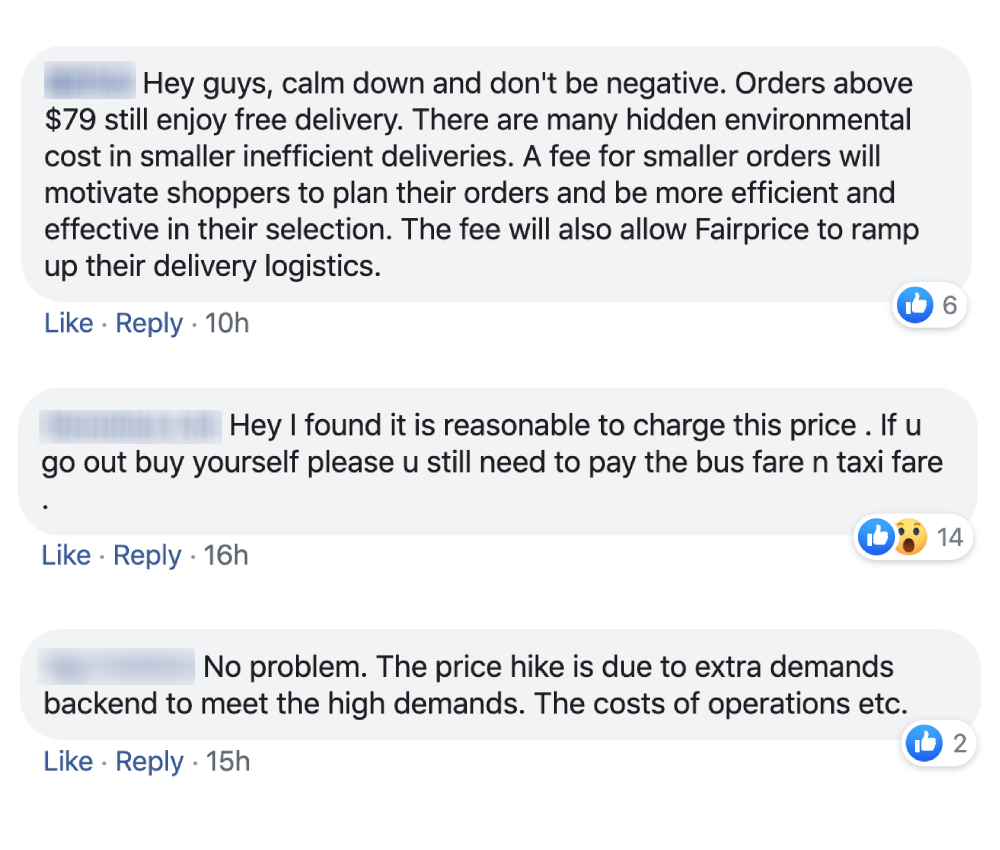 In her post, Ho defended NTUC FairPrice's additional fee, explaining that it was reasonable in light of the organisation's efforts to increase its capacity amidst the uptick in online grocery orders induced by the coronavirus outbreak.
Those complaining should "stop yelping like a spoilt kid wanting more and more without putting in any effort to help others", she said, adding that the grouses were "an insult to everyone else who are working their butts out (sic)" in the fight against Covid-19.
ALSO READ: Ho Ching clarifies her reaction to Taiwan donating masks to Singapore
She concluded her post with a direct challenge to keyboard warriors: "Go, keyboard warriors. Do your part to make this [circuit breaker] work.
"Upgrade yourself, or volunteer yourself for any number of tasks, down to helping to clean toilets and transport biohazardous waste, to caring for non-infectious patients, to helping to fill bottles of hand sanitisers for our dorm residents."
[embed]https://www.facebook.com/permalink.php?story_fbid=1408557305998766&id=100005335308340[/embed]
For the latest updates on the coronavirus, visit here.