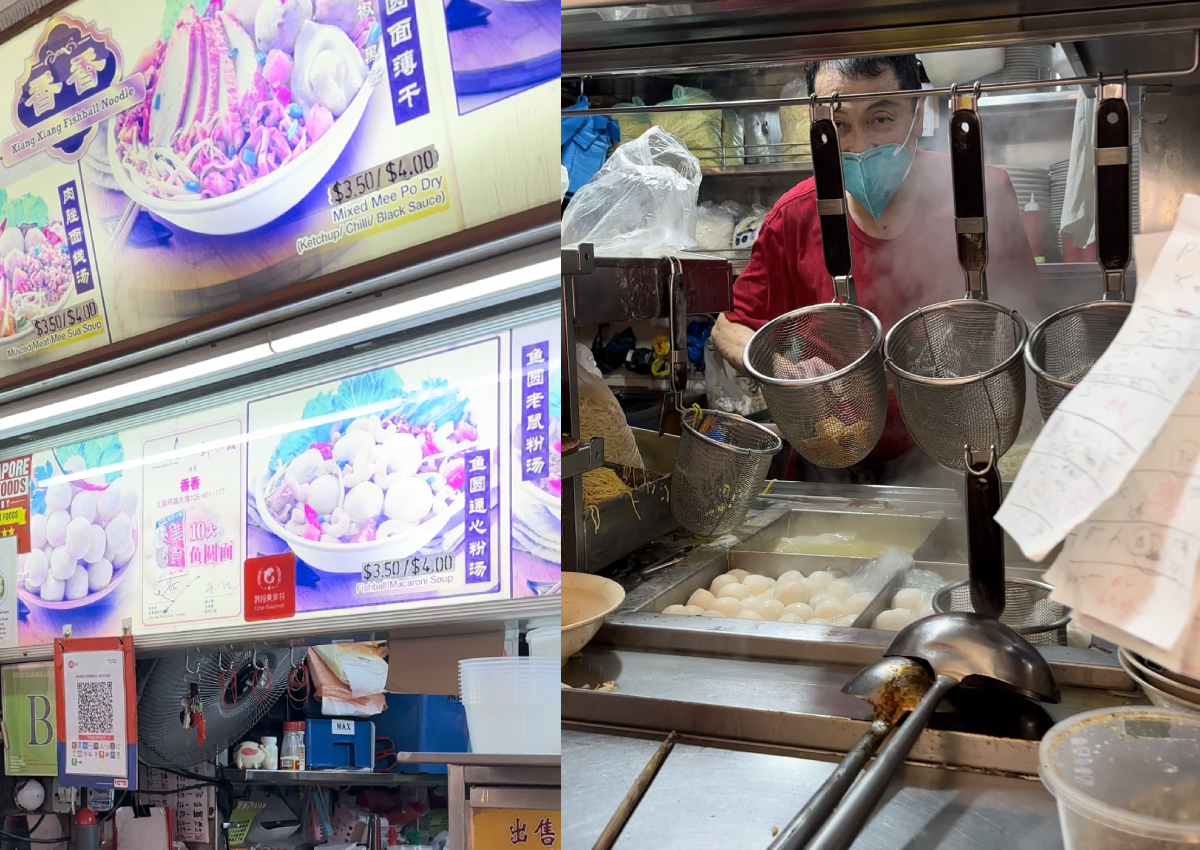 It's 3pm on a Saturday (March 25). The lunchtime crowd might have died down, but there are still specks of hungry diners lingering at Chong Pang Market and Food Centre.
Glistening in sweat, hawker Kelvin Kang was in his element – dishing out bowls of his signature fishball noodles since 6am.
Taking over the business from his late father, Xiang Xiang Fishball Noodle has been in operation since the hawker centre first opened in 1984, the 62-year-old told AsiaOne.
The secret to its longevity? The regular customers from the Chong Pang and satellite Nee Soon housing estates who frequent his stall.
The second-generation hawker, who claimed that his fishballs are of the "freshest and highest quality", said: "I've seen customers grow up and get married. They even bring their kids to try my food.
"I'm grateful to my supporters. I would not be still running my stall without them."
While the old-school facade of Chong Pang Market and Food Centre has been a vibrant presence in the neighbourhood, its 179 stalls will be getting a new home in four years' time.
In Sept 2020, the Singapore Land Authority (SLA), the People's Association (PA), National Environment Agency (NEA) and Sport Singapore first announced that Yishun residents can look forward to an upgraded hawker centre and market .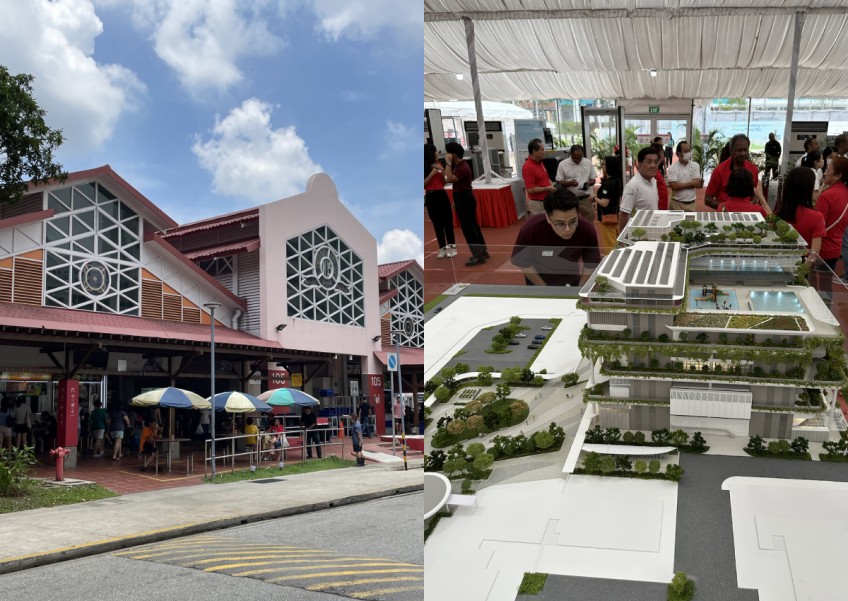 A seven-storey integrated development at the site of the former Chong Pang Community Club (CC) in Yishun Ring Road and Block 102 Yishun Avenue 5 will be completed by 2027.
Named as Chong Pang City, it will also house three swimming pools, a gym and fitness studios.
The existing hawker centre, when vacated, will be redeveloped into a community plaza by 2028.
Speaking at the groundbreaking ceremony for Chong Pang City on Sunday (March 26), Prime Minister Lee Hsien Loong acknowledged how Chong Pang and the other residential estates in Yishun "have changed enormously over the years".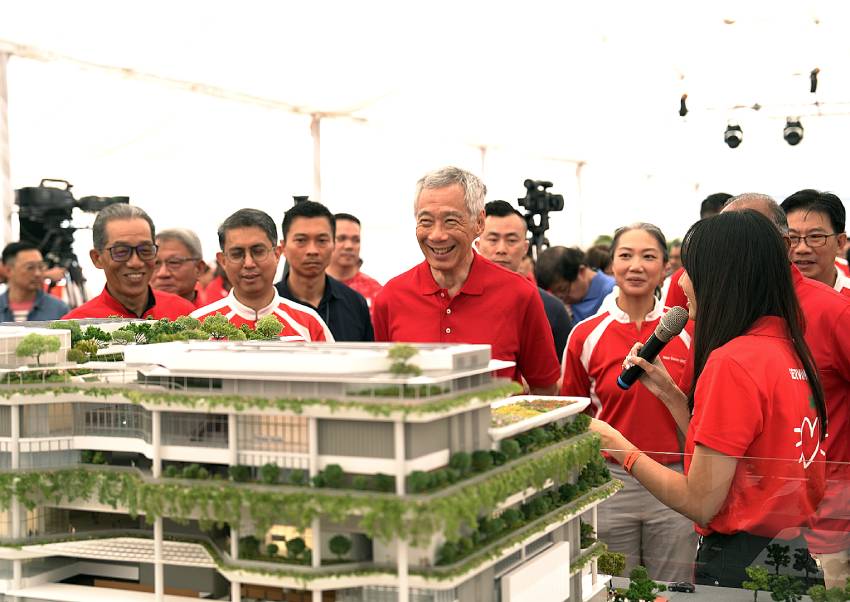 PM Lee recounted that as a new MP for Ang Mo Kio GRC, it was "not easy" to persuade people to move to Nee Soon in the 1980s.
He said: "When young residents came to see me to ask to change their flats, I would have to explain to them that 'Today, Nee Soon is a new, growing estate. But in a few years' time, its neighbourhoods will be just as attractive, just as vibrant as Ang Mo Kio and Bishan'.
"Nee Soon today is a vibrant and thriving family-friendly place. The residents are very happy to live here, and I think now, Nee Soon MPs get many requests for more next generation residents who want to buy their new flats there."
SLA, along with PA, NEA, Sport Singapore, have garnered residents' feedback on Chong Pang City since it was announced in 2020, Minister for Home Affairs and Law and Chong Pang MP K. Shanmugam said.
"That is my wish for us that Chong Pang City, together with the community plaza, will be a focal point for the community," he added.
'Plenty of history here': Kang
While Kang will be saying goodbye to the existing Chong Pang Market and Food Centre, the thought of setting up shop away from the Nee Soon vicinity has never crossed his mind.
The hawker, who lives a five-minute walk away from the food centre at 113 Yishun Ring Road, said: "My customers did ask [about my future plans]. But I don't want to disappoint those who live around here who like my food.
"So I tell them, 'relax, I'll be moving to the new hawker centre next door when it's completed."
But will he miss the "feels" of this hawker centre when it's demolished?
Kang said: "Yes, there's plenty of history here. But I prefer to move to a newer-looking hawker centre. The space inside the stall will be wider too.
"The hawker centre will be cleaner… It will make us more attractive for customers, especially when there's so many food options available these days."
While Kang is eager to move to the integrated development, another long-term stall owner at Chong Pang Market and Food Centre will be shuttering when that day comes. 
Ronny, who has been running a shop selling bedsheets and bath towels for 39 years, shared that footfall has "not been good" recently.
The 73-year-old said: "Youngsters don't want to go to the market already. They go online to shop these days.
"The new place will be nicer, but I think I've had enough already. Time to pack up and rest."
When completed, Chong Pang City will add freshness and vibrancy to the neighbourhood, PM Lee said.
The integrated development is one example of the government's efforts to "progressively redevelop the older precincts" with new amenities and infrastructure, he added.
Describing how "it cannot be helped" that some public housing estates are more popular than others, PM Lee said: "You can be assured every estate you live in is well-planned, well-appointed and well maintained… It will be a good place to live in, and your property values will reflect that."
https://www.dailymotion.com/video/x8jgva5
Excited about new pools: Resident
For Yishun resident Sasikumar, while his four-year-old daughter is "too young to understand what's happening", he is excited about having swimming pools within a seven-minute walking distance from his flat.
The 39-year-old software engineer, who lives at block 114 Yishun Road shared that he currently takes a 30-minute bus ride to Woodlands Swimming Complex every weekend.
Another Yishun resident Jasmine Soh, a third-year student at Nanyang Technological University, holds her memories of the former Chong Pang Community Club "close to her heart".
After all, it's the place where she received academic awards during her school days.
"It's significant for me since it's a milestone in my life," Soh said, adding that she's looking forward to the new community hub with its amenities "catering to the younger generation".
https://www.tiktok.com/@asiaone/video/7214849104281734407?_r=1&_t=8ay5iugEklz
No part of this story or photos can be reproduced without permission from AsiaOne.