'We can make fun of any accent': Singapore start-up defends controversial ad
February 26, 2020
By
Kimberly Anne Lim
AsiaOne
Language tutoring platform Tutoroo recently got a little Tuto-rude when it was called out over a video ad that poked fun at a Chinese woman's accent.
The Singaporean company released a statement on Twitter on Feb 21 defending the controversial ad and denying accusations that it had been racist or sexist.
The complaints appeared after the ad in question was posted on the company's Twitter page on Jan 23.
In the 30-second clip, titled Getting The Phone Number Of A Chinese Girl, a Caucasian man exchanges flirtatious glances with a Chinese woman in a bar. As she leaves the joint, he runs after her and asks for her number.
[embed]https://twitter.com/ContactTutoroo/status/1220034670038933504[/embed]
She agrees without hesitation, saying in a thick accent: "Sex, sex, sex. Free sex tonight."
As the man does a double take, she grabs his phone and types the numbers "6663629".
The video then cuts to a scene of the man helping the woman with her English pronunciation along with the tagline: "Find the best language tutors near you now."
The ad, which was meant to promote Tutoroo's platform that connects students to language tutors, did not go over well with Twitter users.
Many felt that it made fun of the woman's accent and accused it of playing into stereotypes.
In response to the backlash, Tutoroo hit back at critics with a string of tweets.
The company said: "We believe that YES, the video we made is FUNNY. We believe that NO, it is not racist nor sexist. We believe we can make fun of any language or accent, and we will.
"Strangely enough, none of the videos making fun of accents such as French, Spanish, Arabic or Hindi ever generated any backlash on social media."
It had posted another video on Feb 15 making fun of a man's Indian accent.
[embed]https://twitter.com/ContactTutoroo/status/1228595690852339715[/embed]
Tutoroo also did not shy away from responding directly to its detractors and was unapologetic, to say the least.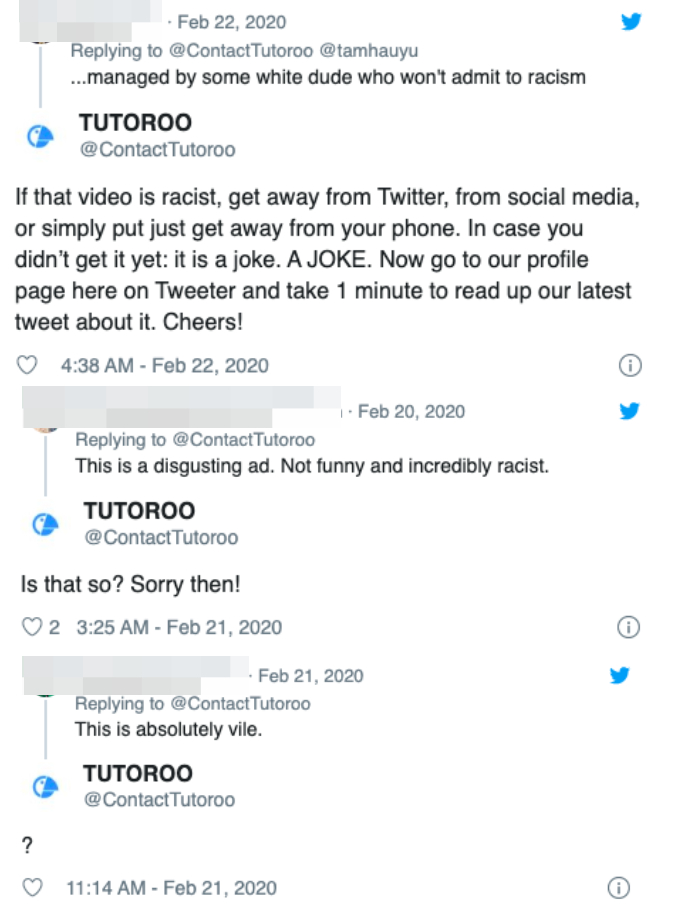 Founder Nicolas Vanhove, a Frenchman based in Singapore, also took to Twitter to defend the video, claiming that Facebook users had "loved it".
Vanhove is not letting any of the backlash stop him — he promised "more videos to come" and told haters: "If you don't like it, skip it."