Are you a bubble tea fan who's always looking for a good deal? Well, you're not alone. 
LiHo's $1 iced tea promotion yesterday (March 25) caused a stir in Singapore, and one woman made it her mission to make the most of it.
But her clever tactics has led some to question whether she's crossed a line.
TikTok user Nothingaboutsteven took to social media to share a video of herself using an unexpected accessory to purchase LiHo's $1 Da Hong Pao Tea - a huge wine glass. And when we say huge, we mean huge. 
https://www.tiktok.com/@nothingaboutsteven/video/7214489555360058625
The 20-second video, which has since garnered more than 18,000 views, starts off with the woman heading to LiHo with the large-than-usual wine glass. 
A LiHo employee can be seen next preparing a regular order and pouring it into Nothingaboutsteven's huge glass, but only managed to fill it past the halfway point.
Later, she is seen receiving the glass filled to the brim with iced tea from the employee. Beaming with delight, the filled glass is so heavy that she had to hold it with both hands. 
But that's not all - the video ends with a surprise twist, showing not one, or two, but three gigantic glasses of the same size lined up, all filled up. 
It's clear that this woman knows how to take advantage of a good deal and enjoy her iced tea in style. However, some netizens beg to differ and were upset, questioning "why spoil market".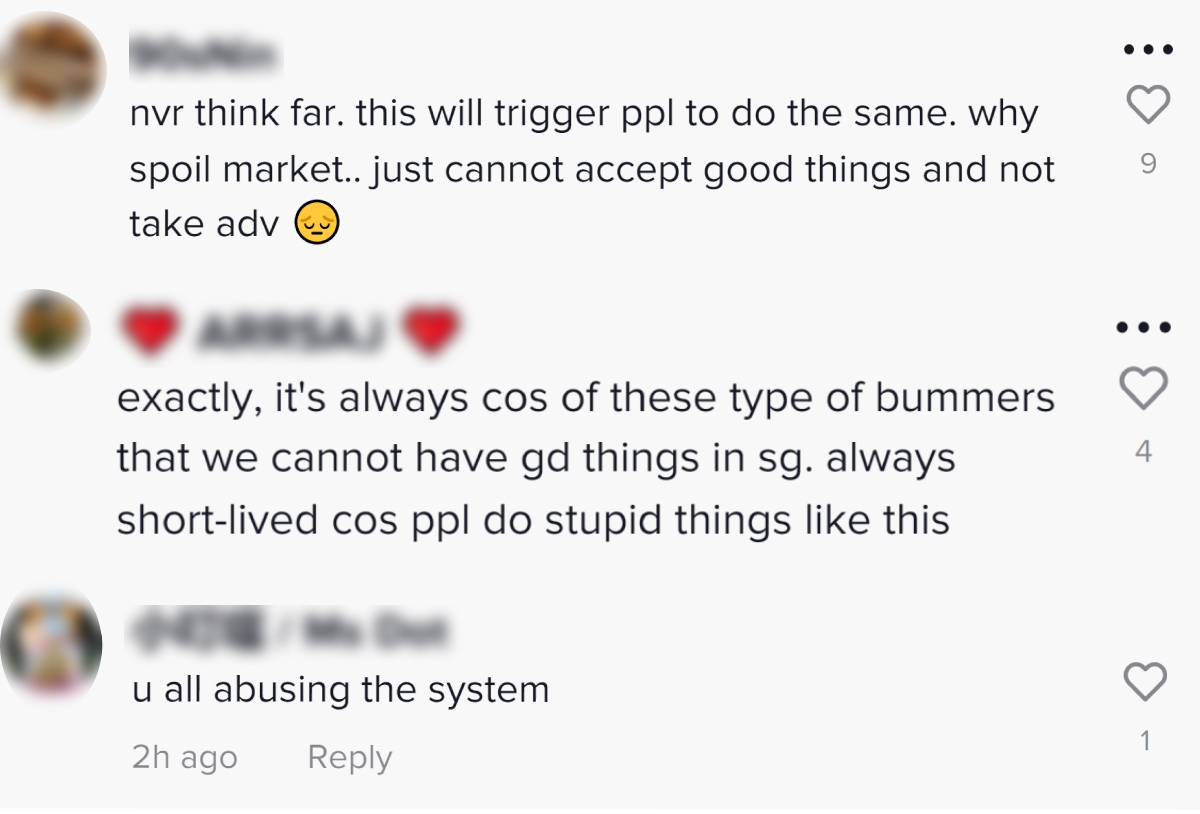 The woman's actions were not prohibited by the bubble tea company.
On the contrary, LiHo encouraged customers to bring their own reusable bottle of any size in a bid to promote eco-friendliness. Their Instagram post stated they will fill up any bottle to the brim, provided there's no wastage.
The woman allayed netizens' concerns about food wastage by explaining that the tea was shared among 15 people, ensuring that no tea went to waste.
Though it is a smart idea, having that much bubble tea - even without toppings and pearls - can be detrimental to one's health. 
According to the Health Promotion Board (HPB), females with a daily energy requirement of 1,800 kcal should restrict their sugar intake to no more than 10 per cent. Based on a 2000-daily calorie intake, for most adults, that would be around 10 teaspoons of sugar. 
A 500ml cup of bubble tea contains as little as 8.5 teaspoons of sugar to as much as 20.5 teaspoons of sugar, at 100 per cent sweetness. Even without toppings, a single cup of bubble tea has the possibility of surpassing this limit, representing a whole day's worth of sugar intake.
So, while it is good to indulge once in a while, it is important to note that bubble tea consumption must be moderated.
ALSO READ: Will frequent drinking of bubble tea raise your risk of diabetes?
aishahm@asiaone.com