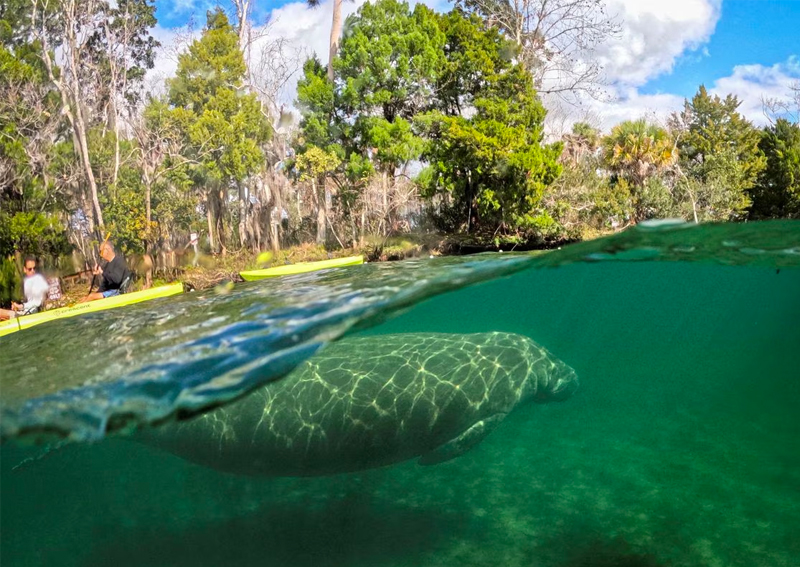 AsiaOne has launched EarthOne, a new section dedicated to environmental issues — because we love the planet and we believe science. Find articles like this there.
---
CRYSTAL RIVER, Florida – Florida manatees, the gentle sea mammals known as "sea cows," are dying in Florida at an alarming rate, mostly of starvation as their main staple of sea grass disappears in the state's Panhandle region, according to experts.
Out of an estimated population of 6,000 to 7,000 manatees in Florida, up to 1,000 died last year alone, manatee biologist James "Buddy" Powell told Reuters TV.
"I think what we see now is a wake-up call," Powell said. "You'll have thousands of manatees in an area, to which they come sort of expecting, you know, 'Where's the buffet?' And they arrive and it's not there.
"So, they have been starving and dying as a consequence to that starvation but also other health concerns associated with malnutrition," Powell added.
Manatees are a protected species in Florida but their environment is not. They are particularly vulnerable because aside from the scarcity of sea grass in their habitats, they are also being affected by water pollution, injured by boats and killed by red tide events, a toxic algal bloom.
Their populations on the western part of the Florida Panhandle are faring better thanks to lower human activity, fewer boats, less pollution and greater efforts to restore coastal ecosystems and grow sea grass.
Sea and Shoreline, a non-profit organisation headed by Powell and dedicated to aquatic restoration, has been growing sea grass in the manatee sanctuary of Crystal River, the manatee capital on Florida's Gulf Coast.
"One of our biggest projects is the Save Crystal River Project," said sea grass biologist Jessica Mailliez, who works with Sea and Shoreline to restore sea grass in the area.
"We have fully completed about 80 acres (32 hectares) thus far and it's been so successful that the 80 acres of grass we've planted has actually expanded to over 250 acres (100 hectares)," Mailliez added.
Manatees, which can grow up to 13 feet (4 meters) long and weigh up to 3,500 pounds (1,600 kg), are herbivorous and survive almost exclusively on sea grass, but also can be fed romaine lettuce.
They can live both in salty and fresh water and venture into rivers, springs and inlets. They are gentle and docile, unafraid of humans, and reproduce very slowly – a calf every two-and-a-half years or so.
Sea grass is being killed off primarily by water pollution – fertiliser run-off as well as human and animal waste – and other human activities such as boats dragging their anchors across the seabed.
Florida Governor Ron DeSantis in May earmarked more than US$30 million (S$39.7 million) to enhance and expand manatee rescue, rehabilitation efforts and provide habitat restoration for areas where manatees are highly concentrated.
DeSantis last week issued an executive order with a proposed of US$3.5 billion investment over four years for Everglades restoration and water environment protection.
"So the recent executive order by Governor DeSantis is monumental," Powell said. "I think it's going to make a big difference in terms of trying to restore our coastal ecosystems."