[UPDATE, October 20]:
Since this report, the police are looking into the SharingIsCaring Telegram group. 
---
It was sometime in late September that RC (not his real name) was suddenly pulled into a private Telegram chat group titled "SharingIsCaring".
Prior to the invite, he had been in a Telegram chat group with Singaporean members discussing the random topics of the day, from upcoming events to recent movies and the latest food hotspots. One of its members with the Telegram handle Lust Wander went on to create SharingIsCaring and kicked off a recruitment drive of sorts, inviting others — including RC — into his new secret channel. 
But RC's curiosity soon turned into disgust, dismay and disbelief when he realised what he had got himself into after joining the group. With over 100 members in SharingIsCaring, what they were sharing were images and videos taken of unsuspecting adult women and uniformed schoolgirls in MRT trains, pornographic content, and tips on how to be "snipers", the term used to refer to individuals who capture those content to be shared online.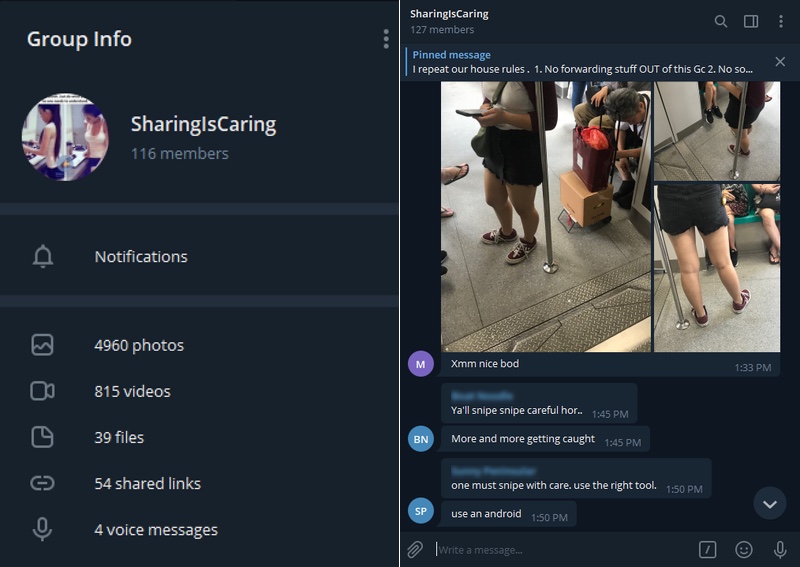 Wanting a way to expose the group without busting his cover, he created an account on encrypted email service Tutanota and sent an email to AsiaOne on Oct 5. He had read our deep dive into shuttered smut-sharing Telegram group SG Nasi Lemak and thought that we could do the same for SharingIsCaring.
SG Nasi Lemak
While SG Nasi Lemak might have gotten shut down and its administrators nabbed by the police earlier this week, they could be slaying a Hydra — cut off one head and two more shall take its place.
Still, it's one less perverse platform. Prior to its closure in early October, SG Nasi Lemak had well over 44,000 active members and up to 46,000 at its peak. Its members consist of mostly Singaporean males who'd share and comment on nudes and lewd videos featuring young local women — content that might have been shared privately but leaked onto SG Nasi Lemak without consent.
SG Nasi Lemak had also been a free-for-all for all things vice. Members advertised unlicensed prostitution, sold outlawed e-cigarettes, and trafficked mysterious sexual-enhancement drugs.
Thing is, police reports had been lodged against the Telegram chat group as early as March 15, but it took several months for the Singapore Police Force (SPF) to finally establish the identities of the people who helped run it.
On Oct 14, the four Singaporean suspects (one as young as 17) were arrested at various locations across the country. They were charged in court the following day with conspiracy to commit distribution of obscene materials.
Patrons of pornography
Like SG Nasi Lemak and the many chat groups of its kind, SharingIsCaring is a dumping spot for porn. If the distribution of obscene material is a crime (and it is), it's probable that every single content contributor in the chat group is a crook. 
Unlike SG Nasi Lemak, however, SharingIsCaring is a secret, sealed channel. Attempts were made to join the group ourselves to verify RC's tip-off, but the group appears to be hidden on Telegram, a messaging app built on the idea of privacy and anonymity.
RC claimed that he wasn't able to invite us into the fold either as he wasn't "that high in their hierarchy to vouch for a new member". 
He offered to be our source and this report is based on his provided screenshots.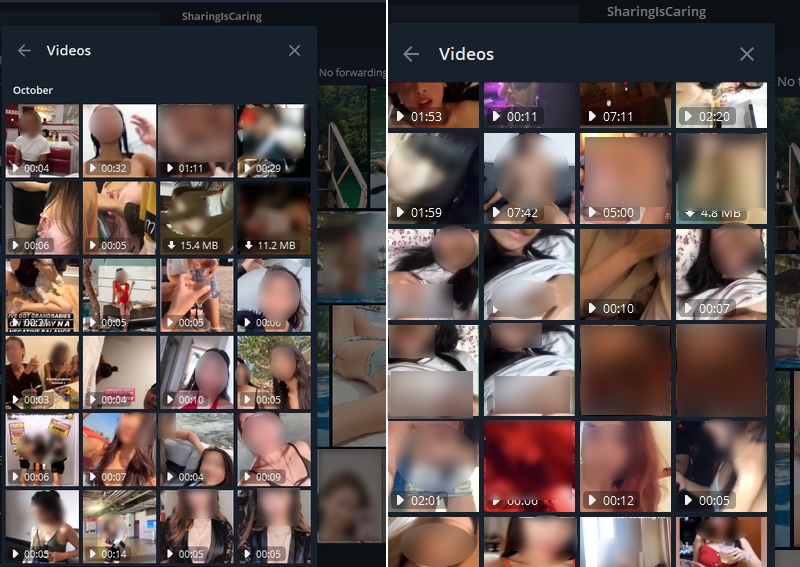 "You can see the group has shared a total of 5,775 videos and pictures," RC pointed me to a particular screenshot. 
"Considering the group is only around 10 days old (at that point in time), there's an average of 577.5 media being shared on a daily basis, which means every hour there's at least 24 media being shared!"
Even with the deluge of leaked intimate videos of Asian women, Lust Wander set limits amidst the depravity. No child pornography allowed, no go for rape videos (unless it's role-played), and nothing about the mentally ill.
Snipers and schoolgirls
Things can get even more debauched. Separate from the glut of circulated pornography were clandestine pictures of female commuters on the MRT, with some of the victims even in school uniforms. 
The level of turpitude goes up another notch when going through their discussions, ranging from the best type of smartphones to capture things stealthily to the recommended brightness settings to not get caught. Basically, it's a support group for the perverted, with hot tips and tricks on being a creep. 
MRT cabins aren't the only places they'd snipe too. Even bookstores and libraries aren't safe spaces. 
VVIP
So far, Lust Wander doesn't seem to have any doubts about the people he pulled into the group, including our anonymous source RC. He touts SharingIsCaring as a platform beyond the reach of journalists and leakers "spoiling the fun of it". According to one message, the administrators of other similar Telegram chat groups — RK and XMM — are also involved in SharingIsCaring. 
"What makes the whole situation even worse is that there is a VVIP group that is catered towards people that take secret pictures of women in MRTs," stressed RC.
A screenshot in SharingIsCaring depicts Lust Wander pushing members to help grow his group.
RC believes that even more content of female MRT commuters is being shared on Lust Wander's exclusive group. "My purpose of staying is to gather enough evidence and now I'll take my leave from the group," RC told us.
When contacted, SPF directed us to their statement about the SG Nasi Lemak case.
"Members of the public are advised to stop soliciting in any lewd website or joining such online platforms and illicit chat groups. The Police takes a serious view of anyone involved in criminal activities and will continue to take tough enforcement actions against those breaking the law."
Under Section 292(a) read with Section 109 of the Penal Code, Chapter 224, anyone convicted of conspiracy to commit distributions of obscene materials may be punished with imprisonment for up to three months or a fine, or both. 
ilyas@asiaone.com