Is ex-BigBang member Seungri in Singapore after being released from jail?
PHOTO: Instagram/Junyilol, Reuters
PUBLISHED ON
March 13, 2023 4:35 AM
By
Drima Chakraborty
He may have been released from prison early, but is disgraced BigBang member Seungri celebrating his newfound freedom in Singapore?
One woman going by Junyi on Instagram believes she may have found the 32-year-old — or a very convincing lookalike — in Holland Village of all places.
"Hotter than Seungri — Seungri doppelgänger," she wrote in an Instagram Story today (March 13). "He really got me searching 'where is Seungri now' on Google when he walked in.
"Bruh, he is Seungri. Why isn't he in jail?"
She added a screengrab of the Google searches and included the hashtags #WefoundSeungri and #SeungriinHollandV.
Junyi told AsiaOne: "I was at Tanjong Pocha at Holland Village with my friend around 9.30pm last night. At around 10.15pm, two guys walked in and I looked up.
"I made eye contact with the first guy wearing a white top and my first thought was 'Seungri'. He looked exactly like him and I was stunned into silence because I thought, isn't he in jail? That's the last news I heard of him, so no way was he in Singapore at Holland Village.
"My friend managed to take a peek at him after we left the shop at around midnight and laughed saying he looked like Seungri but the 'hotter version'."
She added that she thought it was Seungri at the time, but could not be sure as she didn't talk to him.
[[nid:616356]]
Seungri, whose real name is Lee Seung-hyun, was a member of the popular K-pop boy band BigBang until his involvement in the Burning Sun scandal.
The Burning Sun nightclub, which was co-owned by Seungri, was linked to underage trafficking and abuse by VIPs in 2019, and saw K-pop singer Jung Joon-young jailed for six years and FT Island guitarist Choi Jong-hoon sentenced to five years.
Seungri himself was sentenced to three years' jail for prostitution-related and gambling offences by a military court while he was serving his mandatory military service, though his jail term was reduced to 1.5 years after two appeals.
He was released on Feb 9, two days before his initial release date.
Netizens were dismayed when his early release was announced last December, writing: "How is he being released already?" and "If the law is like this, you can't expect the crime rate to go down."
[embed]https://www.instagram.com/p/CmG0NV0LIhy/[/embed]
Some even thought he'd try to become relevant on a platform like YouTube, with a netizen writing: "Please don't return to YouTube, I don't want to see you at all."
Playing on the fact that 'Seungri' means victory, another disgruntled netizen wrote: "Change your name to defeat."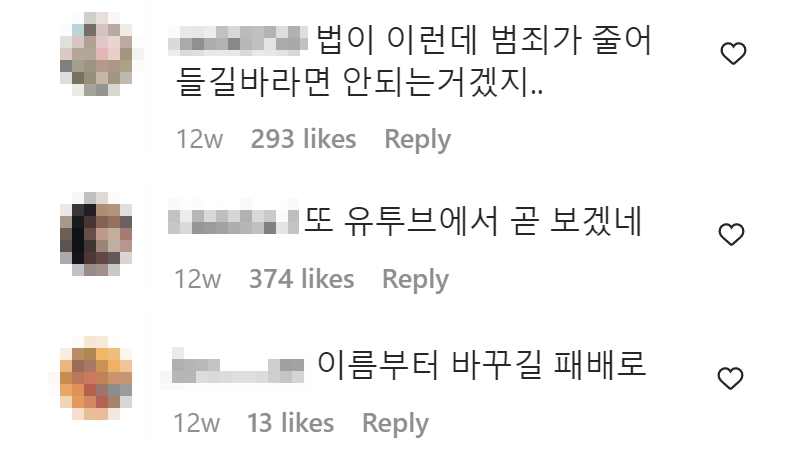 ALSO READ: Shawn Yue, is that you? Actor is now unrecognisable, netizens say
drimac@asiaone.com
No part of this article can be reproduced without permission from AsiaOne.