'I can't sleep after saying my final goodbye': K-pop stars post tributes, Astro members reunite after Moonbin's death
PUBLISHED ON
April 21, 2023 5:12 AM
By
Drima Chakraborty
'Sorry for not knowing.'
SHINee's Key wrote that this morning (April 21) in a comment on the last Instagram post made by Astro's Moonbin. The latter was found dead in his apartment on the evening of April 19 in an apparent suicide.
The K-pop idol was 25.
Key's full comment read: "I can't sleep after saying my final goodbye, with hopes that you have gone to a good place. I sincerely hope that you're happy.
"Thank you for leaving records of what you did on the days that have gone by.
"For those who are left behind, we can cry and smile at those memories and live on, anticipating the day we turn around the corner and you greet us with your bright smile. You worked hard, really.
"And sorry for not knowing."
Fellow SHINee bandmate Taemin shared a tribute in an Instagram Story yesterday: "I remember you shining on stage. I hope that you're happy where you are and that you're always shining there."
The two lost their band member Jonghyun to suicide in 2017.
TVXQ members, who had known Moonbin since 2006 when the former child actor appeared in the music video for their song Balloon, also shared their condolences.
"I won't forget you smiling and shining brightly. I pray for your peace and happiness there," wrote Yunho, who had Moonbin play a younger version of himself in the video.
Former member Jaejoong wrote: "I hope you are happier in the sky."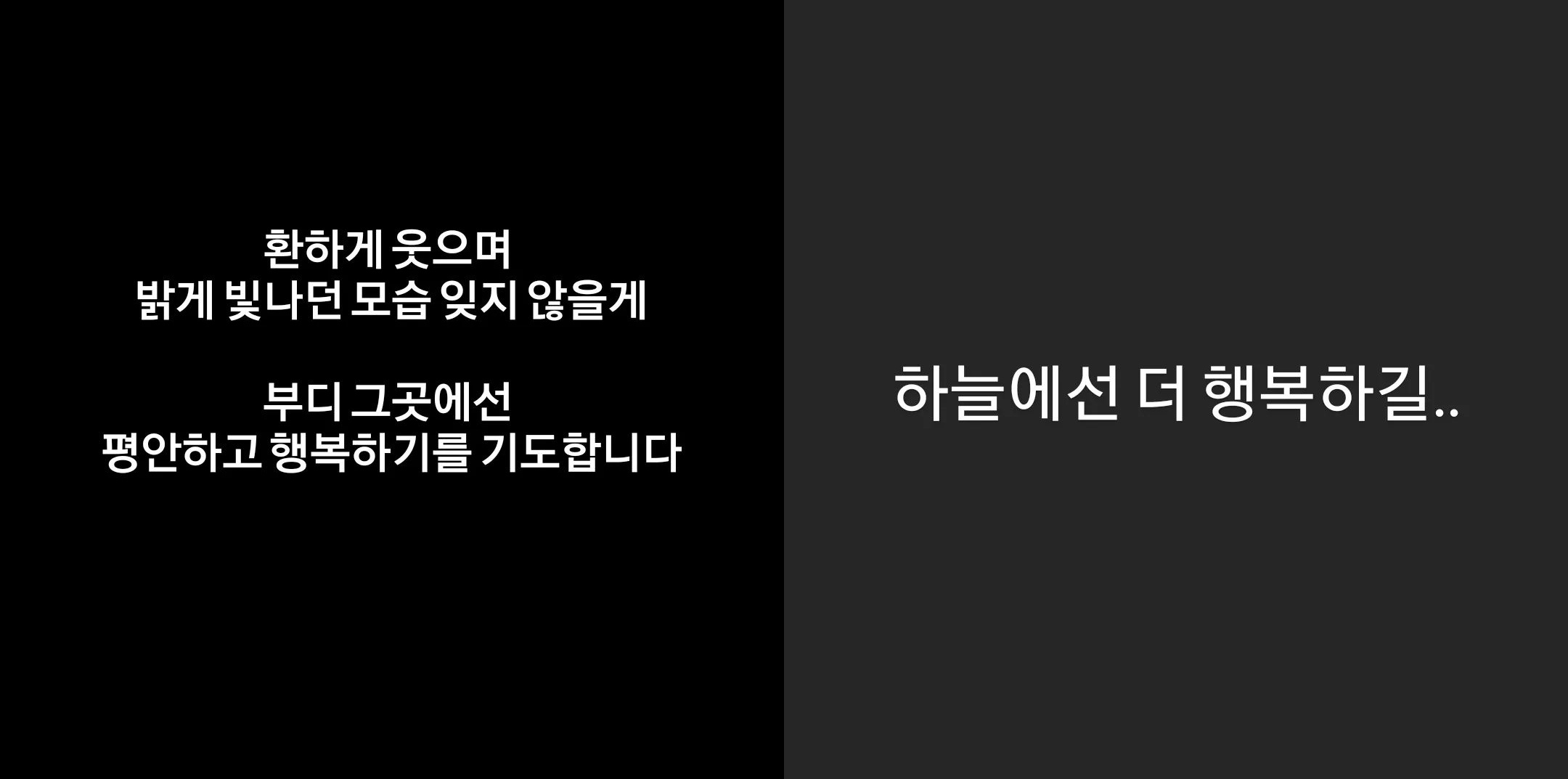 BTS rapper RM and former 4Minute idol Jeon Ji-yoon shared plain black backgrounds on their Instagram Story in mourning.
The hosts of music show M Countdown, Joohoney from Monsta X and Miyeon from (G)I-dle, wore black in mourning last night.
"Today is one of those days where the spring rain that falls in the morning is unpleasant," Joohoney said. "I sincerely pray that you rest comfortably in a good place."
"I send my condolences following the sad and heartbreaking news," said Miyeon.
Actor-comedian Kwon Hyuk-soo, who appeared with Moonbin on the variety shows Trendy Programme and SNL Korea 2, wrote in an Instagram post: "I love you so much. I'm sorry and thank you. I miss you."
TV and radio presenter Jang Sung-kyu shed tears yesterday as he announced the news of Moonbin's death on his morning radio show: "I can't believe it. I can't believe it because it was Moonbin, who had such a bright personality."
you are loved by many our moonbin. You can rest well now…nothing and no one can hurt you anymore. We will get through this, bc we knw you are with us. We love you so much we will miss you! see you soon our shining star 💜😘✨🕊️💫 pic.twitter.com/joVemjMOqj

— rans | 아스트로 사랑해 | REST (@_aroha97) April 21, 2023
Moonbin's bandmates reunited at the funeral home at the Asan Medical Centre in Seoul, with Astro's label Fantagio confirming that Sanha and Jinjin had arrived the earliest on the night of the 19th.
MJ, who is undergoing his mandatory military service, applied for urgent leave to attend the funeral and Cha Eun-woo, who was in the United States, was spotted at Incheon International Airport last night after making a hasty return to South Korea.
Former Astro member Rocky also reportedly visited the funeral home.
Moonbin's funeral procession will be held on the morning of April 22, with his younger sister Moon Sua of the K-pop group Billlie as chief mourner.
SINGAPORE HELPLINES
Samaritans of Singapore: 1800-221-4444
Singapore Association for Mental Health: 1800-283-7019
Care Corner Counselling Centre (Mandarin): 1800-353-5800
Institute of Mental Health's Mental Health Helpline: 6389-2222
Silver Ribbon: 6386-1928
Shan You Counselling Centre (Mandarin): 6741-0078
Fei Yue's Online Counselling Service: www.eC2.sg
Tinkle Friend (for primary school children): 1800-2744-788
ALSO READ: 'How did they do it?' Tasha Low realised she had to leave K-pop industry after singer's suicide
drimac@asiaone.com
No part of this article can be reproduced without permission from AsiaOne.