Trust is the name of the game when it comes to actors executing their scenes well.
During a recent press conference for her new movie What! The Heist, actress Patricia Mok gave AsiaOne the lowdown on the on-screen chemistry she has with co-stars.
"There was a scene where I had to seduce another character, and we didn't actually rehearse the whole scene," the 51-year-old explained. "The director just told us where we're supposed to go, and then I just told [my co-star], 'I'll fall on this side and you'll have to pick me up'."
The scene involves her character Ah Hua seducing the security manager of a lottery company during the titular heist and she explained that you can see her fall "like a feather" before being lifted up by her co-star.
"It's really effortless because we have a lot of chemistry on-screen so we don't need a lot of discussion."
The Lunar New Year comedy What! The Heist sees Mark Lee play a fictional veteran actor Chao Yan Fatt, who narrowly misses winning the Golden Horse Award — art imitates life, after all.
His daughter suffers from heart disease, and to save her, Yan Fatt joins forces with childhood friend Choy Gor (Jack Lim) to manipulate the national lottery and win the grand prize.
Mark added during the interview: "Sometimes when you act with certain people, you know what they can do, and they know what you can do, so you trust each other and there's no stress."
"For us, we know we can do it, we don't need to discuss," said Patricia, adding that if actors aren't close, scenes involving a lot of touching can get awkward and apologetic.
Mark, 54, quipped: "And I know where can touch, where cannot touch, and I know where touch already still no use," to much laughter.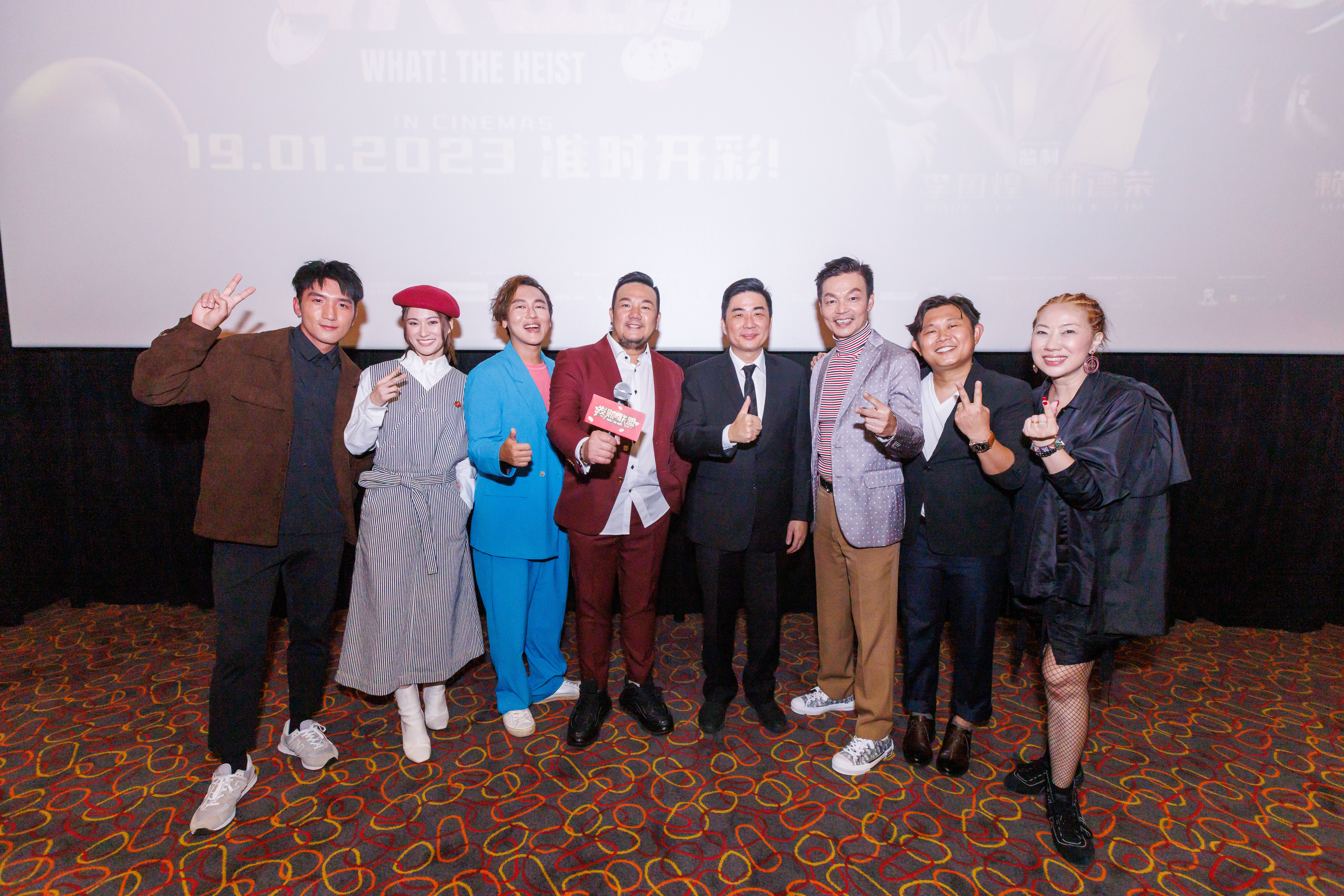 But this doesn't extend to romantic scenes between long-time friends Mark and Patricia. She previously described Ah Hua as a "beauty queen who isn't very beautiful" and has a crush on Yan Fatt.
"That one cannot," Mark agreed.
She joked: "When we look at each other, we want to laugh already! Come on, we're not young people, we're adults — old people."
Describing a scene the two did in a lift where Patricia had to flirt with Mark and lean on his shoulder, she said they had to steel themselves and look straight ahead instead of at each other before the cameras started rolling.
"I had to hold back my laughter," she said.
Despite her reservations about romantic scenes with Mark, Patricia's reason for returning to the big screen after seven years was simple: "It's about working with Mark again after over 10 years."
With Patricia's last movie being 2016's Let's Eat!, Mark joked that her reason for joining the cast must be because she's poor now, to which she retorted: "No, I got other jobs to do!"
She added: "They invited me [to join the cast], and when I read the role, I loved it. I've done so many movies where I did cameo roles, but this was a role with feeling.
"There's comedy, which I love doing, but I also want to show people the inner feelings of Pat Mok."
What! The Heist also stars Henry Thia and Jaspers Lai and is now showing in Singapore cinemas.
drimac@asiaone.com
No part of this article can be reproduced without permission from AsiaOne.