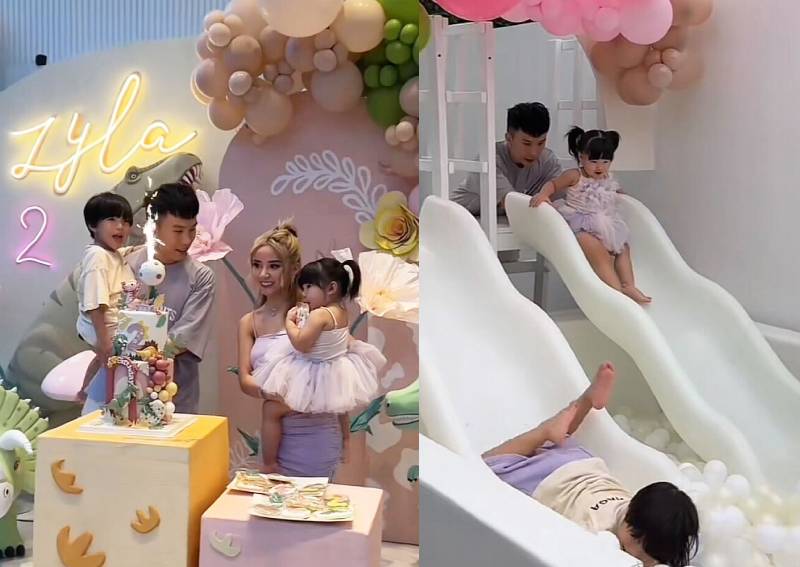 Would you rather put $20,000 towards your child's education or splash it all on her birthday party? 
It's the latter, for Singapore influencer Naomi Neo. But then again, the conundrum is one which the 27-year-old mum probably doesn't have to deal with. 
The amount is apparently what she spent on her daughter Zyla Rey's birthday bash in January. And the girl just turned two.
In a TikTok video posted on Wednesday (Feb 15), Naomi shared snippets from the celebration, which appeared to be held in the family's brand new three-storey home.
"Throwing a $20,000 dino birthday party for my daughter," declared the mother-of-two, who also recently celebrated her own birthday.
https://www.tiktok.com/@naomineo/video/7200330714254986498?
From what we saw in the TikTok video, the set-up by party planner Abite Atelier included an elaborate backdrop featuring 3D dinosaur figurines, a gazillion balloons and an adorable two-tiered cake. Even the kids' cutlery was dinosaur-themed.
For entertainment, there were dinosaur-themed games for the children and even a magic show. 
And what's a kids' party without a bouncy castle or a ball pit these days? Or be like Naomi and get both.
No stranger to receiving flak from strangers online, especially when it comes to the topic of parenting, she stated in the video caption: "And netizens prolly gon' say I don't love my son now."
Over in the comments section, many were understandably envious.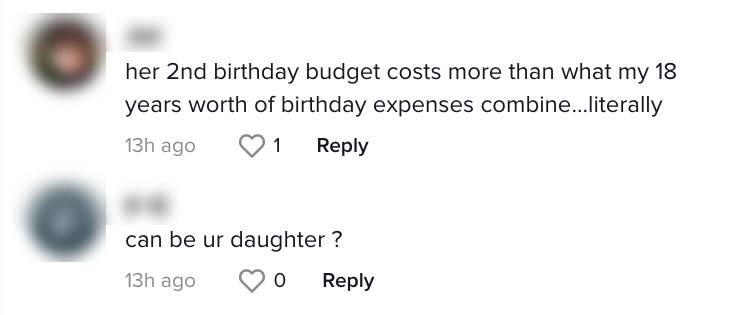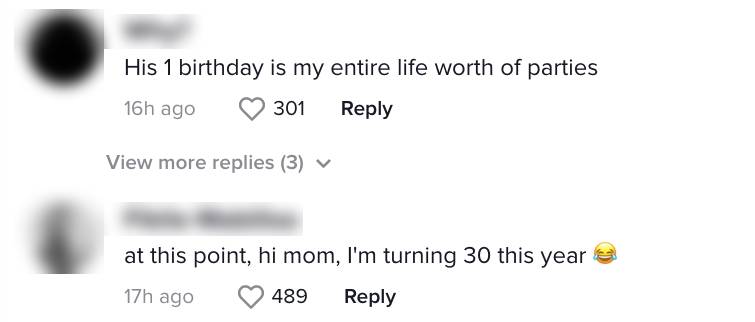 It also triggered a bout of 'comparison-itis', as parents can probably relate.

One person accurately pointed out that the amount is "practically the cost of a small wedding".
Several who were impressed by the shindig highlighted that the party gave off moneyed Kardashian-Jenner vibes.
But Naomi isn't the only queen when it comes to throwing lavish parties for their kids. 
Last year, local socialite-turned-entrepreneur Kim Lim held a joint birthday celebration for herself and five-year-old son Kyden, with a two-day 'Kandy Karnival' held at Sentosa.
The elaborate event — which saw celebs such as Zheng Geping, Hong Huifang, Zoe Tay and Cassandra See in attendance — included a 1,000kg castle, 72 rainbow doors as well as 10,000 toys and balloons.
Towards one critic who stated that Naomi is spoiling her children too much, another netizen defended: "None of your business, they're rich, deal with it."

But at least it looked like both Zyla and Kyzo had loads of fun, which probably makes it all worth it. Who says money can't buy happiness?
ALSO READ: Naomi Neo brings toddler son to his first omakase with $78 pasta, netizens watch on in envy
candicecai@asiaone.com