With all of Singapore's pandemic restrictions lifted, the events scene is back in full force. 
This means we can once again look forward to pop-up markets like Artbox Singapore. 
Running from Feb 24 to 26 and March 3 to 5, Artbox Singapore is finally happening after a three-year hiatus. 
Those who've attended previous editions of the pop-up market — which are offshoots of Artbox in Bangkok — will know it's always been held outdoors. 
So, it's interesting that this time around, the entire event will be indoors at Singapore Expo Hall 6. 
But being in a confined space doesn't mean there isn't room for fun.
With around 300 food and shopping booths, live music and activities, there's plenty to see, do and eat. 
But is the hype surrounding Artbox Singapore worth the ticket price? Here's our take on the pop-up market. 
You don't need a wet weather plan
Whether it's the quality of food or the shopping options available, everyone has different criteria when it comes to gauging how good a pop-up market is. 
For me, it's convenience and comfort. 
It may seem insignificant to some, but having the entire market indoors is a huge game changer. 
I didn't have to worry about bringing along an umbrella or a portable fan, and neither did I have to wonder if my canvas sneakers would get soaked from a potential downpour. 
And the best part of all — there is air-con. Enough said. 
To be frank, before I went down, I did have my doubts about the 10,000 square metre space and was concerned that everything would feel cramped and claustrophobic. 
But surprisingly, there was ample room between the stalls and activities to move around and breathe. 
The only issue would be that it's a little far for those who stay all the way in the West. But it does help that Singapore Expo is right smack next to an MRT station. 
https://www.tiktok.com/@asiaone/video/7203772264838434050
You won't get hungry here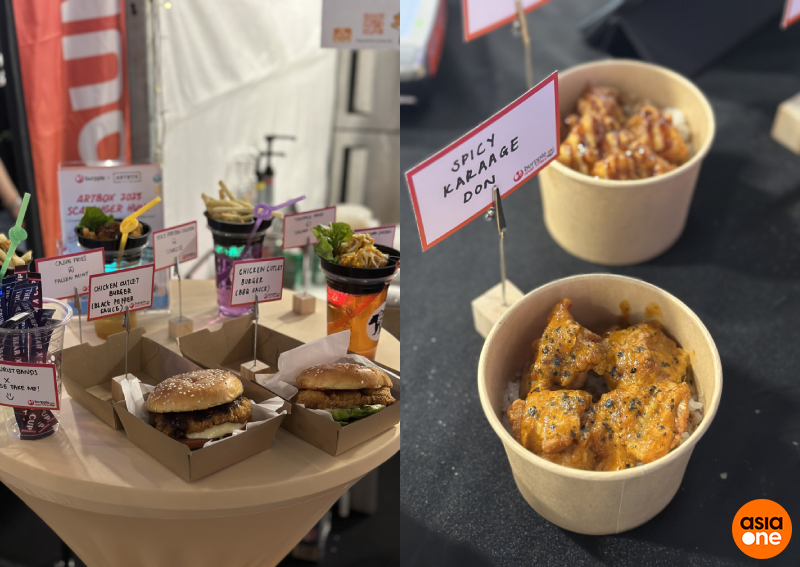 If you're here just for the food, make a beeline all the way to the back of the hall because that's where all the action is. 
As I had hoped, the variety here was decent and I was quite spoilt for choice by the available options. 
There were a number of familiar names like Ramen Shiba, Rappu, Big Big Fries, The Grumpy Bear and Whiskdom. 
Apart from local F&B establishments, there were stalls from Thailand such as Khanom Babin Maphrao On Gusto, which sells coconut pancakes. 
If you're more into Taiwanese-style cuisine, check out Houhoude — which sells thick toast bread. 
Those looking to crack open a cold one with their friends can get some drinks from Chang Beer and Prime Liquor. 
While the food wasn't the cheapest, it was not as exorbitantly priced as I had anticipated it to be, and my companion and I tucked into good food from Acai Collective, The Tipsy Tavern and Ima Sushi.
What's also great is the ample amount of seating.
There were plenty of benches and tables lined up near the food stalls for you to feast on your food or rest your tired legs.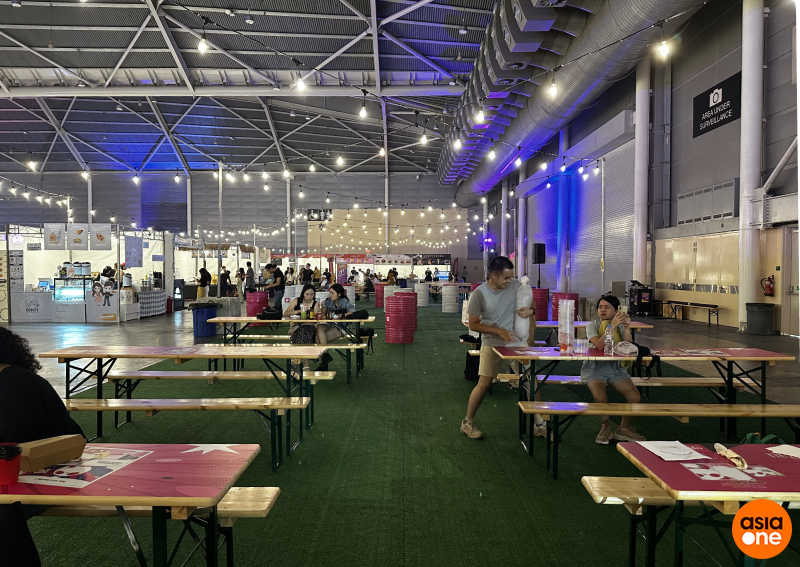 And if you prefer to enjoy your meal with some live music, there are seats near the stage too.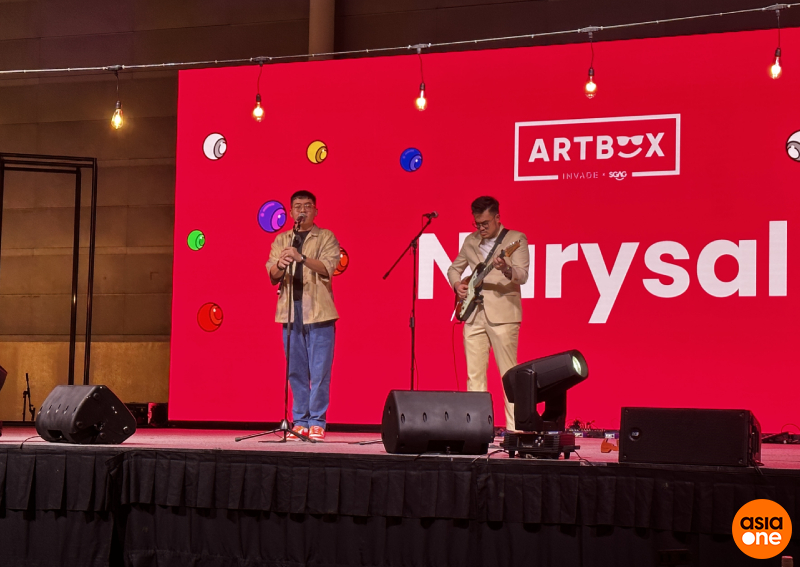 Shop till you drop 
Those who enjoy attending pop-ups for some retail therapy will be quite pleased with what this year's edition of Artbox Singapore has to offer. 
As expected, there are a number of stalls selling clothing and accessories. 
Some of these brands come from Thailand, such as bag specialist Moonset. 
It isn't just all about clothes — there are booths selling handmade trinkets, customisable bags, and even plants. 
I personally didn't get anything but despite that, I thoroughly enjoyed browsing through the stalls — the items for sale made me feel like I was back in Bangkok for a second. 
Activities galore 
Whether you enjoy dabbling in a little arts and crafts or are a masochist who likes a good challenge (we'll get to that in a bit), there's plenty to keep you occupied in between all the eating and shopping. 
Enthusiastic gamers can head over to the arcade area to try and beat some high scores.
There are also claw machines for those who want to attempt and win a plushie for the memories.  
If you're feeling creative, there are several workshops to check out and you can try your hand at acrylic pours, paper marbling and even making your own clay keychains. 
There was even a Crystal Stone Aura Reading booth for those interested to learn more about their personal aura energy. 
One of the highlights of the event is the Beam of Pain by local media platform SGAG, who also happens to be one of the organisers of the event. 
Players have to attempt to walk their way across a 15-metre-long balancing beam which is lined with acupuncture mats. 
It doesn't sound too bad until you see the acupuncture mats in real life — those things look painfully spikey. 
To make this more enticing, the fastest player who can complete the challenge will walk away with $888. 
Other challenges include the National Shake Leg Championship and National Paper Toss Championship, where you can also stand a chance to in $888. 
Would we go again?
All in all, we think Artbox Singapore is worth checking out, especially if you're an Eastie. 
Apart from being delicious, the food is pretty reasonably priced, especially for a pop-up event. 
Besides the variety of food, we were won over by the vibes and activities offered that made us feel like we were back in Bangkok once more. 
And of course, mostly importantly, there is air-con. 
Artbox Singapore will be held on Feb 24 to 26 and March 3 to 5. Tickets cost $5 on weekdays and $6 on weekends. Top up a dollar if you book it online. 
Address: 1 Expo Dr, Hall 6, Singapore 486150
Opening hours: 12pm to 10pm (last entry 9pm)
ALSO READ: What to do this weekend (Feb 24 to 26)
melissateo@asiaone.com
No part of this story or photos can be reproduced without permission from AsiaOne.