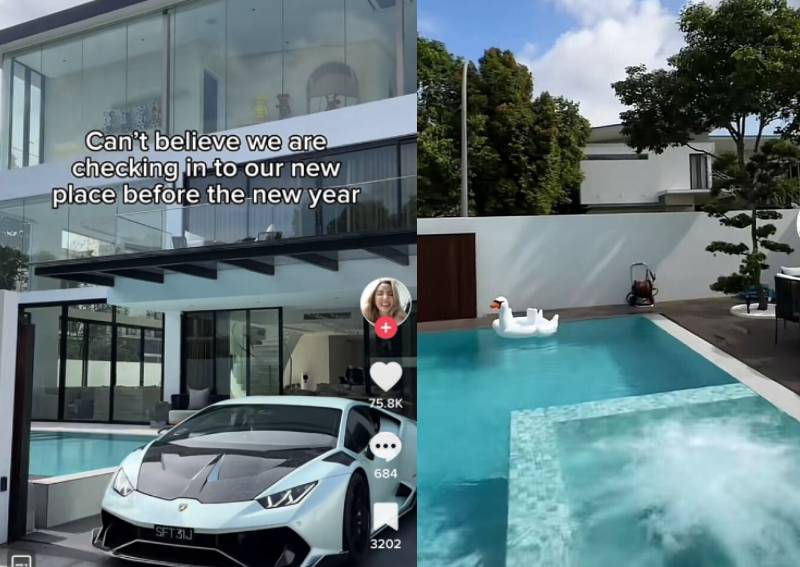 New year, new house.
At least that's the case for local influencer Naomi Neo.
A video posted on Friday (Dec 30) showed Naomi reversing her $600,000 Lamborghini Huracan into the driveway of her spanking new three-storey landed home.
"Can't believe we are checking in to our new place before the new year," wrote Naomi, adding that it's a "Christmas wish [come] true".
https://www.tiktok.com/@naomineo/video/7182889840118140162?is_copy_url=1&is_from_webapp=v1
And what an impressive place it is. Selling Sunset, anyone?

In the comments section to the clip, Naomi teased if viewers would like to see a house tour, of which the answer was, of course, a resounding 'yes'.
Although it's not exactly a full tour, Naomi did provide a glimpse of the interior of the home in her next video, published on New Year's Eve.
While boxes lay strewn on the floor unpacked, as to be expected, it did not take away from the expansiveness of the home's interior.
The living room area featured a nude-coloured sofa estimated to be at least three metres long, with a circular staircase at a corner leading to the upper floor.
Outdoors, an inviting jacuzzi and pool beckoned, and beside it, an eight-seater dining table and chairs looked perfect for a barbeque dinner under the stars.
"Ending 2022 by shifting to our new place," Naomi wrote in a TikTok video published on Saturday (Dec 31).
https://www.tiktok.com/@naomineo/video/7183272494487457025?is_from_webapp=v1&item_id=7183272494487457025
In July, the influencer with 1.7 million followers on TikTok shared that it had been nearly three years since the family started building the house.
https://www.tiktok.com/@naomineo/video/7126476703500602626?is_copy_url=1&is_from_webapp=v1
The long wait was reportedly due to Covid-19-related construction delays.
A video of the partially completed home back then showed bedrooms and walkways fitted with floor-to-ceiling windows, and marble-like finishings to a [very large] bathroom, complete with bathtub.
The kids' bedroom also featured an incomplete structure of a bunk bed, which Naomi's four-year-old son Kyzo seemed eager to start sleeping in.
Netizens were quick to congratulate Naomi on the move with some saying that "she worked hard" for it, but others were undeniably green-eyed over the luxuries she's able to afford.
"From a landed to a nicer landed. While most of us are watching this in our 3/4/5 room hub feeling a little envious." 

AsiaOne has reached out to Naomi for more information.
ALSO READ: 'Amazing mother': Naomi Neo spends 11 hours making a Halloween costume for her 4-year-old son
candicecai@asiaone.com
No part of this story or photos can be reproduced without permission from AsiaOne.