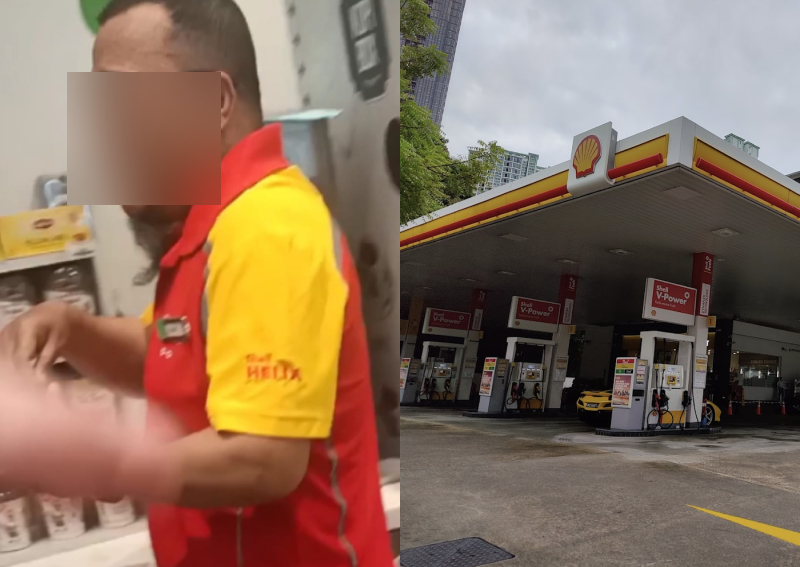 Seeking to destress after work, Joel Tan takes his bike for a spin up to 15 kilometres around his neighbourhood - a routine for at least three times a week.
But the avid cyclist, who is in his mid twenties, was sent over the edge after engaging in a heated confrontation with a petrol station staff on Monday (Feb 20) night.
Speaking to AsiaOne on Tuesday, Tan shared that he stopped at a Shell petrol station along Alexandra Road at 10.30pm to rest and have a toilet break.
With his bike parked by the side near the toilet, the cyclist said that he was using his mobile phone at that time.
But the peace was disturbed by an angry motorcyclist, according to Tan.
"He rudely pointed his finger to direct me to move my bike away as if he owned that space," the cyclist said, adding that he initially thought that the motorcyclist " had mental issues".
'I asked if he's crazy or in a bad mood' 
Shocked at this "rude' request, Tan shared that he tried reasoning with the other party by pointing out "nicely" that his bike is not blocking anyone.
Tan said: "He could have parked in front of me when there's so much space.
'Why does he want to find fault with me? I ignored him [after that]."
Incensed with the non-compliance, the motorcyclist allegedly drove his vehicle straight into Tan.
Adding that he was almost knocked down by this "reckless behaviour", the man said: "He got off his motorcycle and took off his jacket and I realised he worked at Shell from his uniform.
"That's when I confronted him by asking if he's crazy or in a bad mood."
Shouting match at petrol station 
In a video shared to AsiaOne, it showed Tan engaging in a shouting match with the Shell employee – all while a woman behind the cashier was trying to keep the peace.
"Your colleague said 'f*** you to me," to which the woman asked why.
Tan was later heard telling the woman to check the CCTV footage but her colleague told him to check his 'backside' instead.
"You play handphone over there some more," the indignant Shell station staff said to the cyclist.
Tan told AsiaOne that while he had made a complaint with Shell Singapore, he had warned the "aggressive" staff that the video of their confrontation would be up on social media.
"He told me to go ahead and do it," the cyclist said.
Netizens' reactions to the video shared on several social media accounts were mixed. 
"Shell might forbid cyclists from using their toilets and all thanks to this self entitled cyclists who said [vulgarities] so fluently," a netizen said, while another called out Tan for his "self-entitled behaviour". 
Other netizens felt that the Shell station staff was wrong for lashing out at Tan. 
Responding to AsiaOne's queries on Tuesday (Feb 21), Shell said that they are looking into the incident involving a customer and a retailer service staff at the Shell Alexandra station on Feb 20. 
"We expect high service standards from all working at our stations just as we expect customers to treat service staff reasonably and with respect," a company spokesperson said, adding that they welcome everyone – motorist, cyclist or pedestrian – to use the petrol station amenities and convenience store.
Throwing urine at bus
In another recent dispute over parking space that turned ugly, a motorcyclist was caught throwing urine at a bus at a car park in Tampines.
In a YouTube video shared by SG Road Vigilante on Monday (Feb 20), the caption stated that the perpetrator did it after the bus had occupied his favourite parking space.
"I didn't know until after the incident that I was not the first victim [sic]," SG Road Vigilante wrote.
In the comments, several netizens were baffled with the motorcyclist's antics.
"Why is he keeping urine in his rear box? That's the question," one of them said, while another pointed out that the man shouldn't be parking his motorcycle at his "usual spot" since it's meant for heavy vehicles.
ALSO READ: Fight over parking lot causes 20-minute jam at popular supper place near Beauty World Centre
No part of this story or photos can be reproduced without permission from AsiaOne.