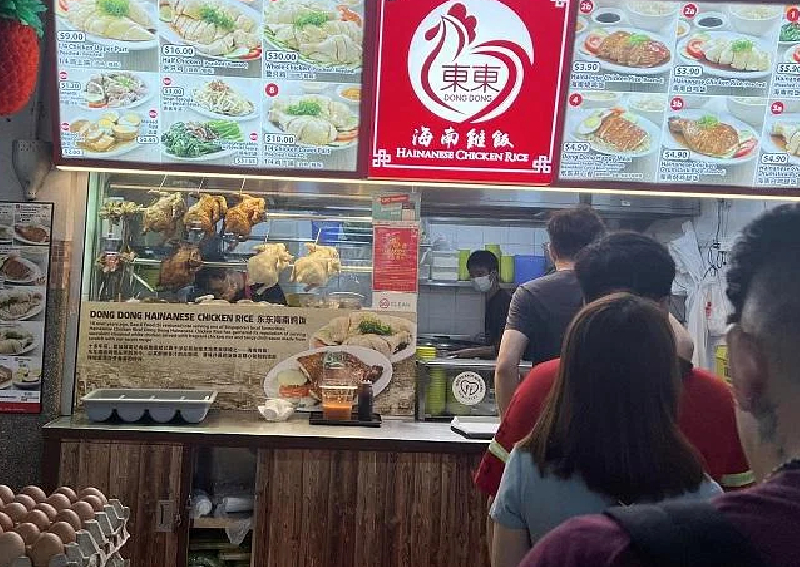 This diner wanted to buy a plate of chicken rice at a hawker centre in Chinatown but was allegedly mocked instead.
Lai, 50, shared that he wanted to pay for his $5.50 meal from Dong Dong Hainanese Chicken Rice stall at People's Park Food Centre with Community Development Council (CDC) vouchers on Jan 11. 
But a stall employee there refused to accept his method of payment, Shin Min Daily News reported on Monday (Jan 16).
Lai said: "I asked why there's a sticker on his booth indicating that CDC vouchers are accepted, but he claimed that the scanning machine is broken.
"[He also said] 'don't eat if you don't have money'."
After noticing that there was a queue of customers behind him, the annoyed Lai shared that he eventually paid for his meal with cash.
He said: "There are so many elderly folks in Chinatown. If the vendors don't accept CDC vouchers, they should tear off the stickers on their stall, so that everyone won't waste time queuing up [if they don't have cash with them]."
Chicken rice stall responds
Speaking to Shin Min Daily News, a cashier at the chicken rice stall, surnamed Guo, shared that the tablet they used to scan the QR code of customers' CDC vouchers has been out of order for the week.
While the device is being repaired, Guo said that he can only use his personal mobile phone, but it comes with a caveat.
He explained: "That incident [with Lai] happened when I'm out of the stall. I couldn't leave my phone with my colleagues, and there was no one to scan his vouchers.
Addressing the customer's complaints about one of the employee's attitudes, Guo shared that he would provide feedback to the stall owner.
"Maybe my colleagues were too busy at the time. We always welcome customers to pay with CDC vouchers."
Customers using CDC vouchers order more 
Other hawkers at the coffee shop shared that they too welcome diners to pay with their CDC vouchers.
Describing how most of the customers are elderly folks, a fishball noodle stall owner named Wang said: "Vouchers are money, and we welcome customers to pay with them."
Customers would also tend to order more dishes when they use CDC vouchers as payment, according to a 'cai fan' stall owner.
""Whether it's cash or vouchers, we're making money. It doesn't make much difference."
ALSO READ: 'Don't anyhow share link': Man warns after dad's friend used $95 of family's CDC vouchers