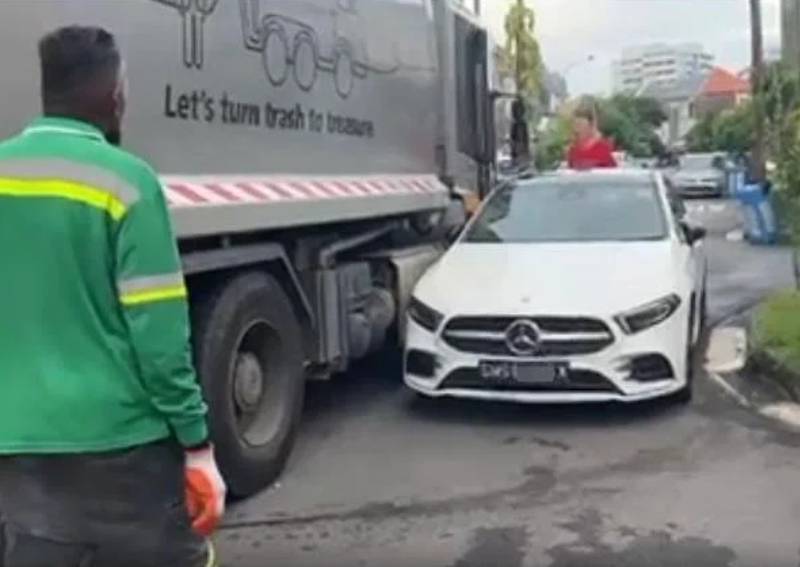 A quarrel descended into near fisticuffs with the police called in after one Mercedes driver allegedly refused to move his vehicle for a refuse truck to pass through.
According to Shin Min Daily News, the incident occurred on Saturday (Feb 4) at around 8am along Park Villas Rise, located near Yio Chu Kang Road.
A resident in the landed estate, surnamed Liu, told the Chinese evening daily that a garbage truck worker had knocked on his house door that morning looking for the driver of the parked Mercedes which was obstructing the way.
"As I didn't know who the driver was, he continued searching door-to-door," said the 50-year-old self-employed man.
Before long however, Liu heard a loud commotion from outside.
"I went to take a look and saw a man in his 40s or 50s arguing with the garbage truck worker over moving his car," said Liu, who did not recognise the driver.
Liu shared that as the Mercedes was parked a distance away from the kerb causing the road to be narrower, the workers were afraid of scratching the vehicle and so wanted the driver to move his car.
The driver, however, refused.
According to Liu, the argument got more heated, with the driver "yelling at the worker and challenging him to a fight".
The police were soon called in.
"When the police arrived, they advised the driver to move his car. With the help of the officers, the situation was resolved after about an hour," said Liu.
Liu added that many neighbours were alerted to the commotion, with about seven or eight others stepping out to investigate. Some also tried to mediate between the two parties, said Liu.
"The driver claimed the worker was rude and disrespectful, but to me, he's the one who is blocking the way. If he'd moved, all will be well," said Liu, who said he was also planning to drive out at the time but was unable to do so due to the dispute.
Liu shared that cases of vehicles obstructing traffic are not uncommon in private estates such as theirs due to the lack of parking spaces and narrow roads.
"Usually, the drivers will just come out and move their car when notified. Rarely does it escalate into an argument," said Liu, who advised those who park their cars in private estates to avoid such situations.
ALSO READ: Cars damaged in Ang Mo Kio car park: Note on windshield says 'sorry, brake faulty'
candicecai@asiaone.com