Most would agree that sleeping in during the weekends is a luxury. 
Unfortunately, one Clementi resident has been robbed of this privilege for the past one and a half years, thanks to some fitness enthusiasts in his neighbourhood. 
The disgruntled resident, Jake Tan, took to Facebook last Saturday (Dec 31) to rant about the noise from "a large group of inconsiderate people" who have been exercising at the open-air pavilion between Blk 428 and 429 at Clementi Ave 3. 
According to Tan, there have been weekly early-morning dance sessions since the middle of 2021. 
"Each week, dance music is played at top volume with loud shouting and clapping in tow, rudely awakening everyone in the blocks nearby, especially those living on the lower levels," he griped. 
To prove his point, Tan also included a video of the dance session taken from his home. 
Thus far, Tan said he has tried contacting several parties for some recourse. 
He said he notified the police, who asked the group to reduce the volume of their music. "But even so, the reduced volume was still very much audible," Tan lamented. 
In his post, Tan also mentioned that he had also written to the Health Promotion Board to enquire if this activity was "under their purview", but has yet to receive a response from them.
Although he acknowledged the importance of maintaining a healthy lifestyle, Tan said he "strongly believe[d] that this can be done respectfully without disturbing the peace of the neighbourhood." 
Ending off his post, Tan came up with some suggestions on how to come to a compromise, such as moving the location of the dance session, or having it at a later time in the day. 
Netizens in the comments agreed with Tan, remarking that organising such an activity this early on a Saturday morning was disruptive.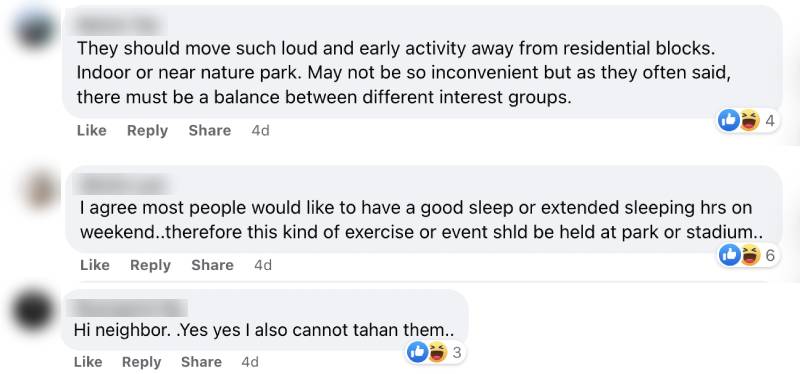 AsiaOne has contacted Tan for comment. 
Loud music at void deck peeves residents 
Back in 2020, a Tampines resident took issue with a middle-aged man who would blast music at her void deck every day. 
The resident, Rosalina, told Stomp then that the uncle would blast loud music at the void deck between Block 201D Tampines Street 21 and Block 201E Tampines Street 23, and that she could hear the music from inside her house.
"This uncle would play his music at maximum volume at 8am, during lunch time, at midday, during dinner and even after dinner. The worst part is that the music would continuously blast for hours," Rosalina said.
Frustrated by the frequent noise pollution, Rosalina lodged a police report and informed the Tampines Town Council about the situation. 
ALSO READ: 'It's like a brothel': Neighbours lose sleep over 'wild' parties at Emerald Hill house
claudiatan@asiaone.com