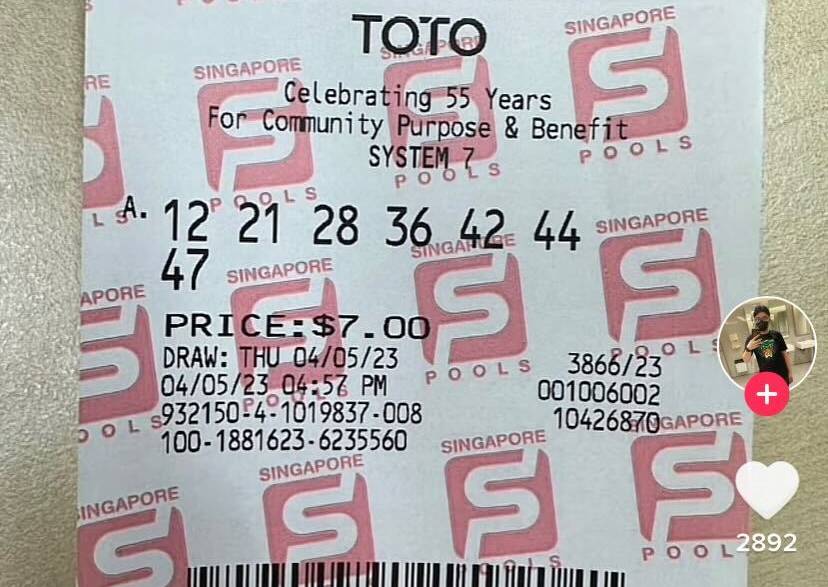 ChatGPT or Cai Shen Ye (God of Fortune)?
One man in Singapore recently took the use of the artificial intelligence (AI) chatbot to a whole new level, after he randomly asked ChatGPT to generate some lottery numbers for him.
To his (and everyone's) surprise, it was a lucky strike — though not quite the jackpot.
In a TikTok video posted on Friday (May 5), Aaron Tan shared how he "decided to ask ChatGPT for a set of nice seven numbers" for the Toto draw on May 4.
The question he posed to the programme?
"Please give me seven numbers from one to 49."
Perhaps it's his polite request that did the trick. The bot ended up generating 12, 21, 28, 36, 42, 44 and 47.
And the winning numbers for the day? 37, 21, 28, 44, 16, 25, with the additional number 24.
His winning ticket showed that Tan had bought System 7, hitting a total of three numbers on the head and netting him a $40 cash prize — not a windfall for sure, but still, not bad.
In his caption, Tan expressed his shock through emojis, writing: "Thanks ChatGPTcaishenye"
One commenter indicated that ChatGPT was "put to good use" at least, while another shared a more tongue-in-cheek response.

Other quirky uses for AI tool
Helping users strike Toto might not be all that the trending AI chatbot is good for, though.
One American expat in Singapore detailed in his video how he'd used ChatGPT to plan his trip to Europe, and it was all done in two minutes.
Another Singaporean used the Notion AI writing assistant to help plan her 12-day solo trip to Vietnam, to relative success in terms of helping her kickstart her planning process.
candicecai@asiaone.com