Instead of filing a complaint against his Grabfood rider who couldn't fulfil his order, one man decided to ride his own motorcycle to meet his rider instead.
This customer, who goes by the username Kirostory on TikTok, shared his journey in a video posted on Friday (Jan 27). 
He shared that his GrabFood rider had messaged him saying that he was stuck because of a punctured tyre, and had initially wanted to get someone else to help deliver the food.
Instead of getting annoyed, Kirostory, who didn't disclose his location, offered to meet him instead. 
While on his way to meet the rider, Kirostory said: "This is one of those really  interesting stuff [sic]. And for me I don't mind, I mean, it's not like a big deal right?" 
"Everyone has his [bad] days, and things happen right?" 
https://www.tiktok.com/@kirostory/video/7193244868313926913?_r=1&_t=8ZNW5kDg6nB
Turning into a HDB carpark, the man then meets his rider and even checks if the latter is okay. 
The rider then asks Kirostory if he could help to deliver another order near to the latter's estate — a request which he gamely agrees to, as he also does GrabFood deliveries from time to time. 
He also declined the rider's offer to pay him for the favour. 
Unsympathetic customer 
Unfortunately, the next customer wasn't as gracious as Kirostory. 
When Kirostory hands the man his food, he explained that the order was delayed as the rider had punctured his tyre. 
"[The food is] cold already, can make a complaint right?" replied the man, eliciting an expletive from Kirostory as he walked away. 
Continuing his rant as he made his way back to his motorcycle, he remarked: "I'm just so disappointed... some people out there just don't care. 
"They apparently don't give a sh*t about what others go through." 
His video may not have ended on a positive note, but Kirostory's actions quickly earned the praises of several netizens who said that people like him were a "rare" find. 
AsiaOne has reached out to Kirostory for comment.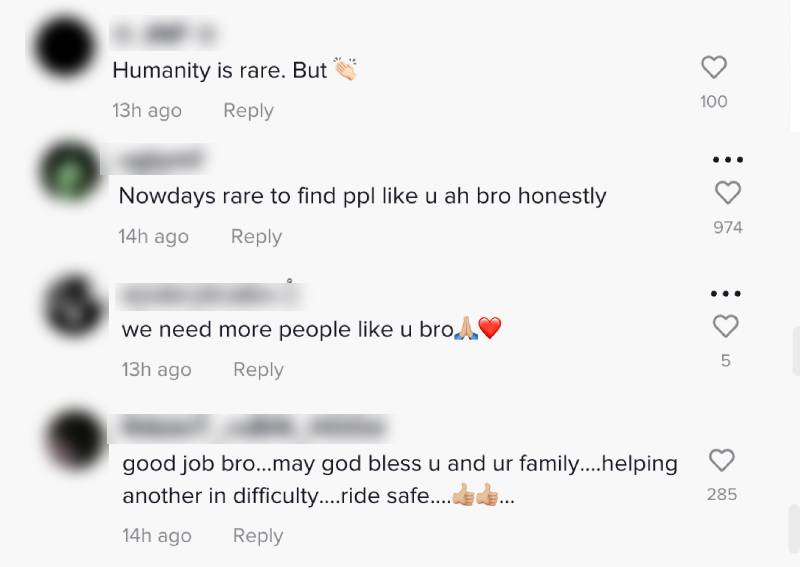 ALSO READ: Self-collection? Dogged woman tracks lost Taobao parcel to Clementi warehouse, goes there to 'dig' it out herself
claudiatan@asiaone.com
No part of this story or photos can be reproduced without permission from AsiaOne.