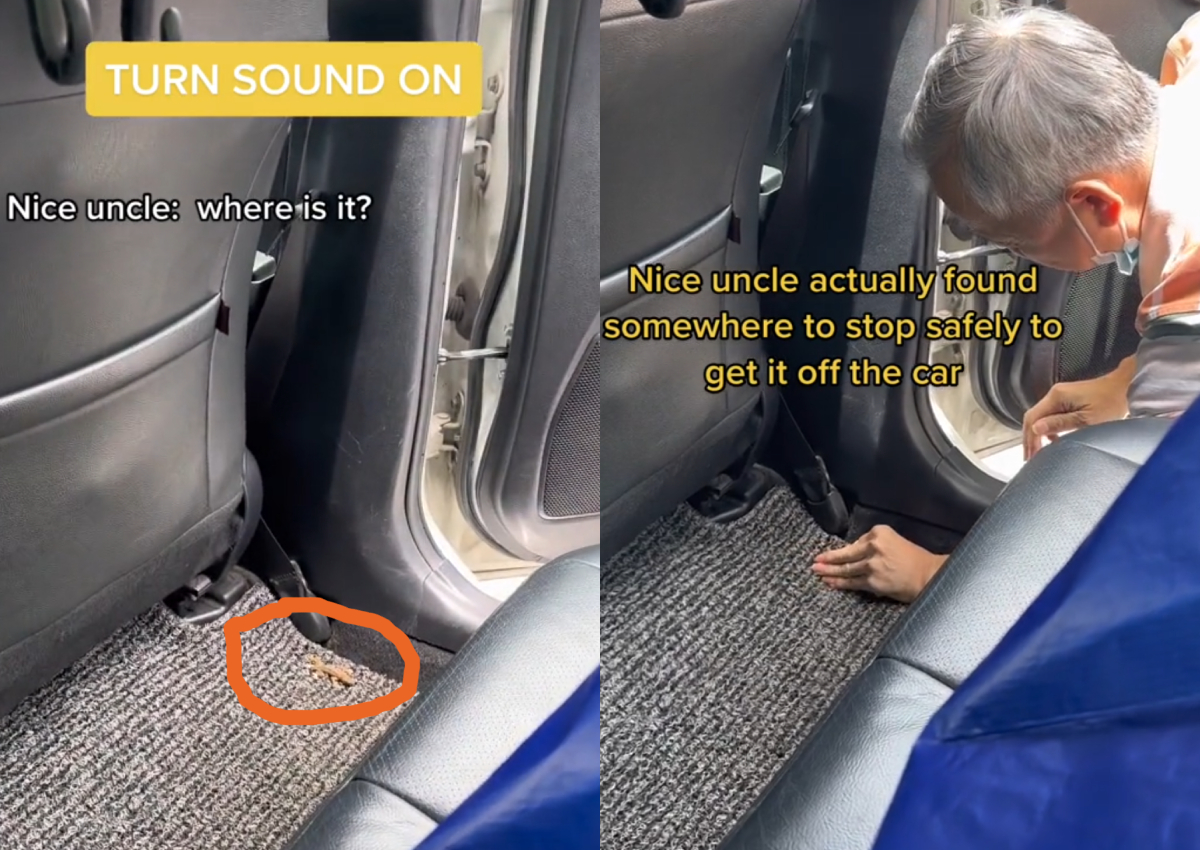 Heroes can come from unexpected places. Just ask this woman who encountered an "unwanted passenger" during a Grab ride.
A TikTok video shared by Peggchiny on Friday (March 17) showed her in panic mode while a lizard was chilling on the floor mat of the private-hire vehicle.
"Where is it?" An elderly Grab driver asked in Mandarin while walking to the backseat, while she pointed frantically at the creature.
https://www.tiktok.com/@peggchiny/video/7211507964195179777?is_from_webapp=1&sender_device=pc&web_id=7161994054723814913
The "nice driver" had stopped the car safely earlier, Peggchiny wrote. "Guys, the shock on my face was real when it first crawled out."
Expertly scooping out the lizard with his bare hands, the driver completed the rescue operation in mere seconds.
"I tried catching it for a very long time already," he quipped, while Peggchiny was heard thanking him.
She replied in Mandarin: "My feet won't be frightened now."
Writing on her post, she said: "Huge shoutout to this uncle for patiently comforting my cries of anxiety before he could find somewhere to park. What a ride it was indeed. (sic)"
In the comments, a netizen was impressed that the driver removed the lizard with just his bare hands.
"Would have jumped out of the moving car," another netizen said.
AsiaOne has contacted Peggchiny for more information.
In another recent incident of private-hire vehicle drivers going the extra mile, a Grab passenger shared how she found herself without the correct bills to pay for her ride.
Hana, a 20-year-old undergrad from Monash University in Malaysia had ringgit on her, but not Singapore dollars.
Instead of finding the situation troublesome, the driver accepted the foreign currency as a form of payment, according to a TikTok video shared on March 13.
ALSO READ: Singaporean man buys milk powder for driver's son while holidaying in Bali
No part of this story or photos can be reproduced without permission from AsiaOne.