Netizen posts about 'the most smelly multi-storey carpark' where the 'most expensive HDB flats' can also be found
PHOTO: Facebook/Singapore Incidents
PUBLISHED ON
April 16, 2023 3:48 AM
By
Candice Cai
Is this the most foul-smelling place in Singapore?
One netizen has raised a stink over the stench at a multi-storey carpark (MSCP) located at Blk 514 Bishan St 13.
In a post shared by Singapore Incidents on its social media pages, the netizen wrote about how the MSCP, located at the bus interchange, is "the most smelly MSCP in Bishan… some say Singapore [sic]".
A video of the bleak-looking carpark stairwell appeared to show the damp ground marked by questionable stains. Pasted right on the wall, however, was a sign which warned against public urination.
[embed]https://www.facebook.com/singaporeIncidents/videos/884048992657166[/embed]
Wrote the netizen: " People treat the staircase as a public toilet and urine at will, even with [the] town council notice."
The netizen went on to add that taking the staircase to the carpark is akin to "entering a landmine" as one might "step on a pool of urine" at anytime.
As a kicker, the disgruntled netizen stated: "The most expensive HDB flat can be found in this town. So is the most smelly MSCP [sic]."
However, while it is true that the Bishan neighbourhood is where million-dollar HDB flats can be found, we would point out that it not in fact the most expensive HDB flat ever sold.
But it seems the netizen is not alone in their complaint.
"Finally someone posted about this," one commenter wrote. Others shared that the town council should install CCTV cameras to catch the culprits.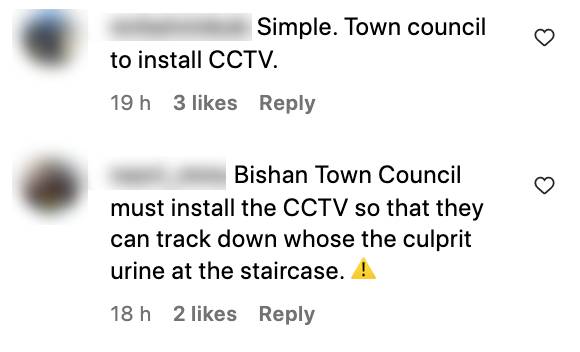 Other incidents caught in the act
Residents at a Toa Payoh estate back in February this year had CCTV cameras to thank for capturing footage of a perpetrator believed to have poured urine from his bedroom window every morning.
One resident told AsiaOne that he'd camped at a nearby park at 4am on Tuesday to catch his neighbour in the act.
And on the bright side, at least the residents of both towns did not have to contend with balls of faecal matter landing outside their front door, unlike these homeowners in Bukit Merah.
candicecai@asiaone.com