No joke: Men in Singapore one of the least likely to sit down to pee, survey finds
PUBLISHED ON
May 17, 2023 10:33 AM
By
Claudia Tan
To sit, or to stand? 
It appears that men in Singapore prefer the latter, when it comes to answering nature's call. 
A survey by YouGov published on Tuesday (May 16) revealed that local men are one of the least likely to sit down while they wee — with 32 per cent of them saying they would never do so, just four per cent behind Mexico. 
The results of the survey — which polled 7,024 men aged 18 and up from 13 countries — were posted on Reddit, garnering comments from Redditors who had much to say about the toilet habits of Singaporean men. 
The study was conducted from March 28 to April 20 this year. 
Some said standing up to pee was their preferred option, as it saved them the hassle of dealing with pee-stained toilet seats in public lavatories. 
Interestingly, others felt standing up to pee was the default, as sitting down to do so made them "less of a man".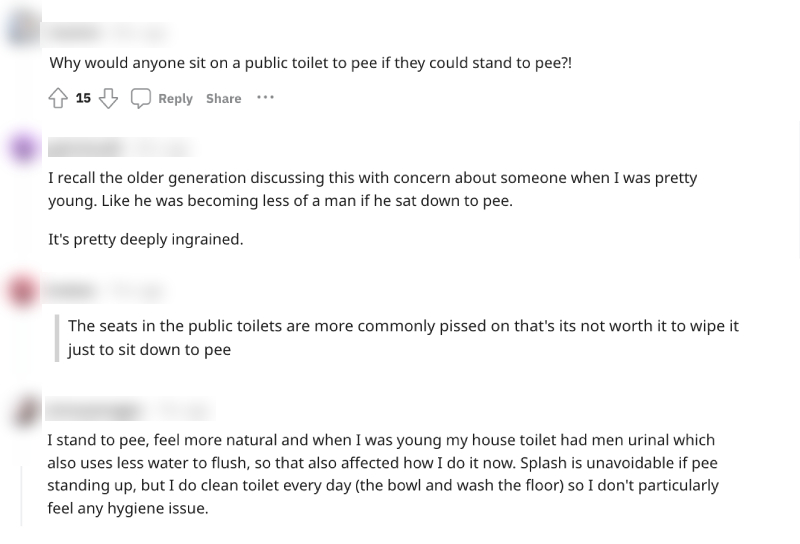 On the flip side, those who were 'Team Sit Down' also chimed in saying that doing so required less clean up after. 
One also shared that he now has a habit of sitting down after being "killed" by his mum.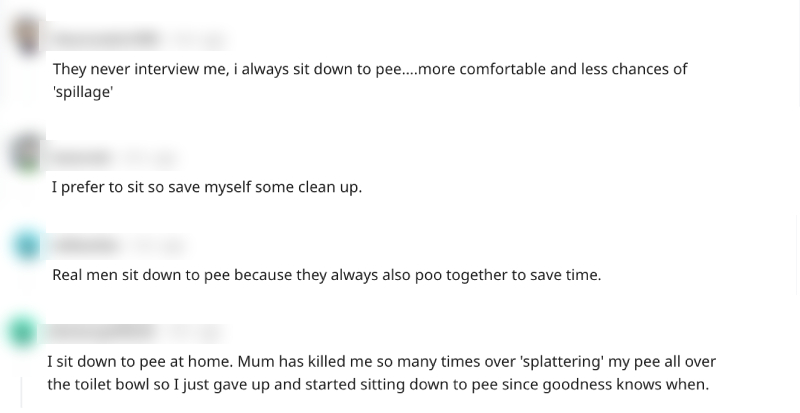 Then there were some who remarked that the survey was just... weird. 

Redditors' opinions aside, the survey also found that there were age differences between men's peeing habits. 
For instance, in Germany — which had the highest number of men who said they prefer sitting down — older men were more likely to sit down to pee than their younger counterparts. 
Conversely, the reverse seems to be true for men in Britain, Australia and the US, with older men more likely to indicate that they never stand up to pee. 
READ ALSO: Live 'streaming'? Woman caught peeing outside Northpoint City
claudiatan@asiaone.com