An HDB estate is not one without the presence of neighbourhood cats, most of which are taken care of daily by residents.
However, others may view such efforts to look after a cat as a nuisance.
In a TikTok video uploaded by raysonallen on Thursday (Feb 2), a resident documented a neighbourhood cat who had seemingly lost its home following the town council's removal of a makeshift cat shelter at the void deck of Block 237 Hougang Street 21.
In the 18-second clip, a notice by the Aljunied–Hougang Town Council can be seen pasted on the wall of the void deck.
According to the notice, the town council stated that their officers had noticed some items placed on a seat at the void deck during a routine inspection.
The town council urged the resident who placed the items to either remove them or contact the town council to "work together with you to resolve this" within seven days.
"Thereafter, the Town Council will proceed to remove these items without further notice," the notice read.
The cat is then seen resting on the seat without the makeshift shelter as the resident told the cat, "don't so angry eh".
The video ends with an old photo of the cat at the makeshift shelter, which was made up of a cardboard box, two blankets and a pillow.
A piece of paper was also pasted on the backrest of the seat, urging residents not to "throw the boxes and towels".
The user also stated that he "didn't know why it was an issue" as he sees "many neighbours petting it and feeding it every now and then" in the comments.
Many netizens were furious at the town council over the incident, questioning why they removed a "harmless" shelter instead of working on resolving more pressing matters instead.


However, some netizens felt that the seat should be reserved for humans, saying that it was inconsiderate to place a shelter on the seats for the cat.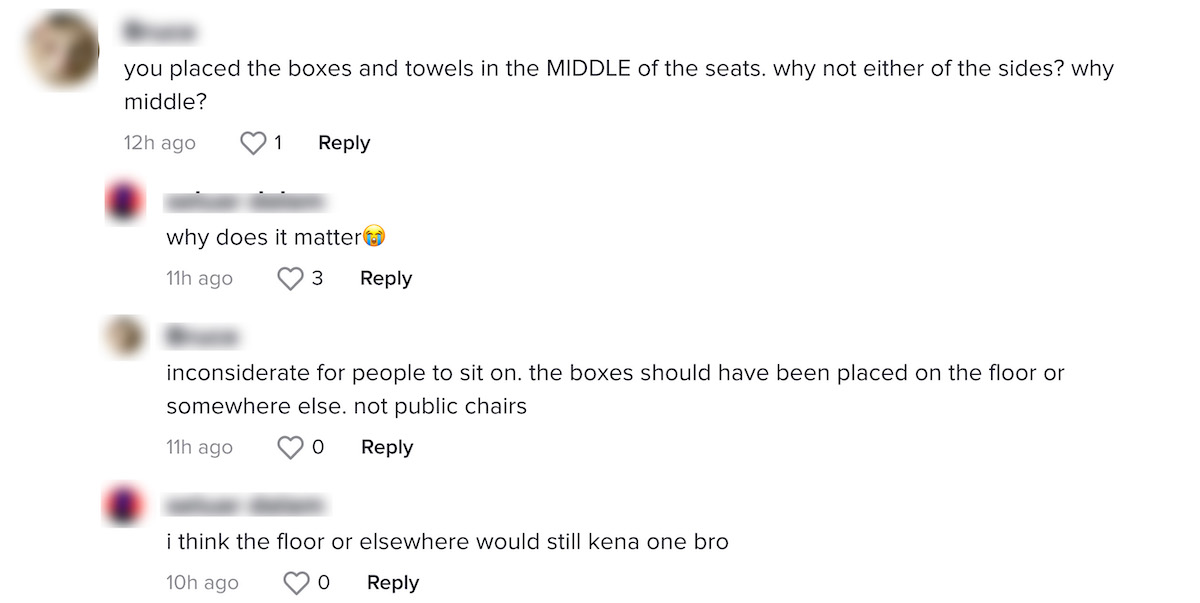 AsiaOne has reached out to raysonallen and Aljunied–Hougang Town Council for more information.
Safety of community cats
For cat lovers, the safety of community cats has become a concern of late, especially after a growing number of cat abuse incidents.
This comes after 20 cats were allegedly killed by stray dogs in Ang Mo Kio and Hougang which has caught the attention of community cat caretakers in Singapore.
In the comment section of the TikTok post by raysonallen, remnants of the impact of the boy who was filmed throwing a community cat off a Boon Lay HDB block can also be seen.
The viral video caused a considerable amount of stir among cat lovers in Singapore.  
A probe by the Animal and Veterinary Services (AVS) has also been under way since the incident occurred.
wongdaoen@asiaone.com
No part of this story or photos can be reproduced without permission from AsiaOne.