Amid reports of hoarding, scams and racism, it's easy to lose faith in humanity. But as one recent viral video proves, we should give our fellow humans a little more credit.
Diners at Jinjja Chicken in The Clementi Mall were faced with the wrath of the online mob when a video posted to Facebook on March 13 showed them ignoring a woman who had fainted.
The truth?
They had been instructed by mall security not to approach the lady, a Jinjja Chicken spokesperson told AsiaOne.
The incident first came to light when Facebook page All Singapore Stuff posted a clip of an unconscious woman lying on the floor of the restaurant with the caption: "This poor lady fainted at Clementi Mall, but everyone still happily eating away [sic]."
As the woman lay motionless on the ground, the diners at the restaurant continued eating their food.
While a staff member was seen approaching the woman, he kept a wide berth as he held a temperature gun to her forehead.
The video garnered over 4,000 shares and over 700 angry comments criticising the diners and the staff. Many also directed their vitriol at the person behind the camera.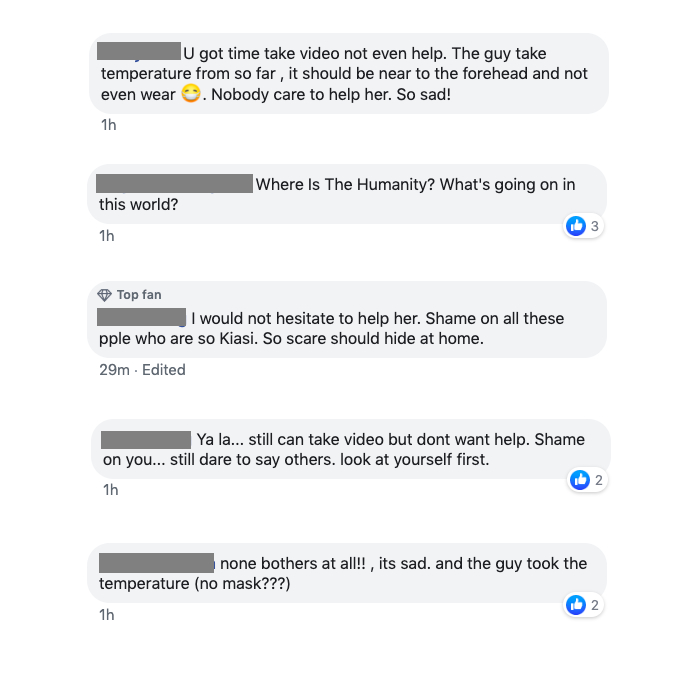 PHOTO: Screengrab/Facebook
In response to AsiaOne's queries, Jinjja Chicken confirmed that the incident took place on March 11.
The woman, who was not a customer, fainted after she stopped briefly in front of the outlet to rest.
Rebutting claims that the woman was ignored, the spokesperson said that a customer immediately called an ambulance for the woman while the outlet manager contacted mall security.
"The manager was specifically instructed by the security team not to touch the lady and not to allow customers to go near her or touch anything around the area. This is especially important as she was wearing a mask which signified that she might be already ill."
The woman regained consciousness shortly after and was taken away in an ambulance, the spokesperson added.
A spokesperson for The Clementi Mall told AsiaOne on Mar 13 that they had not attempted to move the woman as they were "unsure of the reason for her fall and if she had any pre-existing medical conditions".
The mall's staff also prevented shoppers from crowding around "for the safety of the patient" and to ensure a clear pathway for paramedics, they explained.
The restaurant was immediately sanitised twice — once by the staff and a second time by the mall's cleaning team.
A Singapore Civil Defence Force spokesperson confirmed that they received a call for medical assistance at the mall at about 2.25pm that day. The woman was subsequently conveyed to Ng Teng Fong General Hospital.
For the latest updates on the coronavirus, visit here.
kimberlylim@asiaone.com