While going about their day, two sisters encountered an elderly woman whom they claimed had tried to attack them with a pair of scissors.
Recounting the incident in an Instagram story, Vidya* said that she and her sister Divya* were at the bus stop opposite Ang Mo Kio Public Library on Tuesday (March 14) at 6.15pm. 
The woman, dressed in a red blouse and black shorts, happened to be sitting at the same bus stop.
"The moment she saw the both of us, she gave us a very disgusted look," Vidya wrote. 
To avoid her gaze, the sisters tried to walk to the other side of the bus stop, but the woman continued to stare at them. 
"She kept mumbling to herself in [Mandarin] and we just chose to ignore it even though we felt very uncomfortable." 
Despite their attempt to steer clear of her, Vidya said the woman "suddenly stood up and took out a pair of scissors from her bag and charged towards us in a very threatening way". 
"We were completely shocked and did not know how to react." 
Their bus arrived and the sisters quickly boarded the vehicle, as the elderly woman tried to follow them while still yelling at them. 
Vidya also managed to capture a video of the woman while the latter was clutching the scissors in her hand. 
https://www.tiktok.com/@sgviralvids/video/7210464919085485320?embed_source=121331973%2C120811592%2C120810756%3Bnull%3Bembed_name
The video clip has shocked netizens, who were in disbelief that the sisters had encountered something so traumatic.
Several expressed concern for them, while others urged them to make a police report.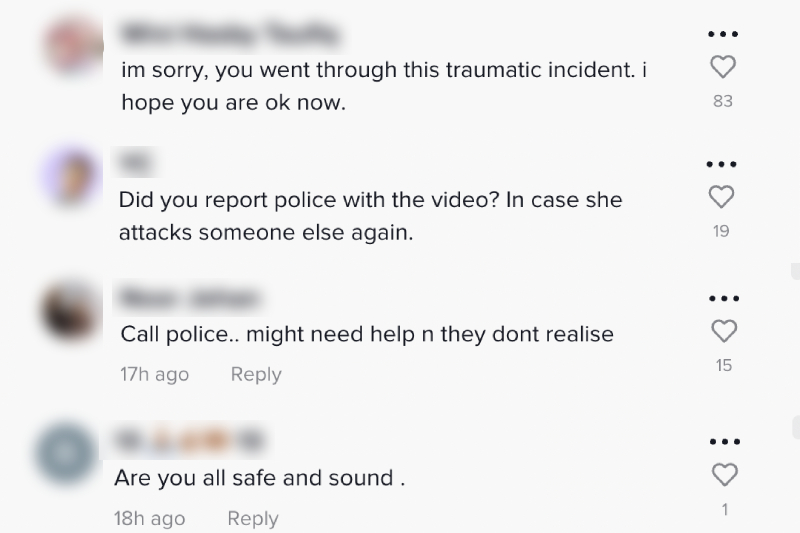 Speaking to Wake Up Singapore about their encounter with the woman, Vidya maintained that she and her sister were simply minding their own business. 
Calling the woman's actions an "act of racism" that is "disgusting and unbelievable", she said: "My sister and I are both traumatised... I fear for the safety of many young children who may be more vulnerable and unable to protect themselves in such a situation." 
"What made this situation even worse [are] the bystanders watching this incident happen. No one came to our aid. My sister and I felt so alone." 
The sisters made a police report on the same day. 
Responding to AsiaOne's queries, the police confirmed that they received a report on a case of alleged harassment on the same day.
They added that a 70-year-old woman was apprehended under Section 7(1) of the Mental Health (Care and Treatment) Act 2008. No injuries were reported.
*Not their real names
ALSO READ: 'Upset and disrespected': Interracial couple encounters racist moment with Chinese man in lift
claudiatan@asiaone.com