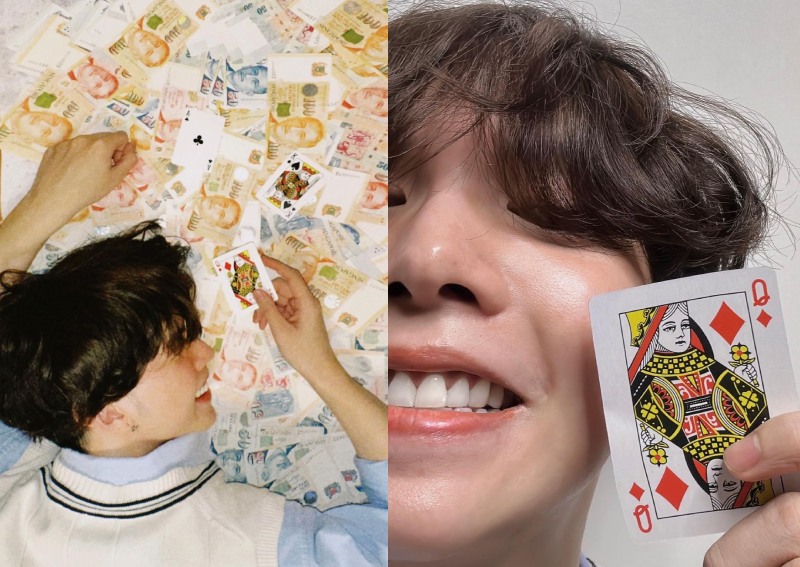 Apart from hotpot sessions, red packet exchanges and nosy relatives, one common occurrence during Chinese New Year gatherings is gambling. 
Most people play a few rounds of blackjack, baccarat and 'in-between' in hopes of winning some quick and easy money. 
But one man got luckier than the rest and didn't just go home with an extra $50 in his pocket — he won a whopping $11,280 from just one game. 
In an Instagram post uploaded Monday (Jan 30), influencer Daryl Aiden Yow was pictured lying on top of a large pile of $50 and $100 notes. 
There were also two cards on the stack — an ace and a king — while in his hand, he held a queen card. 
He revealed in the captions that he won all that money from a single game of 'in-between'. 
"I'm still shaking," he shared. 
In a series of Instagram stories, Yow explained that after a shoot, he met up with seven friends who wanted to gamble.
He had $600 in cash with him and the group played a few rounds of blackjack before agreeing it was "not thrilling enough". 
So, they moved on to a riskier game of 'in-between'.
How does 'in-between' work? 
For the uninitiated, in 'in-between', players put an equal amount of money into the pot at the start of the game. 
They are then dealt two cards facing up and have to bet if the value of the next card is in between the values of the first two cards.
If the player chooses a card that is in between the value of the first two cards, they win the amount they bet. If you're feeling lucky, you can even bet the entire pot. 
If the next card's value doesn't fall between the value of the first two cards, you'll have to 'contribute' the same amount you bet into the pot. 
But here's the harrowing part – if the third card you pick happens to be the same as either of the first two cards, you'll have to pay double the amount. Ouch. 
Had to withdraw more money 
At the start of the game, Yow said he and his friends put $200 each into the pot, totalling $1,600 in all. 
He was dealt an ace and queen, and out of greed, he bet $1,000. 
Unfortunately, he was dealt an ace, which meant that he had to pay double the amount ($2,000).
Short on cash, Yow said he even had to go to an ATM to withdraw more money. 
He shared that he later managed to recoup the $2,000 with a series of smaller bets. 
Eventually, the pot also became bigger as his friends lost large amounts of up to $6,000, he added in his Instagram post. 
Soon, the pot became a five-digit number and the group agreed that if no one won by the end of the session, they would split the money equally eight ways. 
Lady luck beckons
After several rounds of beefing up the pot size, Yow was dealt an ace and king, the most ideal hand to get in a game of 'in-between'.
"I was flushing and so hot," he said excitedly.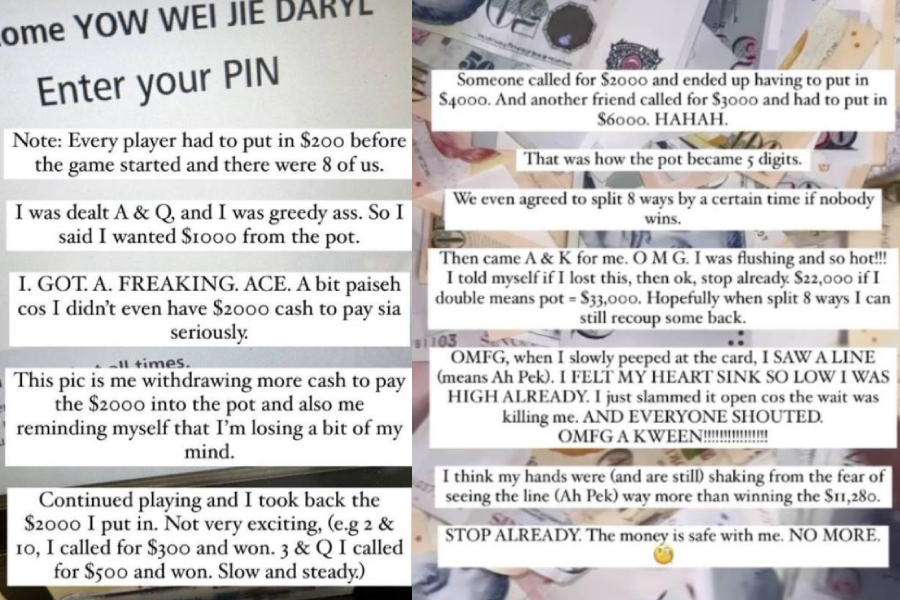 But he was also aware that if he lost this round, he would have to fork out a painful five-digit amount. 
The two cards he needed to avoid were an ace and king, so Yow admitted that when he peeped at his third card, he "felt [his] heart sink so low" because it looked like a king card. 
"I just slammed it over [because] the wait was killing me. And everyone shouted [that it was a queen]," said Yow, happy to win the $11, 280. 
He later added: "I think my hands were (and are still) shaking from the fear of seeing the line (Ah Pek) way more than winning the S$11,280. Stop already. The money is safe with me. No more (sic)."
AsiaOne has reached out to Yow for more details. 
Social gambling legalised
Social gambling in the form of playing poker and mahjong with family and friends at homes was legalised last Aug, reported The Straits Times.  
Previously, social gambling was not clearly defined in the law but the new laws has set clear parameters for what is acceptable.
Under the Gambling Control Act, it is legal for family and friends to take part in physical social gambling.
Even though there is no age limit, the gambling has to take place in an individual's home and is not allowed to be conducted in the course of any business.
Online social gambling, however, is prohibited.
Individuals struggling with problem gambling can request anonymous e-counselling via the National Problem Gambling Helpline at 1800-6-668-668 or via Webchat at www.ncpg.org.sg
ALSO READ: $12m Toto Hong Bao Draw — queue goes around whole floor in this mall
melissateo@asiaone.cm