Mandai Wildlife Group has refuted claims that fancy rats under its care are "behaving abnormally" or lacking fresh air following accusations of animal cruelty.
Its response comes after Hamster Society Singapore (HSS) posted Instagram photos and videos of the rats, showing them sniffing the air holes and gaps in their enclosure at the Singapore Zoo. The rats can also be seen climbing on top of one other while scrabbling for the air spaces.
Tagging Mandai Wildlife Group – which manages the zoo – in its "public service announcement (PSA)" on Thursday (Jan 26), HSS appealed for more air holes to be provided for the rats.
HSS said it was notified of "a family of more than 20 rats" under the care of the Singapore Zoo that were "acting abnormally, putting their noses to breathe through the fine holes and gaps in the edges" despite living in a large enclosure.
"At times they can be seen climbing on top of each other to do so," HSS said in its Instagram post.
"The staff explained that the rats were 'looking for fresh air', and as the rats are confined, the staff will open the acrylic box for 30 minutes a day.
"We think this is not enough! Air is not an option. Air is NECESSITY to live. We hope this gets heard by the appropriate people, who will be able to make immediate changes to rectify this situation."
The post sparked outrage among netizens, with some slamming the zoo for "cruelty".
However, the behaviour of the rats is "not uncommon" as the videos were taken close to feeding time, Mandai Wildlife Group told Stomp in response to queries.
All 13 fancy rats, which were born in the Singapore Zoo, are also in good health, it added.
Dr Heng Yirui, a veterinarian at Mandai Wildlife Group, said: "Since being made aware of the social media video circulating about our fancy cats at Singapore Zoo's Rainforest Kidzworld, we conducted an internal review to get to the bottom of what happened.
"The behaviour of the rats in the video is actually not uncommon because it was taken close to the rats' feeding time.
"By nature, rats are also highly curious animals and rely on sniffing to investigate and inspect their surroundings. The inquisitive sniffing that is seen in the video is part of how they explore new scents in the environment, including when guests go close to their home.
"A visual assessment conducted today by the veterinary and animal care teams also showed that all 13 fancy rats at Rainforest KidzWorld are in good health condition, with no signs of respiratory distress or laboured breathing.
"None of the rats in the current housing has ever been diagnosed with respiratory issues or any other medical issues relating to poor ventilation for over two years.
"Animal welfare and care of the animals are not compromised. Nevertheless, we appreciate the care and concern of all netizens who have been following this today."
Dr Heng also shared a video of the rodents in their enclosure.
Dr Heng added: "The exhibit in the video is home to 13 fancy rats and consists of two large connecting chambers, with ample space for the rats to move about. Each of these chambers is also fitted with fans to circulate air and ensure ventilation at all times. The exhibit is also cleaned daily.
"We recognise that communication between our staff and guests could be better and we will work to improve that."
Dr Heng did not directly address a question posed by Stomp about whether it is true that the enclosure is opened for 30 minutes daily.
Responding to queries by Stomp, HSS said its initial concerns were based off the videos it had received and comments that zoo staff had supposedly made, particularly about the "30-minute opening of the enclosure's lid for air" and that "the rats were looking for fresh air".
HSS added: "As we primarily handle hamsters, their behavior can differ from rats. While it is not uncommon for animals to push their noses out of holes to sniff exciting smells, they also do that when there is lack of air, which was why we were concerned."
HSS noted that while Mandai Wildlife Group has clarified how the rats have sufficient ventilation, "the staff's comment about the rats still needing daily lid-off ventilation for 30 minutes was not touched on".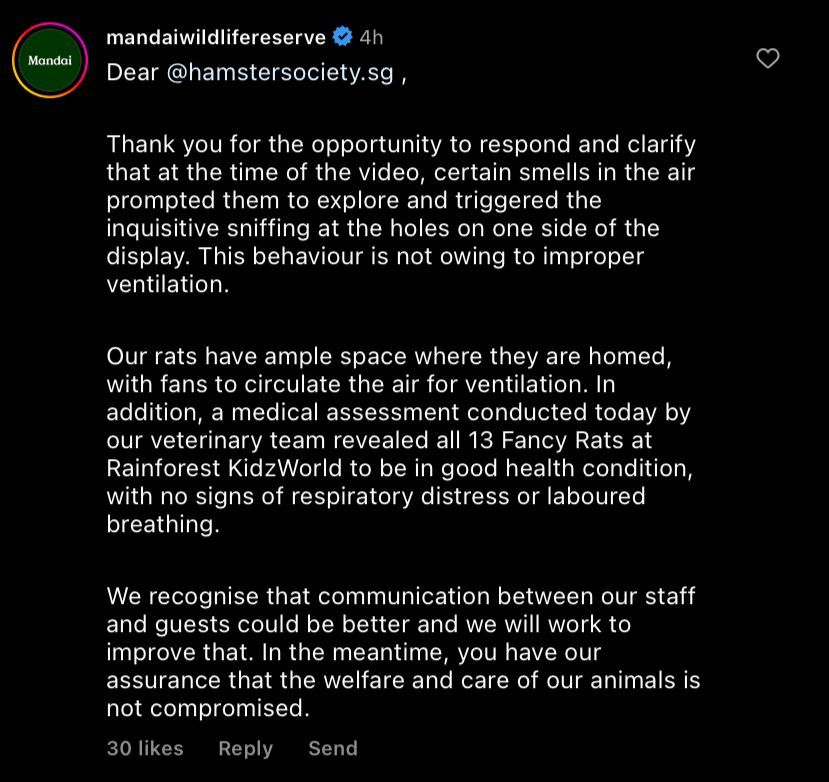 HSS told Stomp: "I do believe it was the part that shocked most people."
ALSO READ: Hello, police? Drunk YouTubers trespass into animal enclosures at Night Safari
This article was first published in Stomp. Permission required for reproduction.