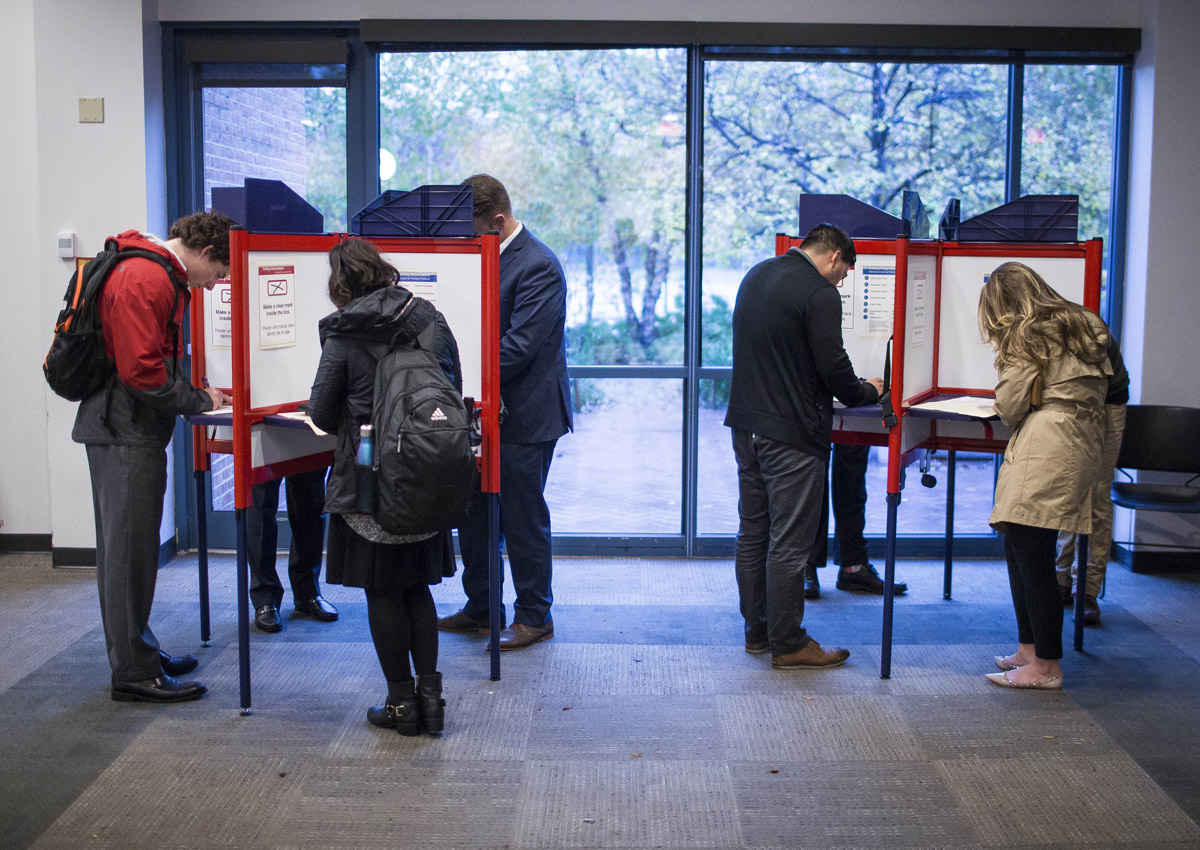 American voters poured out across their bitterly divided country Tuesday to deliver judgment on Donald Trump in midterm polls where opposition Democrats hope to seize at least partial control of Congress.
From New York to California and from Missouri to Georgia there were long lines from early morning at polling stations as voters finally got their say, following a heated, often tense campaign.
Control of Congress is at stake, effectively deciding whether Trump will continue to get a free ride from the current Republican-led legislature or be forced to deal with Democrats that he has spent months deriding as extreme leftists bent on bringing chaos to the United States.
All 435 seats in the House of Representatives, 35 seats in the 100-member Senate and 36 governorships were up for grabs.
Polls indicated that Democrats have a good chance of winning the 23 seats they need to seize the House, while Republicans were forecast to retain the Senate or even increase their current razor-thin majority of 51-49.
With memories still fresh from 2016, when Trump astonished experts by defeating the heavily favoured Hillary Clinton, pollsters are being cautious. Several dozen races where candidates from the two sides are barely separated will decide the day.
Even so, Democrats scented triumph, with Nancy Pelosi, the party's top leader in the House, saying "it's just a question of the size of the victory."
Former vice president Joe Biden, often touted as a possible Democratic candidate to take on Trump in 2020, said he'd be "dumbfounded" not to win the House.
The first polling stations closed at 6:00 pm Eastern time (2300 GMT) in parts of Kentucky and Indiana -- where Democrats are struggling to hold a crucial Senate seat in a state won by Trump two years ago. The last polls were to close seven hours later in Alaska, with results trickling in through the evening.
Big turnout
Voters often sit out the midterms. This time, they're sitting up.
According to Michael McDonald of the US Elections Project, 38.4 million Americans cast their ballots early ahead of this election, compared with 27.4 million in the 2014 midterm.
And on the streets, there was a palpable buzz.
"We have already seen a huge turnout, people out and about knocking on doors, making sure everybody gets out there, but I think turnout will be very, very high," Democratic candidate Katie Porter, who is running in Irvine, California, against two-term Republican incumbent Mimi Walters, told AFP.
On the other side of the country, in Atlanta, Georgia, voters waited in line for nearly two hours to cast ballots, according to local media reports.
At a polling station in Arlington, Virginia, head election officer William Harkins said: "it's a very good turnout."
Trump himself noted the energy as he wrapped up a punishing schedule of rallies around the country that were intended to boost Republican candidates -- and his own brand heading towards reelection in 2020.
"The midterm elections used to be, like, boring," Trump told a crowd in Cleveland, Ohio, on Monday. "Now it's like the hottest thing."
Immigration fears
Trump was spending the day at the White House, tweeting support for Republicans in the toughest races and preparing to watch the results alongside friends and family, his spokeswoman said.
The president so dominates politics across the country that despite not being on any ballot he has made the election largely about him.
Voting in Chicago, James Gerlock, 27, a Republican, said he wanted to see more of the soaring economic growth that Trump says is the fruit of his business-friendly policies.
"I am extremely happy with the economy," Gerlock said. "I just love the deregulation and I just want to keep everything moving, because I'm loving it."
But Democrats have been fired up by anger at Trump's extraordinary attacks over the last few weeks against immigrants, claiming that his opponents seek to throw open the borders to "drug dealers, predators and bloodthirsty MS-13 killers."
Sensing that his Republican base favors the hardline stand, Trump has sent soldiers to the Mexican border, threatened to have illegal immigrants shot if they throw stones at the border, and vowed to restrict citizenship rights.
At Trump's pre-election rallies, large crowds have consistently cheered his rhetoric about strengthening the southern border, chanting "build the wall!"
But Beto O'Rourke, a charismatic Democrat in a closely watched bid to dethrone Republican Ted Cruz in Texas, told voters that Trump was wrong, describing his state as built from "immigrants, asylum seekers and refugees."
"This is our source of strength," O'Rourke said as he voted in El Paso. "No one from outside can stir paranoia or fear that can change that."
The result in Texas will say much about which way argument has worked best in these polarised times. Other tight Senate races are in Arizona, Florida, Indiana, Missouri, Montana, New Jersey, Nevada, North Dakota, Tennessee and West Virginia.