'Consider carefully if you want to raise a huge dog': Kai Ko suffers another facial injury
PUBLISHED ON
July 17, 2023 4:09 AM
By
Drima Chakraborty
It's a cruel feeling of deja vu.
Earlier this year in January, Taiwanese actor Kai Ko was involved in an accident with a drone on set that left him "disfigured" and getting up to 30 stitches on his face.
While he may have recovered from that, albeit with a fear of "spinning things", the 32-year-old took to Instagram yesterday (July 16) to share that he has suffered another facial injury.
He shared an Instagram Story showing blood on his right hand with the text: "Please consider carefully whether you want to raise a huge dog," followed by cry-laughing emojis.
It appears Kai was taking his injury in stride as the Story was followed by another showing a blood stain on his pillow, which he wrote resembled a map.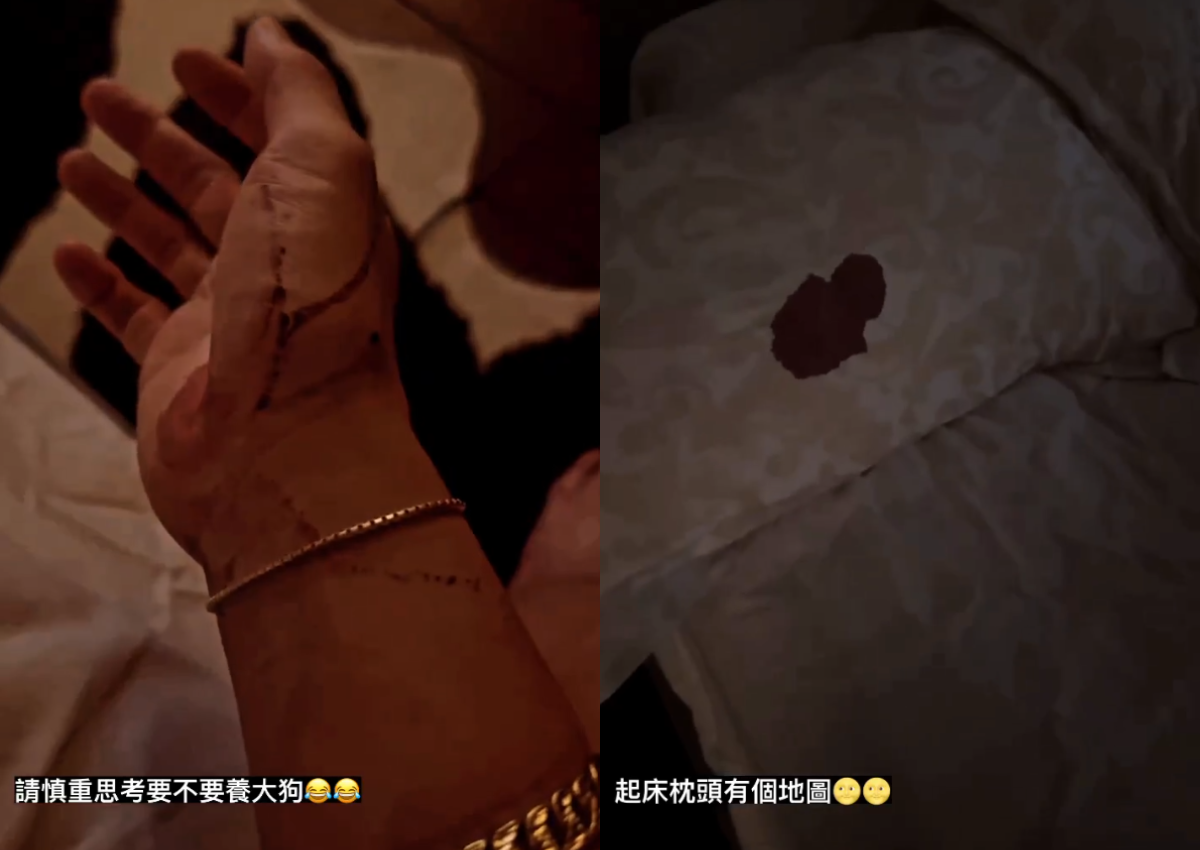 He explained his injury in a subsequent Story, accompanied by a photo of Max, his large Great Dane.
"My dog is very well-behaved, but he really is too big! Yesterday, when I was petting him crazily, he rushed towards me excitedly and stood on my chest — I think it was because he wanted to lick my face," he wrote.
"The top of his head hit the corner of my brow and I bled profusely — blood was literally spurting out! The blood on my hands is all from the cut on my brow."
He added that, as it was Sunday, clinics were not open and that he would decide whether to get stitches today.
This isn't the first time Kai has been accidentally injured by his dogs.
Back in February 2022, he shared a photo from the hospital, with his arms and legs covered in bandages.
He later explained that he had gotten between his two male dogs to break up a fight, resulting in scratches on his arms and three bite marks on his legs.
When a netizen asked him what would happen if he got bitten on the face, Kai quipped at the time: "Then I wouldn't have any meat to eat, because I rely on my face to make a living."
ALSO READ: Pet psychic claims Romeo Tan's dog contains the soul of his grandmother
drimac@asiaone.com
No part of this article can be reproduced without permission from AsiaOne.