REPORTER SLAMMED FOR ASKING ABOUT 'EARNING' CONDOLENCE MONEY AT SERENA LIU'S WAKE
The sudden death of Taiwan's 'dancing queen' Serena Liu took many by surprise and she leaves behind her husband, singer Shin Lung, and their four-year-old daughter nicknamed Ni Ni. Her grieving husband recently broke his silence to plead with the media for mercy in the coverage of her death.
However, it seems that some reporters may not have gotten the memo. In a recent interview, Taiwanese variety show host Jacky Wu — who runs the artiste management agency that Shin is under — was asked if funds for Ni Ni's education will be 'earned' via Serena's condolence money.
Jacky, 57, replied that the condolence money and Ni Ni's school fees are "mutually exclusive" and he will bear the cost of her schooling if he has to.
The controversial question left netizens seeing red as they called the reporter out for being insensitive and lacking values.

"Which reporter has such low standards where you can ask a question like that? Is this something a human would say?" PHOTO: Screengrab from Facebook

"Will people think of condolence money as earnings? So rude. Her family is grieving and you ask questions like this." PHOTO: Screengrab from Facebook

"I feel that the reporter asking about condolence money lacks values. Can't you be a proper human being?" PHOTO: Screengrab from Facebook
FLORENCE TAN, UNDER MALAYSIA LOCKDOWN, HOLDS DAILY FACEBOOK LIVESTREAMS TO ENCOURAGE PEOPLE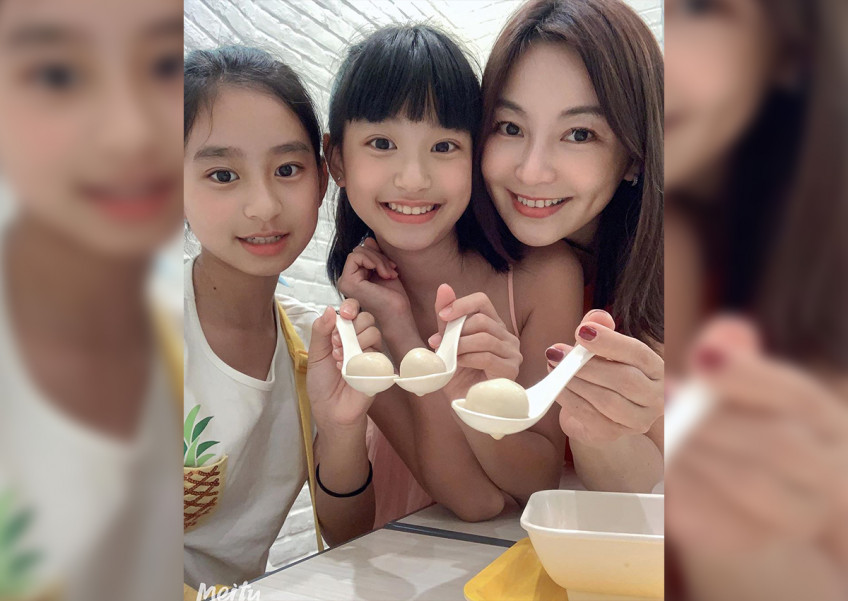 Florence Tan and her daughters. PHOTO: Instagram/florencetan.xiuli
With the Malaysia lockdown extended till April 14, Malaysian actress Florence Tan had to postpone her plans to return to Hong Kong.
The 42-year-old is currently in Kuala Lumpur with her twin daughters and they were scheduled to fly back to Hong Kong early April. She told Lianhe Zaobao in an interview that she was "mentally prepared" and accepted that "there was no choice" as everyone needs to fight together to win the war against Covid-19.
To combat the isolation, the actress hosts a Facebook Live session daily at 11am where she encourages people to exercise, adding that her daughters aren't used to staying at home as they walk 10,000 steps every day back in Hong Kong.
Florence also uses social media to keep fans updated on her culinary adventures, and said: "I cook while streaming on Instagram Live every day; and I share my breakfast, lunch, and dinner recipes on my Facebook, Instagram, and Weibo to motivate everyone to cook at home."
ACTRESS YOON EUN-HYE CRIES EVERYDAY FOR 30 MINUTES
On a recent episode of South Korean talkshow, Radio Star, actress Yoon Eun-hye revealed that she cries every day for 30 to 40 minutes — much to the surprise of viewers.
According to media reports, the 35-year-old said it was a way of keeping her mental health in check. "I try to work through things every day, so I listen to good music and also cry. A while ago, I watched a show starring [singer] Kang Susie where she said she cries a lot. I recently remembered that. I tend to cry easily, so I think about difficult things," Eun-hye explained.
The actress, who starred in hit K-dramas like Coffee Prince and Princess Hours, confessed that she can cry for "three to four hours if [I'm] really upset about something", but it's usually around 30 to 40 minutes. However, she clarified that she doesn't cry just because she's sad.
For Eun-hye, crying is a way to decompress if something triggers her and she'll take the opportunity to do some self-reflection. "I used to suppress my emotions, but I felt free after crying every day. I became healthier after breaking free from being judged," she said.
ALSO READ: Gossip mill: Chang Fei says he and brother Fei Yu-ching have paid $9.5mil for sister's debts - and other entertainment news this week
bryanlim@asiaone.com