Local celebrities Rui En, Chantalle Ng, Dennis Chew, and Edwin Goh have teamed up with Rui En's fan club and other friends to gift 2,150 care packages to frontline medical staff, cleaners, and drivers at the Singapore General Hospital, Tan Tock Seng Hospital, and the National Centre for Infectious Diseases.
The kind-hearted folks also wrote over 3,000 thank-you notes by hand, calling the dedicated staff their "idols" and "heroes".
The gesture was initiated and co-organised by Rui En, who raised funds for the gifts, packed the items, wrote the notes, and treated volunteers to drinks.
Items in the care packages include hand cream and muesli bars sponsored by Rui En, the fan club, and their friends.
Corporate partners also donated tubs of hair mask, heel gel pads, bottles of ion water, eye masks, and soap bars.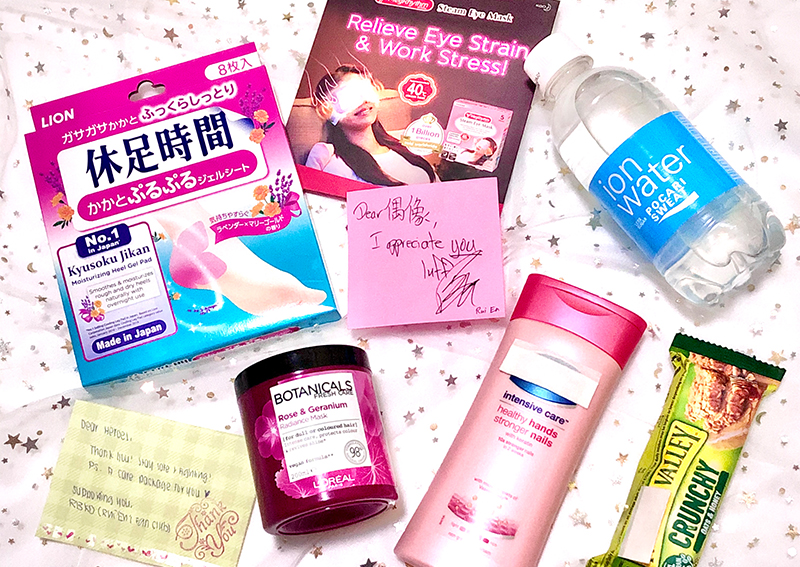 PHOTO: RBKD
A representative from Rui En's fan club RBKD told AsiaOne they spoke to their nursing friends before deciding to give the hospital staff hand cream because "a lot of them have dry, cracked hands from (using) alcohol sanitisers".
They also gave the care packs to cleaners and drivers at the hospitals as they are an "overlooked group of heroes in the hospital".
The care packs were delivered on Wednesday (Feb 19) and also today (Feb 21).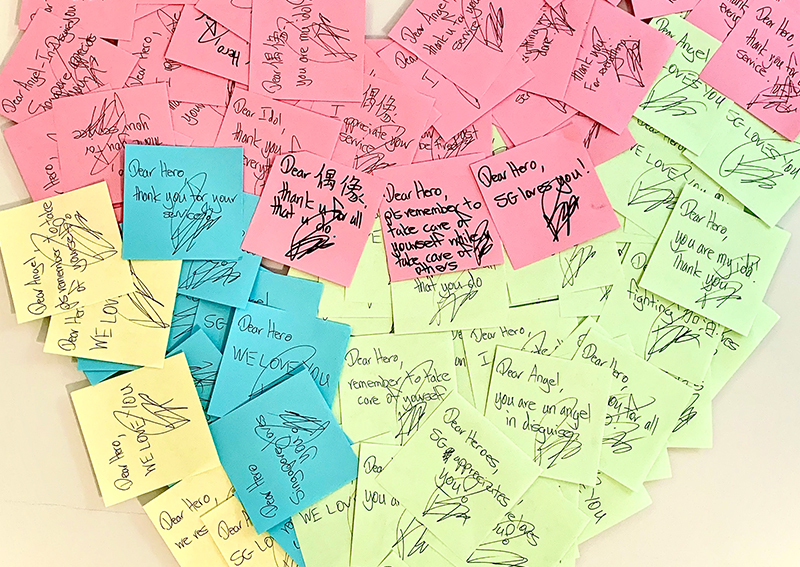 PHOTO: RBKD
Ms Mumtaj Ibrahim, senior manager of community relations at Singapore General Hospital, said: "We are very thankful to Rui En and the fan club for the gifts and the pampering treats that will brighten the days of our colleagues, many of whom are putting in long hours during this crucial period. 
"These gestures of goodwill are deeply appreciated by all of us at SGH and will keep us going in the fight against COVID-19."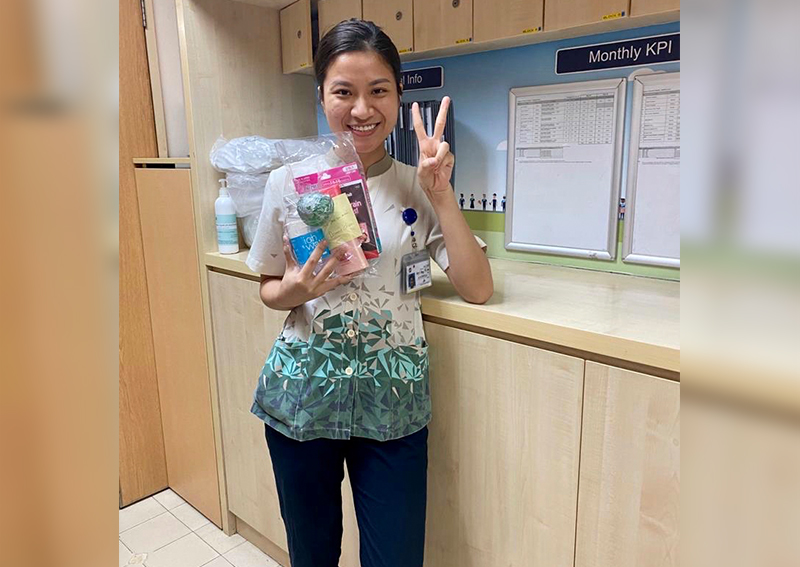 PHOTO: Singapore General Hospital
Rui En, 39, also said in a message, "I learnt a while ago that I can't control the things that happen to me in life, but I can control my reaction to it. I can choose to be paralysed by fear and anxiety about getting a virus, locking myself at home, or I can take the required precautions and continue living in a safe, measured way."
"Similarly, we can allow fear to hold us hostage, resulting in ungracious behaviour towards frontline health workers, or we can choose to lift them up as heroes and show them how much we appreciate them.
PHOTO: RBKD
"The news articles about nurses being shunned on public transport were followed in quick succession by new articles about families sending nurses breakfast, and corporations treating them to a meal, or arranging safe transportation for them. News about diminishing blood bank supplies was met with overwhelming response and crowds at blood donation centres. I read all these articles with tears in my eyes.
"In a world where distrust, ugliness and hate are pervasive, Singaporeans have triumphed by letting LOVE have the last laugh."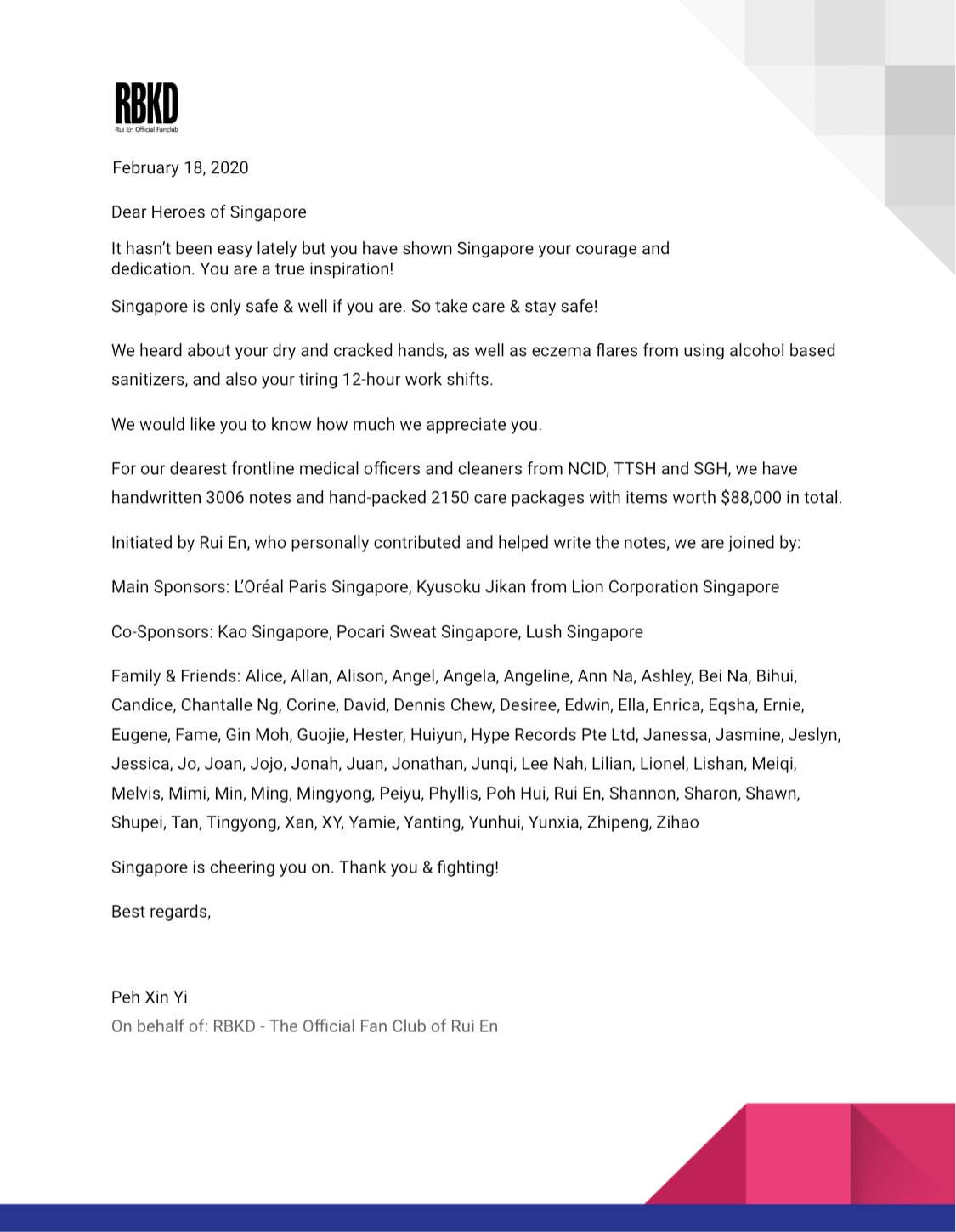 PHOTO: RBKD
For the latest updates on the coronavirus virus, visit here.
kwokkarpeng@asiaone.com