'Breathe the fresh air, my friend': Singaporeans celebrate further easing of Covid-19 rules
PUBLISHED ON
March 24, 2022 7:17 AM
By
Claudia Tan
Singaporeans have much to cheer about on today (March 24), as Prime Minister Lee Hsien Loong announced further easing of Covid-19 measures. 
Among the new rules, the one that has resonated with netizens the most is how wearing a mask is no longer compulsory when one is outdoors. 
Is the whole Singapore cheering when PM Lee mention no mask outdoors? pic.twitter.com/D8Z0gq5Et7

— nom nom hASHbrown (@hASHbrownLEY) March 24, 2022
Thank you PM lee for curing my acne with this no mask outdoor thing I will vote pap next election

— malone (@palonemun) March 24, 2022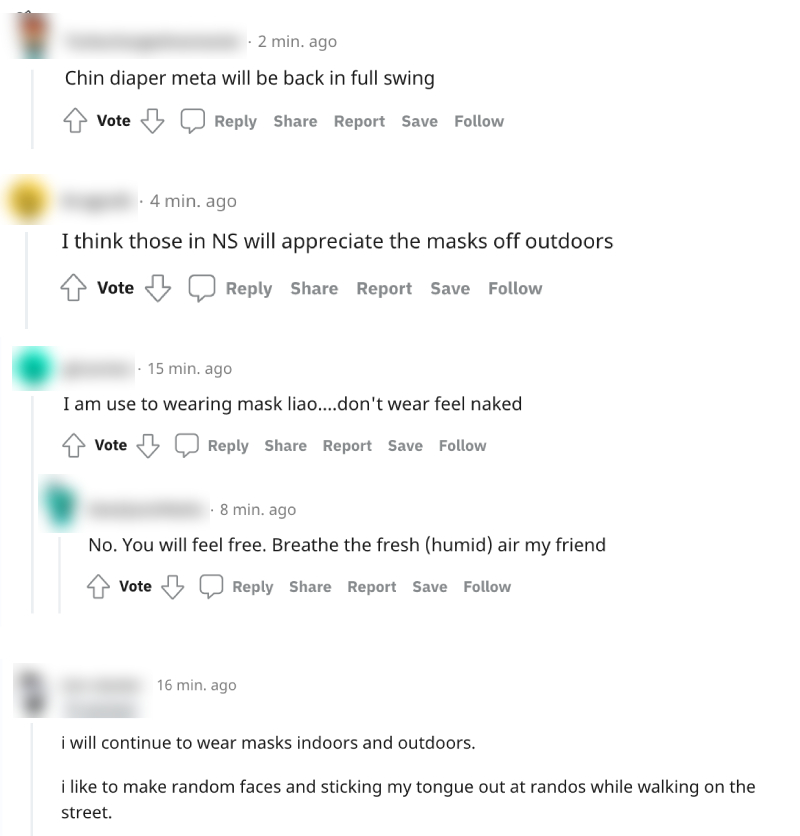 [embed]https://www.instagram.com/p/CbeP0roJGin/[/embed]
And of course, no one has forgotten the infamous 'Badge Lady'.
[embed]https://www.instagram.com/p/CbeJywutXkj/[/embed]
[embed]https://twitter.com/tzehern_/status/1506834814594256900[/embed]
Getting some fresh air aside, other reasons for celebration is the increase in group size from five to 10 people as well as the lifting of the current 10.30pm cut-off on alcohol sales and consumption.
[embed]https://twitter.com/Aravind_Raviii/status/1506862363932524550[/embed]
[embed]https://twitter.com/jeevzxcy/status/1506853508590436354[/embed]
ALSO READ: No more VTLs: Travellers entering Singapore will only need to do pre-departure Covid-19 test
claudiatan@asiaone.com