As a tourist, taking public transport in a foreign land can provide a better glimpse into the locals' way of life and expose you to some rather interesting experiences.
In a video uploaded on TikTok on Jan 27, a Singaporean shared her unnerving experience in Bangkok, in which the bus driver slammed the doors in her face just as she was about to board it.
In the 24-second clip, the traveller could be seen walking to the door of the bus before she was approached by a female bus conductor.
The conductor conversed to her in Thai, to which she answered "I don't understand". The bus then closed its door right in front of her face and drove off, leaving the traveller audibly perplexed.
In the caption of a separate repost of the incident, this woman, who goes by the username @njwah, said: "I love Bangkok but your bus public services scare me." 
"Be cautious when you are taking public bus in Bangkok."
Explaining that it was her first trip to Bangkok after three years of lockdown, she also said that it was her first time trying to take a public bus in that city. 
"What just happened?" the user wrote in the caption, along with a bunch of laughing emojis.
"Can somebody please tell me what did she say and why did the bus driver just drive off?"
The video has since garnered over 314,000 views and 16,000 likes.
Responding to her queries, many Thai netizens took to the comment section to explain what happened, pointing out that the bus she was trying to board was an "extra bus" for a shorter route.
They also said the conductor was just telling her that the bus was going to stop at Pratunam – a famous shopping district – and that the drivers had to rush as they have to reach their destination on time. 
"Driver thinks [you're] wasting his time by not getting into the bus. Happens always to everyone," offered one netizen.
Nonetheless, netizens reassured the tourist that this was normal, branding the experience as just a "normal day in Thailand".
Some locals also said that they have difficulties getting on public buses as well.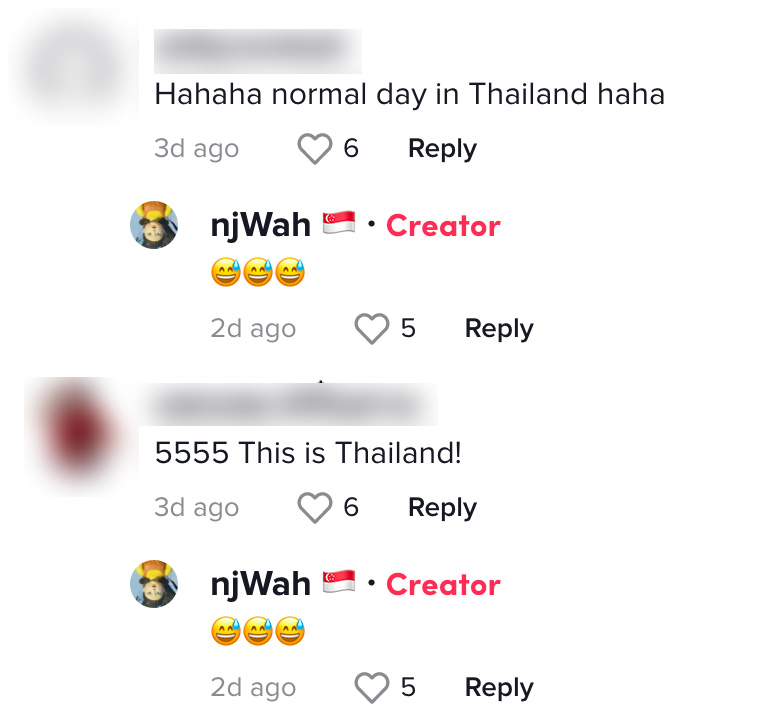 Addressing netizens who told her she should have familiarised herself with the bus routes before travelling, she said that she already knew which bus to take, just that she "didn't expect the bus to take off like that".
"I didn't ask any questions at all. I was trying to get on the bus and the lady conductor started talking before I could board," she told a netizen in the comments.
In a montage video posted four days later, this tourist attempted to board the same bus again – but this time around, she learned her lesson and managed to get on the bus by being quicker.
"Thanks to all Thai friends for your advice and comments on my previous videos," she wrote in the caption. "YES YES I DID IT!! I SUCCEEDED!!"
According to Transit Bangkok, Bus Line 23 is a 24-hour bus service and passes by 61 inbound bus stops and 57 outbound stops around the city.
It also said that buses with blue signs in the front window take the ordinary route, while buses with yellow signs take the expressway. There was, however, no available information on the "extra bus" netizens commented about.
AsiaOne has contacted @njwah for more information.
Tuk-tuk driver turned aggressive
It may be rare for tourists to take public buses in Bangkok, opting instead for the capital city's more unique choice of public transport: The tuk-tuk.
In a TikTok video posted in September last year, another Singaporean accused a tuk-tuk driver of turning aggressive over a fare dispute.
"BKK tuk-tuk driver demanded more money. I did not agree so he stops halfway and turns violent [sic]. Police report has been made," the tourist, whose username is @bkkdiaries, wrote in the caption.
In a separate email sent to various local media publications, the user, who identified himself as John Chen, said that he had taken a tuk-tuk ride from CentralWorld to a condo near BTS Surasak and "agreed on the price of 160 baht (S$6)". 
Chen said that the driver claimed they had told him to go to BTS Chong Nongsi and "kept yelling vulgarities".
"He appeared aggressive so I started to record [the] video. I said that we did not, and had agreed to go to BTS Surasak."
Chen added in his email to the media: "There have been cases of taxi drivers behaving violently recently in Bangkok against tourists, this is another one.
"I hope you would share this and encourage the Bangkok authorities to take action and tourists to be careful."
After the incident, the Thai Tourist Police said they managed to contact the driver and fined him 1,000 baht.
He was also ordered to undergo three hours of good behaviour training.
ALSO READ: 'He took out a f***ing knife': Singaporean couple shares harrowing experience with Bangkok cabby
wongdaoen@asiaone.com
No part of this story or photos can be reproduced without permission from AsiaOne.