Local OnlyFans creator KiaaraKitty isn't a stranger to controversy. 
On Monday (Jan 23), automated Twitter account StreamerBans posted that Kiaraa, had been banned from Twitch. 
At the time of writing, KiaraaKitty has 8,700 followers on Twitch. According to StreamerBan, this is the fourth time this Singaporean has been banned from the platform. 
UK's the Daily Star also reported that Kiaraa's Twitch profile read: "This channel is currently unavailable due to a violation of Twitch's Community Guidelines or Terms of Service."
Although the official reason for the ban was not disclosed, some netizens suspect that it could be due to a livestream she did on Jan 22 in Taiwan, where she was seen doing squats with her back facing the camera — which goes against Twitch's guidelines. 
In the video, Kiaraa was dressed in a pink bra and pink leggings as seen above. 
The Daily Star, however, reported that she was banned after eating a sausage in just a bra on a livestream in Taiwan too.
According to their website, Twitch has an attire policy which prohibits creators from being fully or partially nude, and where the "visible outline of genitals, even when covered" is also not allowed. 
In addition, Twitch also does not allow streaming of "sexually suggestive content".
Responding to news of Kiaraa's ban, her fans took to Twitter to express their disappointment. 
However, it seems like her fans have something to rejoice about again, as StreamerBans – which provides updates of people who get banned from streaming sites – tweeted on Friday (Jan 27) that she has been allowed back on the platform. 
Kiaraa responded to the good news in a tweet posted earlier today saying cryptically: "Thank you for standing by me everyone. I love u all [sic]". She did not address the issue directly on her other social media accounts.
Accused of scamming seven men 
Back in 2021, Kiaraakitty was accused of scamming seven men of more than $30,000 when her alleged phone conversations were leaked on YouTube. 
In the 15-minute-long video posted then, a woman shared how she targetted lonely men on gaming platforms. 
"I scammed, like, seven guys and never got caught," she revealed. 
One of them supposedly gave her the $30,000 which he had received as a sign-on bonus in the army.
After the man badgered her to return him his money, the woman said she went out with him, adding: "I just 'meow' be all cute and nice, and I never met him again." 
Dispelling these accusations, Kiaraa uploaded an Instagram story then calling the recording "false and staged", and that a police report was made.
Wearing ao dai without pants 
Speaking of influencers getting in trouble because of their outfits, Malaysian influencer Siew Puiyi received flak from netizens last April when she uploaded photos of herself wearing a traditional Vietnamese ao dai — sans the pants.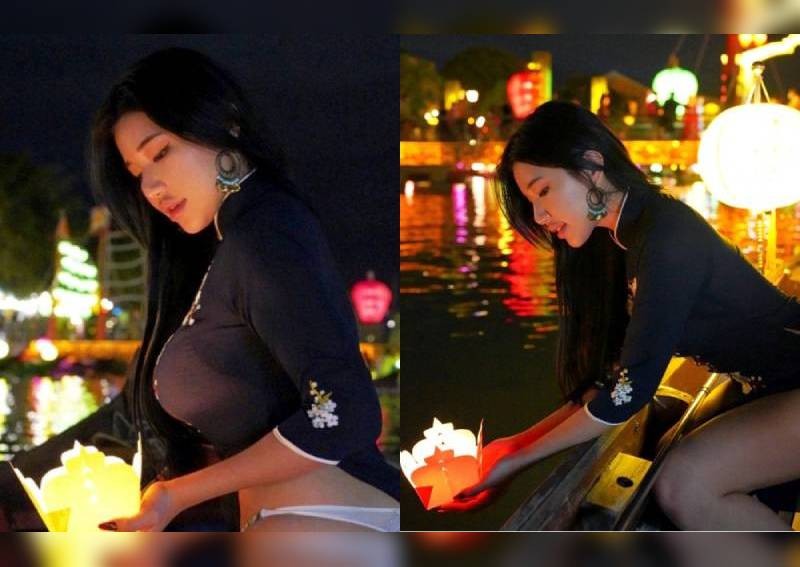 In the photos, she was seen releasing lanterns onto the Hoai River in Hoi An, reported Vietnamese newspaper VnExpress International.
The post quickly went viral for the wrong reasons, incurring the wrath of Vietnamese netizens decrying it as "disgraceful", and accusing her of defiling their culture. 
After the severe backlash, Siew issued an apology on Facebook directed at her Vietnamese audience.  
ALSO READ: How bra-zen: Taiwanese influencer barred from Louvre Museum for wearing this outfit
claudiatan@asiaone.com
No part of this story or photos can be reproduced without permission from AsiaOne.