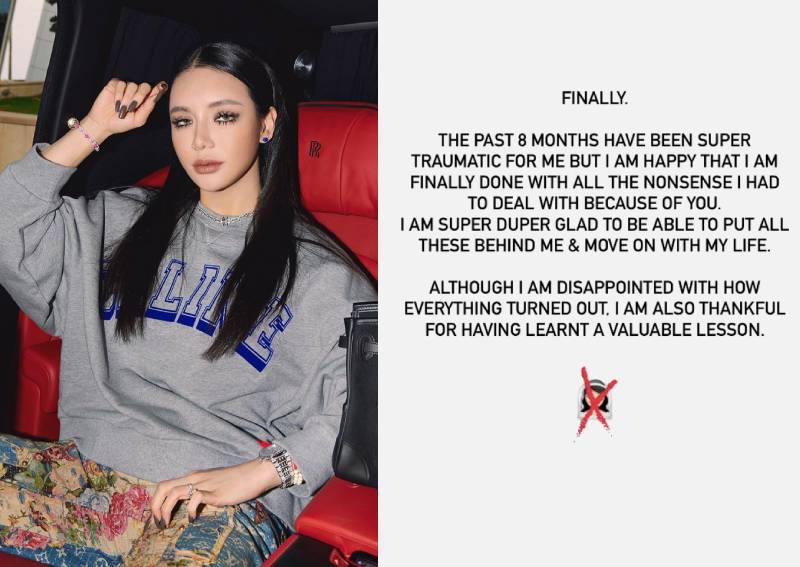 Kim Lim is officially divorced, for the second time.
An 8days report on Wednesday (Feb 8) stated that the 31-year-old socialite-turned-entrepreneur is newly single again after her split from her second husband was finalised. 
In her Instagram Story from the same day, Kim alluded to the fact, sharing: "Finally. The past eight months have been super traumatic for me but I am happy that I am finally done with all the nonsense I had to deal with because of you.
Airing her relief, she added:
"I am super duper glad to be able to put all these behind me and move on with my life."
"Although I am disappointed with how everything turned out, I am also thankful for having learnt a valuable lesson," she wrote. She ended her note with an emoji of a bride, crossed out in red.
Does this mean she's ruling out marriage for the future, we wonder? 
In an interview with Icon Singapore for its December 2022 issue, the heiress confirmed the split from IT professional Leslie Leow, 34, whom she married in February 2022 after a whirlwind romance.
The marriage lasted only for two months, Kim revealed.
Kim, daughter of billionaire Peter Lim, shared how Leslie became a changed person after marriage and would get angry "almost every day". It was a stark contrast from the "gentle and considerate" person he was during their relationship, she shared.
The heiress added that the constant arguments and his "harsh words" caused her "a lot of mental harm".
Kim, who shares five-year-old son Kyden with her first husband Kho Bin Kai, stated in the interview that her failed second marriage has taught her that it takes time to really know someone.
8days' recent report also unearthed some details that were not known about the pair's legal battle.
A source whom 8days spoke to confirmed that the deed of separation was signed on Tuesday (Feb 7).
The source further revealed that during the divorce proceedings, Leslie had tried to claim compensation from Kim for items he'd purchased during their marriage, such as a $120 pair of crocs and "Sonos speakers worth $1,200".
The claims, however, fell through as they "didn't hold up in court", the source was quoted as saying.
Another source also shared with the website how Kim's ex had taken back all the gold bars that were presented for their Guo Da Li (betrothal) ceremony in February last year.
Yes, the lavish betrothal ceremony seen on her social media featuring some $2 million worth of gifts, according to Icon Singapore.
Turns out, however, that a majority of the gifts shown that day were from Kim's side, another source told 8days.
The source added that Kim had loaned Leslie a large amount of money — allegedly close to half a million — to pay for the wedding, but the amount had not been returned.
candicecai@asiaone.com