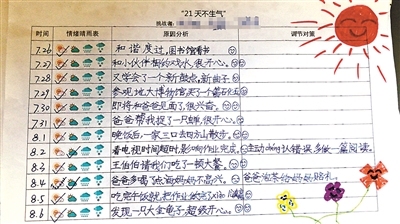 Can you keep your cool for 21 days straight?
Following challenges bordering on ridiculous that have swept the internet, like the A4 waistline challenge, bellybutton challenge, or the finger knots challenge, Chinese netizens have been caught up in a new challenge of a less physical nature: not losing their temper for 21 days.
According to Chinaplus.cri.cn, the challenge was set as homework for a class of third grade pupils and their parents during the summer vacation in Wuhan, where participants had to record their daily moods in a diary.
However, it has caught on with the masses and became an internet hit, reported Beijing Youth Daily.
For some netizens, 21 hours is challenging enough, not to mention 21 days. And it seems singles have an unfair advantage. Said one Weibo user: "It is harder for those who are married or who have kids not to lose their temper. I'm single, and I haven't gotten angry for half a year." Another joked: "Does it mean all hell will break loose on the 22nd day?"
However, the teacher who set the homework said the aim of the challenge was to remind parents about the importance of ensuring "a good domestic environment for children to be able to learn to manage their emotions".
She also found that parents were more likely to get angry than children, with the main source of anger stemming from dealing with their children's homework.
ALSO READ: Here's why this teacher asks primary school students to count 100 million grains of rice
Interestingly enough, among the teacher's class of 44 pupils, only one set of twins and their parents successfully completed the challenge, which proves keeping level-headed isn't as easy as it sounds.
This is one challenge we approve of. 
candicec@sph.com.sg