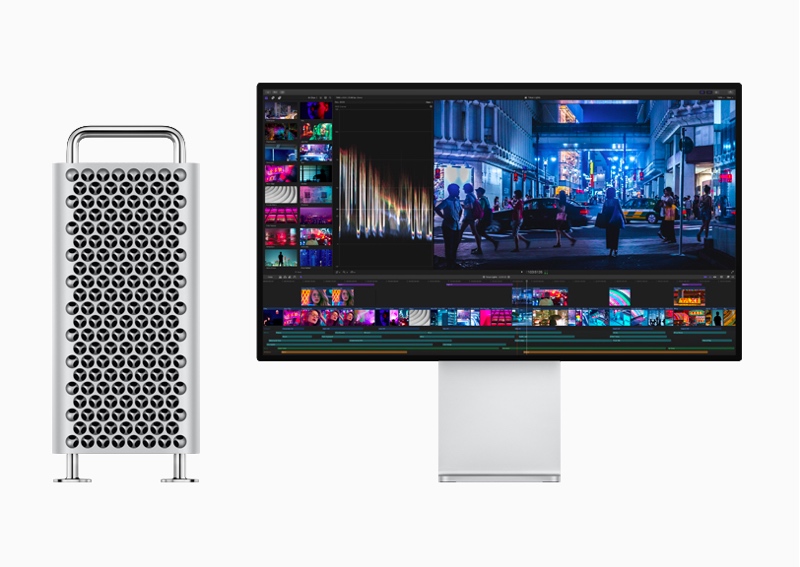 Good news: we finally have a new Mac Pro. Bad news: it's mind-numbingly expensive and looks like a giant Parmesan cheese grater.
The grater-like casing on both the Mac Pro and the Pro Display XDR Monitor actually serves a purpose: to get rid of all the heat. (For the record, this is not the first time Apple has drawn inspiration from kitchen appliances.) Also new: you can put wheels on the Mac Pro and cart it around the office, just because.
The base price for this ridge-backed beast is US$5,999. The Verge reports that buying the Mac Pro in its ultimate form – outfitted with top spec gear — will cost at least US$33,720.88, which is an entire year's worth of salary for many people.
Design choices aside, the 2019 Mac Pro is a formidable machine, especially if you're working with 8K and 6K video, or any sort of multimedia editing. The basic 8-core Intel Xeon-equipped Mac Pro can be juiced up to 28 cores with 1.5TB of RAM. The Mac Pro will use Afterburner, a new "hardware acceleration" function that allows it to optimise CPU power while you're multitasking with different video streams. Apple is also allowing for modular customisation for maximum configuration — for instance, if you want to expand the number of PCI Express slots.
What you need to know about the new Mac Pro: ⚡️ 8-core Xeon processor 💻 32GB of RAM 👾 Radeon Pro 580X graphics card 📦 256GB SSD 💸 $5,999 📅 Available Fall 2019https://t.co/stcxjnRRBX

— CNET (@CNET) June 3, 2019
There's absolutely zero reason for a typical consumer to spend this amount of money on a computer. Unless, of course, you're criminally wealthy, or if you need a sexy, powerful new machine for creative graphics work (think of all the videos you could edit with 32GB of HB2 RAM).
If you're already going to spend all that money on the Mac Pro, you might as well go full bankrupt and get the Pro Display XDR Monitor (US$4,999) and Pro Stand (US$999). The former is Apple's name for a god-tier 6k monitor, and the latter is a very expensive "counterbalanced arm" to prop up your shiny new toy. If you want to spend $6k on staring into the face of a 1,600-nit sun, this is your chance, but if you're broke, we recommend simply going outside.
Keep your eyes and wallets peeled for the Mac Pro this fall. We'd say start saving now, but at a minimum of US$6,000, the whole package might be a little out of our price range.
alexisong@asiaone.com