While scam calls are often associated with overseas numbers or numbers with a +65 prefix, one netizen recently took to Reddit to share about a scam call they received from a local phone number. 
In the post, the Reddit user said they answered the call since the number was a local one. 
The caller claimed there was a "dispute" with the user's DBS credit card transaction, and asked them to speak with customer service to "avoid illegal usage". 
The caller, a male, had a "localised" voice, which led to the assumption he was from either Singapore or Malaysia.
When the user questioned further about the dispute, the caller asked for personal details, beginning with the user's name.
The user declined and said he would contact the DBS hotline. 
A visit to a DBS branch confirmed the netizen's suspicion. The bank staff informed that there was no suspicious activity associated with their card.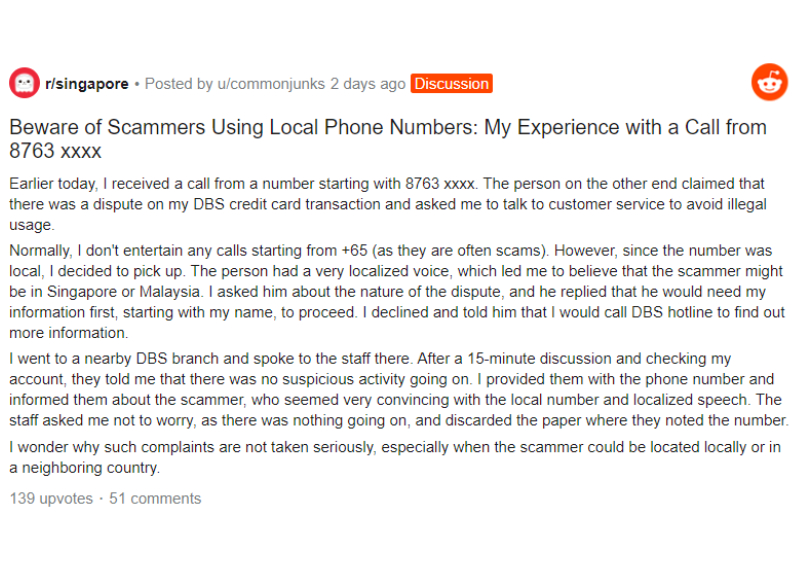 Many in the thread shared similar experiences — from calls without a +65 prefix. 
One said they received a call from a local number that turned out to be an automated message, while another said they had someone with a Malaysian accent calling from a local number, claiming to know them.
Although the netizen expressed concern that his complaint at the bank was "not taken seriously," others in the thread explained that it would be difficult for the bank to track the identity of the caller. 
Said one Redditor: "Tracking down the scammer is beyond what they can do... these numbers are hard to trace since they are most likely fake."
ALSO READ: 'I didn't tell my wife': Man loses $1,500 to TikTok 'friends' who threatened to leak his nudes after video calls with them
This article was first published in The New Paper. Permission required for reproduction.