SBS Transit to install system that can predict fault on all buses by 2024
By 2024, SBS Transit will complete the roll-out of a condition monitoring system that is able to predict faults before they happen on its fleet of 3,500 buses.
When fully implemented, the system is expected to reduce the amount of repairs because of bus breakdowns by about 20 per cent, said an SBS Transit spokesman.
He added that commuters would enjoy a more comfortable ride since the buses are more likely to be operating in their best condition. There would also be a lower chance of a bus breaking down while in service.
The public transport operator began installing the system in April 2022, and has outfitted nearly 1,000 buses housed at the Bukit Batok, Hougang and Soon Lee depots with it.
Modern buses have multiple sensors that feed information to their onboard computers, including data on the electrical circuits, braking system, fuel usage and how the engine is running.
With the condition monitoring system, a box that is fitted in a nook beside the driver's seat remotely relays the information going into the bus computers to back-end servers. The data is processed by Stratio Automotive, a Portuguese company that serves fleet operators in Europe, North America, Latin America and the Asia-Pacific region.
Information from the buses in these regions provides the basis for the system to predict how components will perform.
Alerts from the system will include a description of a symptom - for example, an irregular voltage reading - as well as the possible cause, like an alternator belt that is starting to stretch and is unable to charge up the electric system as effectively as it should.
Buses with potentially faulty components will be called back for maintenance before the parts fail.
Currently, on average 0.7 per cent of SBS Transit's total fleet is called back to the workshop each day for repairs. The most common repairs are to the electrical and air systems.
Bus technicians such as Mr Thandavarayan Balaji, 53, are able to see the real-time condition of buses in the fleet. He said this overview helps with planning the type of maintenance work, manpower and parts needed.
Technicians can also give feedback to the system on how accurate it was in identifying the issue. This helps refine the software's ability to predict faults.
Technician Dev Avinash Sashikumar said the system also has a GPS tracking feature that helps the maintenance team save time locating buses in the depot.
SBS Transit's spokesman said the company can also potentially reduce wastage, like discarding brake pads or belts before they are actually worn, by replacing components based on their actual condition instead of relying only on the prescribed replacement interval provided by the bus manufacturer.
More time is needed to work out the exact amount of savings after the system is fully implemented, he added.
SBS Transit is working with Stratio to get more mileage from the technology by helping to develop the ability to predict faults with bus air-conditioning systems.
The idea is for the system to pick up signals related to the air-conditioning system's performance, which include the external and internal temperatures, as well as how effectively the system cools the bus to the targeted temperature.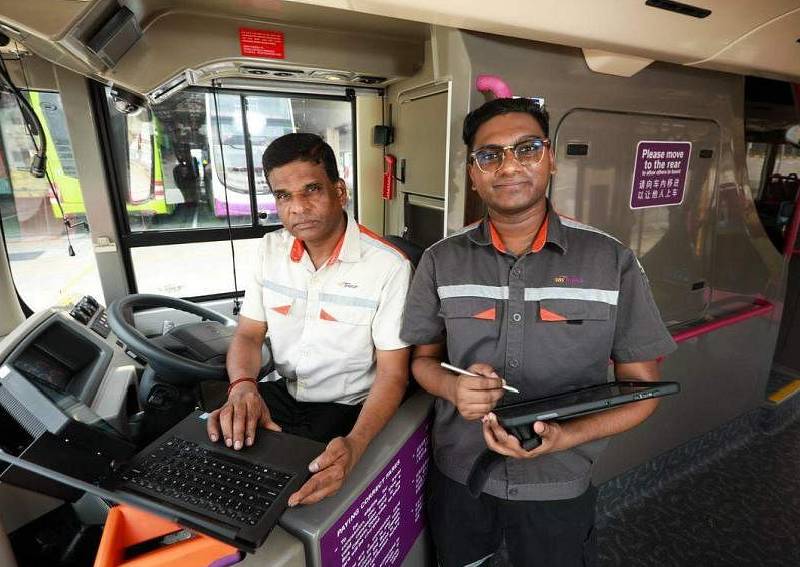 Mr Ang Soon Yeong, vice-president of bus engineering system and technology at SBS Transit, said the work started in 2022 and the company expects this feature to be fully operational by the second half of 2023.
He noted that failures related to the air-conditioning system rank among the top three leading causes of bus repairs. Being able to spot early signs of trouble to intervene would have a significant impact on operations and also improve commuters' experience, he added.
Condition monitoring systems are increasingly common among bus operators to keep their vehicles on the road. Many also see the potential of predictive maintenance to further improve their operational efficiency.
[[nid:623839]]
Go-Ahead Singapore implemented its condition monitoring system in 2020 and rolled it out to its fleet of 400 buses. The company's spokesman said that it is in the midst of developing a solution to better predict component faults before a breakdown occurs.
Tower Transit installed its condition monitoring system in 2022, which helps technicians spot components and systems that require attention. The system will alert the operator to step in when readings exceed preset thresholds.
Since February 2023, SMRT Buses has been conducting two tests with potential partners involving 30 buses of different makes and models to introduce condition monitoring and predictive maintenance capabilities, to improve its ability to use data to maintain its fleet.
Mr Tan Kian Heong, managing director of SMRT Buses, said an open tender will be called after the remaining test is completed by the end of July. SMRT Buses plans to implement the system across its fleet by March 2024.
This article was first published in The Straits Times. Permission required for reproduction.