Advent calendars work on a simple premise: every day in December until Christmas eve, build your anticipation for the big day come the 25th. 
The days are marked by doors or windows, often distributed randomly across a large rectangular card.
Behind these doors, you'd traditionally find rewards that are a little more spiritual in nature (think hymns or images of the Nativity), though advent calendars have since been adapted to hiding small, rewarding gifts. 
The great thing about advent calendars - or bad thing, depending on how you're looking at it - is the need for some good ol' delayed gratification.
Open all the windows, and gorge yourself on the spoils within before December has begun proper - or, exercise a bit of self-restraint. Your waistline will thank you for it.
Temple Cellars' canvent calendar
There's no better way to prep for the wanton excess of traditional Christmas fare like hulking turkeys and log cakes than, well, getting a head start.
Temple Cellars' canvent calendar lets you do some pre-boozing all the way through the month with 24 craft beers in a myriad of styles.
Whether you or your giftee is partial to IPAs, Stours or Sours from the likes of Garage Project, Behemoth Brewing or Heretic Brewing, there'll be plenty of time to sample your way through some of Temple Cellars' choice picks from upstart craft breweries.
If IPAs are more your thing, they've got a canvent calendar just for that as well.
Just note that some planning is needed – you'll either need to find a pretty large fridge to fit your red-and-green hued beer cartons all at once, or some discipline to pre-chill your following day's drink ahead of time.
Click here for more information.
Godiva's holiday chocolate advent calendar
This advent calendar is perfect for fans of consummate, artisanal chocolate.
After all, you can't really go wrong with chocolate for any occasion, and Christmas is no exception: expect Santas, penguins and snowmen replicated in chocolate (white, dark or milk), filled with hazelnut praline or chocolate ganache, along with some almond milk and 70per cent dark chocolate carre to seal the deal.
For something more luxurious, opt for their limited edition, Swarovski-embellished luxury box stuffed to the brim with iconic Godiva pieces as well as a couple of pieces from this year's Holiday Sparkle Chocolate Collection, courtesy of in-house chef chocolatier Jean Apostolou, for a healthy dose of nostalgia, cosiness and festive cheer.
Click here or visit any of their outlets.
Intercontinental Singapore's advent calendar
As advent calendars come, Intercontinental Singapore's might actually be designed to be enjoyed as a package – especially when you consider the fact that along with edible goodies like Christmas fruit cake, minced fruit pies and a smallish bottle of Moet & Chandon brut, the hotel has included a two-day-one-night stay in one of their deluxe rooms and $50 of dining credit.
Traditional festive desserts and snacks make up the remainder of this exquisite gift package (which, by the way, also comes in an attractive multi-tiered gift box). 
Click here for more information.
Clarins' beauty-focused advent calendar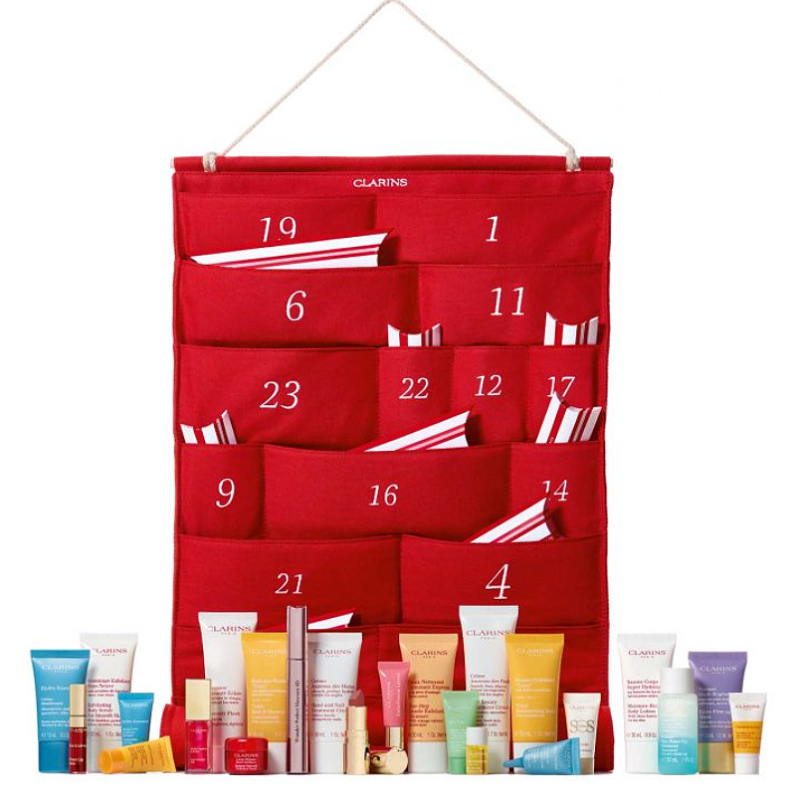 Feeling good isn't just about the inside – sometimes, it's important to look good (proudly). Thankfully, Christmas is one of those times where you'll get away with it easily.
Clarins presents an advent calendar with 24 of their iconic beauty products, allowing you to moisturise, exfoliate and plump up to your heart's content during a month of festivities.
Stick to this routine, and you'll be glowing like a Christmas tree (in a good way) all the way until the New Year – and beyond.
Click here for more information.
Lady M's debut advent calendar
Lady M's Winter Dreams Advent Calendar combines an adorable diorama of New York city with 24 drawers filled with sweet treats inspired by the some of the brand's most well-loved pastry creations.
Treat yourself to a selection of chocolate bon bons and gummies each day, rendered in flavours like rum and cola gummies, to crunchy chocolate hazelnuts.
The calendar's snowglobe-like centrepiece, meanwhile, ingeniously retracts into the box for easy storage.
Click here for more information.
This article was first published in The Peak.