In an era that's increasingly reliant on information technology, data, and algorithms, things need to run like clockwork for efficient business. 
But therein lies the inherent issue — not everyone runs like a well-oiled machine. Something is always due to run off-course. Software might not always be bug-free. More often than not, maybe you just don't know how to even begin developing The Next Big Thing in tech. 
That's where Virtual Electronics Pte Ltd comes in. The Singapore-registered company may be the newest kid on the block (it was founded only last year), but it's also one of the more multi-faceted IT service providers in the market. 
Software quality assurance? Virtual Electronics can provide experienced engineers to test your software remotely at short notice (they've got teams at the ready in R&D centres across Poland, Ukraine, and Belarus).
Need a new website up or a mobile app that can run virtual reality simulations on both iOS and Android? They can set those up for you.
Need stable cloud servers to host and share data around the world? Virtual Electronics has their own hosting provider, too.
In other words, the company can pretty much handle the IT needs of businesses big and small — if business owners are willing to outsource their digital functions. The most important consideration is the money of course, and entrepreneurs get to save money without compromising on the quality of a high-level specialist. 
After all, it's much easier keeping operating costs low if you hire an advanced programmer from Minsk as compared to someone from the United States with the same competency. 
The Australian connection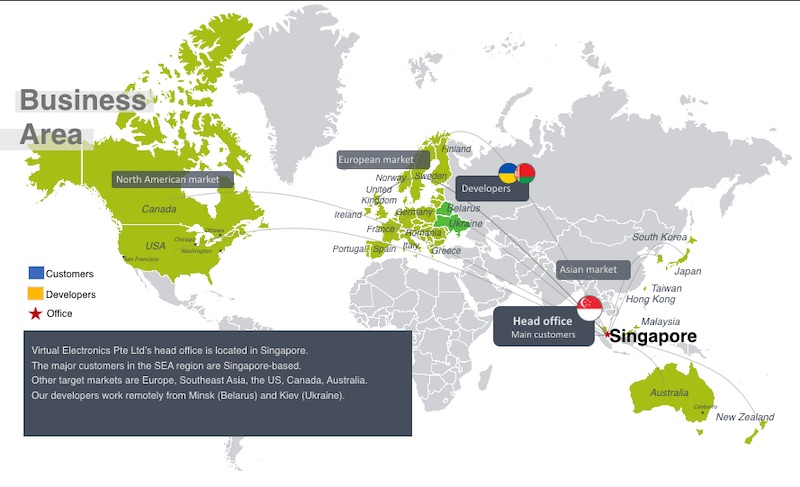 It's easy enough to rest on their laurels as a digital outsourcing company that provides services at up to 20 per cent lower than its competitors. But Virtual Electronics has an upcoming undertaking that promises to kick the door wide open for content services between Australia and Singapore. 
"Singapore has high and intense business ties with Southeast Asian countries. South Australian businesses can enter Southeast Asian markets much faster and easier through export co-operation with Singaporean businesses than if they did it on their own," Serge Przhevalskiy, Virtual Electronics' Chief Marketing Officer, explained.
The company's big international project is called the Content Collaboration Platform for International Digital Business (South Australia-Singapore), a name that admittedly doesn't roll off the tongue that easy. VEnterface is their much easier moniker, so let's go with that. 
"Clients will be new businesses, services, as well as those who make innovative products with a digital component," enthused Serge.
"The main task is to expand trade borders and organise the interaction of participating companies between Australia and Singapore, a project that will be supported by the Australian government." 
In plain words, Virtual Electronics wants to create a high-tech online platform that allows South Australian businesses an easier entry into the Singapore market. VEnterface will be a new user-friendly B2B business database that helps connect Australian manufacturers and service providers with buyers — in industries ranging from mining and agriculture to telecommunications — in Singapore. 
They'll do this through four ways:
Scoping solutions
VEnterface will scout and identify areas of interest for Singapore clients, who'll explore the scope of opportunities available in South Australia. After which, these clients will decide on the next step in their international business venture on VEnterface
Tools of the trade
South Australian exporters, on the other hand, will be given the tools on VEnterface to submit all their details and corporate information into the platform's database. Through the platform's in-built virtual assistant (integrated with Google's Natural Language Processing, Machine Learning, and Artificial Intelligence), the exporters will run through a process of presenting their products with a deep description of their products and services. 
Intelligent analytics
The virtual assistant will collect relevant statistics from the Singapore clients' enquiries, and add new models of curated data to the database. What this will do is expand the database with new insights to improve both the Singapore clients' and the Australian exporters' workflow on the platform. The former could find better-suited vendors to partner with, while the latter could tweak their profiles to suit what the clients are really looking for. 
Facilitating collaboration
There's the goal of getting Australian vendors to work together to create a multi-service consortium — or at least a union that can push curated bundles of services to Singaporean clients. There's also the hope that the Singapore connection will give credibility to first-time Australian exporters when they enter the Singaporean market and open new doors for business. 
When will it start?
Virtual Electronics said a prototype of the VEnterface content service platform could be up and running as soon as the first quarter of 2020, while the invites for Australian exporters to list their products and services is aimed to go out within the second quarter of 2020. Training of the platform's virtual assistant's algorithms will be rolled out before year end. 
The platform will be free for all to access — including company profile pages, contacting other users, and product directories — but advanced features like creating classifieds, posting queries, and curated collaborations will require from $150 a month. 
"Our virtual agency is, on the one hand, a way to draw the attention of Singapore businesses to South Australia's export opportunities, and on the other hand, to make business with South Australia easier for Singaporean companies," said Serge. 
"Thus, the win-win model works here for Singapore and Australia businesses." 
That being said, that's just one project that Virtual Electronics is embarking on. You'd be surprised that the company even does game art production, chat bot development, and professional consulting and implementation for your IT needs; check out the list of their services on their website here.
This article is brought to you in partnership with Virtual Electronics.
ilyas@asiaone.com